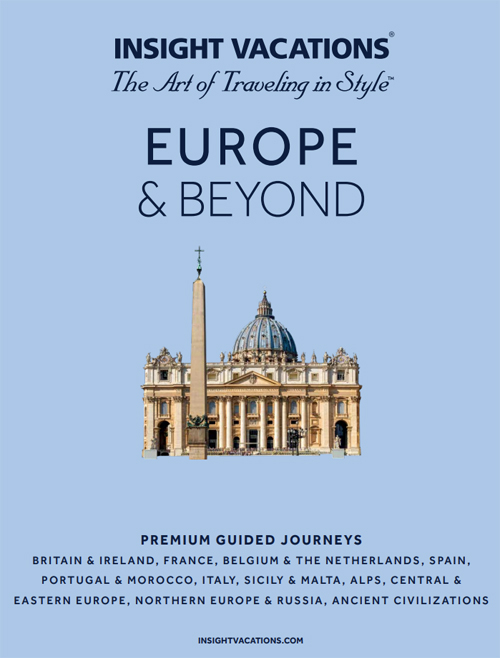 Guaranteed Low Prices on Insight Vacations Vacations - Europe
NEW! 2023 Now Open for Sale! The magic ingredients for creating your perfect holiday are meticulous preparation and planning. Insight does all of this for you, ensuring that every element has been taken care of and crafting the very best experiences from start to finish.
Escorted Tour
AffordableTours.com offers escorted tours to all of your favorite countries around the world. Escorted tours normally include hotel stays, transportation, most meals, sightseeing and cultural activities. They are led by a tour director who will be with your group from the beginning to end of the tour and they handle all of the logistics, check ins, attraction tickets and local guides that are included on your trip. People that enjoy escorted tours are travelers who don't have time or the knowhow to plan an all-encompassing, multiday overseas trip, people who travel in luxury or like to save money, and people who like to see the must-see sites while also experiencing the local culture. Escorted tours range in group size, pace, and age, so there is an escorted tour for every type of traveler. From solo travelers to groups of friends, to multi-generational families and adventure seekers, we have the escorted tour for you!
Tour Itinerary
Days
Operator
Quality
Style
Starts
Ends
Price

WWI Battlefields - Classic Group

03

Days

Insight Vacations

First Class

Escorted
1 - Light

Paris
Paris
Belgium, France
$1,327View Tour

Best Price Guaranteed

Book With Flexibility

WWI Battlefields - Classic Group

04

Days

Insight Vacations

First Class

Escorted
1 - Light

Paris
Paris
Belgium, France
$2,015View Tour

Best Price Guaranteed

Book With Flexibility

World War I Battlefields - Small Group

04

Days

Insight Vacations

First Class

Escorted
5+ years old
24
Paris
Paris
Belgium, France
$2,074View Tour

Best Price Guaranteed

Book With Flexibility

Magical Switzerland - Small Group, Winter

04

Days

Insight Vacations

First Class

Escorted
Zurich
Geneva
Switzerland
$3,881View Tour

Best Price Guaranteed

Book With Flexibility

Gems of Britain - Classic Group

05

Days

Insight Vacations

First Class

Escorted
5+ years old
40
London
London
England, Scotland, Wales
$1,535View Tour

Best Price Guaranteed

Book With Flexibility

Easy Pace Malta - Small Group

06

Days

Insight Vacations

First Class

Escorted
5+ years old
24
Valletta
Valletta
Malta
$2,050View Tour

Best Price Guaranteed

Book With Flexibility

Easy Pace Malta - Classic Group

06

Days

Insight Vacations

First Class

Escorted
5+ years old
40
Valletta
Valletta
Malta
$2,065View Tour

Best Price Guaranteed

Book With Flexibility

Sicily in Depth - Small Group

07

Days

Insight Vacations

First Class

Escorted
5+ years old
40
Catania
Catania
Italy
$3,031View Tour

Best Price Guaranteed

Book With Flexibility

Sicily in Depth - Classic Group

07

Days

Insight Vacations

First Class

Escorted
5+ years old
40
Catania
Catania
Italy
$2,619View Tour

Best Price Guaranteed

Book With Flexibility

Scenic Iceland & the Northern Lights - Small Group, Winter

07

Days

Insight Vacations

First Class

Escorted
5+ years old
24
Reykjavik
Reykjavik
Iceland
$6,688View Tour

Best Price Guaranteed

Book With Flexibility

Scenic Iceland & the Northern Lights - Small Group, Winter

07

Days

Insight Vacations

First Class

Escorted
5+ years old
24
Reykjavik
Reykjavik
Iceland
$4,916View Tour

Best Price Guaranteed

Book With Flexibility

Scenic Iceland & the Northern Lights - Classic Group, Winter

07

Days

Insight Vacations

First Class

Escorted
Reykjavik
Reykjavik
Iceland
$5,494View Tour

Best Price Guaranteed

Book With Flexibility

Scenic Iceland & the Northern Lights - Classic Group, Winter

07

Days

Insight Vacations

First Class

Escorted
5+ years old
40
Reykjavik
Reykjavik
Iceland
$4,010View Tour

Best Price Guaranteed

Book With Flexibility

Magical Switzerland - Small Group, Winter

07

Days

Insight Vacations

First Class

Escorted
5+ years old
24
Zurich
Geneva
Switzerland
$3,393View Tour

Best Price Guaranteed

Book With Flexibility

Magical Switzerland - Classic Group, Winter

07

Days

Insight Vacations

First Class

Escorted
Zurich
Geneva
Switzerland
$3,364View Tour

Best Price Guaranteed

Book With Flexibility

Magical Switzerland - Classic Group, Winter

07

Days

Insight Vacations

First Class

Escorted
5+ years old
40
Zurich
Geneva
Switzerland
$2,639View Tour

Best Price Guaranteed

Book With Flexibility

Glories of Greece - Small Group, Winter

07

Days

Insight Vacations

First Class

Escorted
5+ years old
24
Athens
Athens
Greece
$1,995View Tour

Best Price Guaranteed

Book With Flexibility

Glories of Greece - Small Group, Summer

07

Days

Insight Vacations

First Class

Escorted
5+ years old
24
Athens
Athens
Greece
$2,675View Tour

Best Price Guaranteed

Book With Flexibility

Glories of Greece - Classic Group, Winter

07

Days

Insight Vacations

First Class

Escorted
5+ years old
40
Athens
Athens
Greece
$1,850View Tour

Best Price Guaranteed

Book With Flexibility

Glories of Greece - Classic Group, Summer

07

Days

Insight Vacations

First Class

Escorted
5+ years old
40
Athens
Athens
Greece
$2,495View Tour

Best Price Guaranteed

Book With Flexibility

Focus on Ireland - Small Group

07

Days

Insight Vacations

First Class

Escorted
5+ years old
24
Dublin
Dublin
Ireland
$2,950View Tour

Best Price Guaranteed

Book With Flexibility

Focus on Ireland - Small Group

07

Days

Insight Vacations

First Class

Escorted
5+ years old
24
Dublin
Dublin
Ireland
$2,825View Tour

Best Price Guaranteed

Book With Flexibility

Focus on Ireland - Classic Group

07

Days

Insight Vacations

First Class

Escorted
5+ years old
40
Dublin
Dublin
Ireland
$2,475View Tour

Best Price Guaranteed

Book With Flexibility

Focus on Ireland - Classic Group

07

Days

Insight Vacations

First Class

Escorted
5+ years old
40
Dublin
Dublin
Ireland
$1,950View Tour

Best Price Guaranteed

Book With Flexibility

Winter Wonderland - Small Group, Winter

08

Days

Insight Vacations

First Class

Escorted
5+ years old
40
Frankfurt
Frankfurt
Austria, Germany, Switzerland
$3,175View Tour

Best Price Guaranteed

Book With Flexibility

Winter Wonderland - Classic Group

08

Days

Insight Vacations

First Class

Escorted
Frankfurt
Frankfurt
Austria, Germany, Liechtenstein, Switzerland
$2,775View Tour

Best Price Guaranteed

Book With Flexibility

Warsaw & The Baltic States - Small Group

08

Days

Insight Vacations

First Class

Escorted
5+ years old
24
Warsaw
Tallinn
Estonia, Latvia, Lithuania, Poland
$2,425View Tour

Best Price Guaranteed

Book With Flexibility

Warsaw & The Baltic States - Classic Group

08

Days

Insight Vacations

First Class

Escorted
5+ years old
40
Warsaw
Tallinn
Estonia, Latvia, Lithuania, Poland
$2,095View Tour

Best Price Guaranteed

Book With Flexibility

Sicily in Depth - Small Group

08

Days

Insight Vacations

First Class

Escorted
5+ years old
24
Catania
Catania
Italy
$2,895View Tour

Best Price Guaranteed

Book With Flexibility

Sicily in Depth - Classic Group

08

Days

Insight Vacations

First Class

Escorted
5+ years old
40
Catania
Catania
Italy
$2,317View Tour

Best Price Guaranteed

Book With Flexibility

Normandy, Brittany & The Loire Valley - Small Group

1 reviews
08

Days

Insight Vacations

First Class

Escorted
5+ years old
24
Paris
Paris
France
$3,834View Tour

Best Price Guaranteed

Book With Flexibility

Normandy, Brittany & The Loire Valley - Classic Group

08

Days

Insight Vacations

First Class

Escorted
5+ years old
40
Paris
Paris
France
$3,180View Tour

Best Price Guaranteed

Book With Flexibility

Normandy, Brittany & The Loire Valley - Classic Group

08

Days

Insight Vacations

First Class

Escorted
5+ years old
40
Paris
Paris
France
$2,507View Tour

Best Price Guaranteed

Book With Flexibility

Mediterranean Dreams - Standard, Classic Group, Winter

08

Days

Insight Vacations

First Class

Escorted
5+ years old
40
Athens
Athens
Greece, Turkey
$2,195View Tour

Best Price Guaranteed

Book With Flexibility

Mediterranean Dreams - Standard, Classic Group, Summer

08

Days

Insight Vacations

First Class

Escorted
5+ years old
40
Athens
Athens
Greece, Turkey
$2,575View Tour

Best Price Guaranteed

Book With Flexibility

Mediterranean Dreams - Premium, Classic Group, Winter

08

Days

Insight Vacations

First Class

Escorted
Athens
Athens
Greece, Turkey
$2,295View Tour

Best Price Guaranteed

Book With Flexibility

Mediterranean Dreams - Premium, Classic Group, Summer

08

Days

Insight Vacations

First Class

Escorted
Athens
Athens
Greece, Turkey
$2,675View Tour

Best Price Guaranteed

Book With Flexibility

Mediterranean Dreams - Premier, Classic Group, Winter

08

Days

Insight Vacations

First Class

Escorted
Athens
Athens
Greece, Turkey
$2,350View Tour

Best Price Guaranteed

Book With Flexibility

Mediterranean Dreams - Premier, Classic Group, Summer

08

Days

Insight Vacations

First Class

Escorted
Athens
Athens
Greece, Turkey
$2,750View Tour

Best Price Guaranteed

Book With Flexibility

Italian Intermezzo - Small Group, Winter

08

Days

Insight Vacations

First Class

Escorted
1 - Light

24
Milan
Rome
Italy
$2,850View Tour

Best Price Guaranteed

Book With Flexibility

Italian Intermezzo - Small Group, Winter

08

Days

Insight Vacations

First Class

Escorted
1 - Light

5+ years old
24
Milan
Rome
Italy
$2,385View Tour

Best Price Guaranteed

Book With Flexibility

Italian Intermezzo - Small Group, Summer

08

Days

Insight Vacations

First Class

Escorted
1 - Light

5+ years old
24
Milan
Rome
Italy
$3,675View Tour

Best Price Guaranteed

Book With Flexibility

Italian Intermezzo - Small Group, Summer

08

Days

Insight Vacations

First Class

Escorted
1 - Light

5+ years old
24
Milan
Rome
Italy
$3,393View Tour

Best Price Guaranteed

Book With Flexibility

Italian Intermezzo - Classic Group, Winter

4 reviews
08

Days

Insight Vacations

First Class

Escorted
Milan
Rome
Italy
$2,495View Tour

Best Price Guaranteed

Book With Flexibility

Italian Intermezzo - Classic Group, Winter

4 reviews
08

Days

Insight Vacations

First Class

Escorted
5+ years old
40
Milan
Rome
Italy
$2,025View Tour

Best Price Guaranteed

Book With Flexibility

Italian Intermezzo - Classic Group, Summer

4 reviews
08

Days

Insight Vacations

First Class

Escorted
5+ years old
40
Milan
Rome
Italy
$3,275View Tour

Best Price Guaranteed

Book With Flexibility

Italian Intermezzo - Classic Group, Summer

4 reviews
08

Days

Insight Vacations

First Class

Escorted
5+ years old
40
Milan
Rome
Italy
$2,524View Tour

Best Price Guaranteed

Book With Flexibility

Irish Elegance - Small Group

08

Days

Insight Vacations

First Class

Escorted
5+ years old
24
Dublin
Dublin
Ireland
$4,450View Tour

Best Price Guaranteed

Book With Flexibility

Irish Elegance - Classic Group

08

Days

Insight Vacations

First Class

Escorted
5+ years old
40
Dublin
Dublin
Ireland
$3,525View Tour

Best Price Guaranteed

Book With Flexibility

Irish Elegance - Classic Group

08

Days

Insight Vacations

First Class

Escorted
5+ years old
40
Dublin
Dublin
Ireland
$2,722View Tour

Best Price Guaranteed

Book With Flexibility

Glorious Switzerland - Small Group

08

Days

Insight Vacations

First Class

Escorted
5+ years old
24
Geneva
Zurich
Italy, Switzerland
$4,295View Tour

Best Price Guaranteed

Book With Flexibility

Glorious Switzerland - Small Group

08

Days

Insight Vacations

First Class

Escorted
5+ years old
24
Geneva
Zurich
Italy, Switzerland
$3,850View Tour

Best Price Guaranteed

Book With Flexibility

Glorious Switzerland - Classic Group

08

Days

Insight Vacations

First Class

Escorted
5+ years old
40
Geneva
Zurich
Italy, Switzerland
$3,695View Tour

Best Price Guaranteed

Book With Flexibility

Glorious Switzerland - Classic Group

08

Days

Insight Vacations

First Class

Escorted
5+ years old
40
Geneva
Zurich
Italy, Switzerland
$2,987View Tour

Best Price Guaranteed

Book With Flexibility

Christmas Markets of Poland, Prague & Germany - Small Group, Winter

08

Days

Insight Vacations

First Class

Escorted
5+ years old
40
Krakow
Berlin
Czech Republic, Germany, Poland
$2,559View Tour

Best Price Guaranteed

Book With Flexibility

Christmas Markets of Poland, Prague & Germany - Small Group, Winter

08

Days

Insight Vacations

First Class

Escorted
5+ years old
24
Krakow
Berlin
Czech Republic, Germany, Poland
$2,175View Tour

Best Price Guaranteed

Book With Flexibility

Christmas Markets of Germany - Small Group

08

Days

Insight Vacations

First Class

Escorted
5+ years old
24
Berlin
Munich
Germany
$3,180View Tour

Best Price Guaranteed

Book With Flexibility

Christmas Markets of Germany - Small Group

08

Days

Insight Vacations

First Class

Escorted
5+ years old
24
Berlin
Munich
Germany
$2,558View Tour

Best Price Guaranteed

Book With Flexibility

Christmas Markets of Germany - Classic Group

08

Days

Insight Vacations

First Class

Escorted
5+ years old
40
Berlin
Munich
Germany
$2,616View Tour

Best Price Guaranteed

Book With Flexibility

Christmas Markets of Germany - Classic Group

08

Days

Insight Vacations

First Class

Escorted
5+ years old
40
Berlin
Munich
Germany
$2,195View Tour

Best Price Guaranteed

Book With Flexibility

Christmas Markets of Croatia, Slovenia & Austria - Small Group, Winter

2 reviews
08

Days

Insight Vacations

First Class

Escorted
5+ years old
40
Zagreb
Vienna
Austria, Croatia, Slovakia, Slovenia
$2,703View Tour

Best Price Guaranteed

Book With Flexibility

Christmas Markets of Croatia, Slovenia & Austria - Small Group, Winter

2 reviews
08

Days

Insight Vacations

First Class

Escorted
5+ years old
24
Zagreb
Vienna
Austria, Croatia, Slovakia, Slovenia
$2,490View Tour

Best Price Guaranteed

Book With Flexibility

Christmas Markets of Croatia, Slovenia & Austria - Classic Group, Winter

08

Days

Insight Vacations

First Class

Escorted
Zagreb
Vienna
Austria, Croatia, Slovakia, Slovenia
$2,329View Tour

Best Price Guaranteed

Book With Flexibility

Christmas Markets of Croatia, Slovenia & Austria - Classic Group, Winter

08

Days

Insight Vacations

First Class

Escorted
5+ years old
40
Zagreb
Vienna
Austria, Croatia, Slovakia, Slovenia
$1,597View Tour

Best Price Guaranteed

Book With Flexibility

Christmas Markets of Austria & Bavaria - Small Group, Winter

08

Days

Insight Vacations

First Class

Escorted
5+ years old
40
Vienna
Munich
Austria, Germany
$3,114View Tour

Best Price Guaranteed

Book With Flexibility

Christmas Markets of Austria & Bavaria - Small Group, Winter

08

Days

Insight Vacations

First Class

Escorted
5+ years old
24
Vienna
Munich
Austria, Germany
$2,725View Tour

Best Price Guaranteed

Book With Flexibility

Christmas Markets of Austria & Bavaria - Classic Group, Winter

08

Days

Insight Vacations

First Class

Escorted
Vienna
Munich
Austria, Germany
$2,700View Tour

Best Price Guaranteed

Book With Flexibility

Christmas Markets of Austria & Bavaria - Classic Group, Winter

08

Days

Insight Vacations

First Class

Escorted
5+ years old
40
Vienna
Munich
Austria, Germany
$2,275View Tour

Best Price Guaranteed

Book With Flexibility

Winter Wonderland - Small Group, Winter

09

Days

Insight Vacations

First Class

Escorted
5+ years old
24
Frankfurt
Frankfurt
Austria, Germany, Switzerland
$2,825View Tour

Best Price Guaranteed

Book With Flexibility

Winter Wonderland - Classic Group

09

Days

Insight Vacations

First Class

Escorted
5+ years old
40
Frankfurt
Frankfurt
Austria, Germany, Switzerland
$2,450View Tour

Best Price Guaranteed

Book With Flexibility

The Bohemian - End Vienna, Small Group

09

Days

Insight Vacations

First Class

Escorted
5+ years old
24
Vienna
Vienna
Austria, Czech Republic, Hungary, Poland, Slovakia
$3,108View Tour

Best Price Guaranteed

Book With Flexibility

The Bohemian - End Vienna, Classic Group

09

Days

Insight Vacations

First Class

Escorted
Vienna
Vienna
Austria, Czech Republic, Hungary, Poland, Slovakia
$2,660View Tour

Best Price Guaranteed

Book With Flexibility

The Bohemian - End Vienna, Classic Group

09

Days

Insight Vacations

First Class

Escorted
5+ years old
40
Vienna
Vienna
Austria, Czech Republic, Hungary, Poland, Slovakia
$2,115View Tour

Best Price Guaranteed

Book With Flexibility

The Bohemian - End Budapest, Small Group

09

Days

Insight Vacations

First Class

Escorted
5+ years old
24
Vienna
Budapest
Austria, Czech Republic, Hungary, Poland, Slovakia
$3,108View Tour

Best Price Guaranteed

Book With Flexibility

The Bohemian - End Budapest, Classic Group

09

Days

Insight Vacations

First Class

Escorted
2 - Classic

5+ years old
40
Vienna
Budapest
Austria, Czech Republic, Hungary, Poland, Slovakia
$2,660View Tour

Best Price Guaranteed

Book With Flexibility

The Bohemian - End Budapest, Classic Group

09

Days

Insight Vacations

First Class

Escorted
2 - Classic

5+ years old
40
Vienna
Budapest
Austria, Czech Republic, Hungary, Poland, Slovakia
$2,115View Tour

Best Price Guaranteed

Book With Flexibility

Natural Wonders of Iceland - Small Group

2 reviews
09

Days

Insight Vacations

First Class

Escorted
5+ years old
24
Reykjavik
Reykjavik
Iceland
$7,995View Tour

Best Price Guaranteed

Book With Flexibility

Natural Wonders of Iceland - Small Group

2 reviews
09

Days

Insight Vacations

First Class

Escorted
5+ years old
24
Reykjavik
Reykjavik
Iceland
$7,162View Tour

Best Price Guaranteed

Book With Flexibility

Natural Wonders of Iceland - Classic Group

09

Days

Insight Vacations

First Class

Escorted
5+ years old
40
Reykjavik
Reykjavik
Iceland
$6,663View Tour

Best Price Guaranteed

Book With Flexibility

Natural Wonders of Iceland - Classic Group

09

Days

Insight Vacations

First Class

Escorted
5+ years old
40
Reykjavik
Reykjavik
Iceland
$5,992View Tour

Best Price Guaranteed

Book With Flexibility

Highlights of Spain - Small Group, Winter

09

Days

Insight Vacations

First Class

Escorted
5+ years old
40
Barcelona
Madrid
Spain
$3,018View Tour

Best Price Guaranteed

Book With Flexibility

Highlights of Spain - Small Group, Winter

09

Days

Insight Vacations

First Class

Escorted
5+ years old
24
Barcelona
Madrid
Spain
$2,245View Tour

Best Price Guaranteed

Book With Flexibility

Highlights of Spain - Small Group, Summer

09

Days

Insight Vacations

First Class

Escorted
5+ years old
24
Barcelona
Madrid
Spain
$3,354View Tour

Best Price Guaranteed

Book With Flexibility

Highlights of Spain - Small Group, Summer

09

Days

Insight Vacations

First Class

Escorted
5+ years old
24
Barcelona
Madrid
Spain
$3,350View Tour

Best Price Guaranteed

Book With Flexibility

Highlights of Spain - Classic Group, Winter

09

Days

Insight Vacations

First Class

Escorted
Barcelona
Madrid
Spain
$2,604View Tour

Best Price Guaranteed

Book With Flexibility

Highlights of Spain - Classic Group, Winter

09

Days

Insight Vacations

First Class

Escorted
5+ years old
40
Barcelona
Madrid
Spain
$1,935View Tour

Best Price Guaranteed

Book With Flexibility

Highlights of Spain - Classic Group, Summer

09

Days

Insight Vacations

First Class

Escorted
5+ years old
40
Barcelona
Madrid
Spain
$2,940View Tour

Best Price Guaranteed

Book With Flexibility

Highlights of Spain - Classic Group, Summer

09

Days

Insight Vacations

First Class

Escorted
5+ years old
40
Barcelona
Madrid
Spain
$2,542View Tour

Best Price Guaranteed

Book With Flexibility

Flavours of Europe - End Paris, Small Group

09

Days

Insight Vacations

First Class

Escorted
2 - Classic

5+ years old
24
Rome
Paris
France, Italy, Switzerland
$4,490View Tour

Best Price Guaranteed

Book With Flexibility

Flavours of Europe - End Paris, Small Group

09

Days

Insight Vacations

First Class

Escorted
24
Rome
Paris
France, Italy, Switzerland
$3,441View Tour

Best Price Guaranteed

Book With Flexibility

Flavours of Europe - End Paris, Classic Group

09

Days

Insight Vacations

First Class

Escorted
2 - Classic

5+ years old
40
Rome
Paris
France, Italy, Switzerland
$3,875View Tour

Best Price Guaranteed

Book With Flexibility

Flavours of Europe - End London, Small Group

09

Days

Insight Vacations

First Class

Escorted
2 - Classic

24
Rome
London
England, France, Italy, Switzerland
$3,679View Tour

Best Price Guaranteed

Book With Flexibility

Easy Pace Italy - Classic Group, Winter

4 reviews
09

Days

Insight Vacations

First Class

Escorted
Rome
Venice
Italy
$3,420View Tour

Best Price Guaranteed

Book With Flexibility

Dalmatian Elegance - Upper Deck Deluxe Cabin, Classic Group

2 reviews
09

Days

Insight Vacations

First Class

Escorted
5+ years old
40
Split
Split
Croatia
$4,165View Tour

Best Price Guaranteed

Book With Flexibility

Dalmatian Elegance - Upper Deck Deluxe Cabin, Classic Group

2 reviews
09

Days

Insight Vacations

First Class

Escorted
5+ years old
40
Split
Split
Croatia
$3,525View Tour

Best Price Guaranteed

Book With Flexibility

Dalmatian Elegance - Lower Deck Deluxe Cabin, Classic Group

09

Days

Insight Vacations

First Class

Escorted
5+ years old
40
Split
Split
Croatia
$3,589View Tour

Best Price Guaranteed

Book With Flexibility

Dalmatian Elegance - Lower Deck Deluxe Cabin, Classic Group

09

Days

Insight Vacations

First Class

Escorted
5+ years old
40
Split
Split
Croatia
$3,049View Tour

Best Price Guaranteed

Book With Flexibility

Country Roads of Umbria & Tuscany - Small Group

09

Days

Insight Vacations

First Class

Escorted
2 - Classic

5+ years old
24
Rome
Rome
Italy
$3,690View Tour

Best Price Guaranteed

Book With Flexibility

Country Roads of Umbria & Tuscany - Small Group

09

Days

Insight Vacations

First Class

Escorted
2 - Classic

5+ years old
24
Rome
Rome
Italy
$3,095View Tour

Best Price Guaranteed

Book With Flexibility

Country Roads of Umbria & Tuscany - Classic Group

09

Days

Insight Vacations

First Class

Escorted
2 - Classic

5+ years old
40
Rome
Rome
Italy
$3,210View Tour

Best Price Guaranteed

Book With Flexibility

Country Roads of Umbria & Tuscany - Classic Group

09

Days

Insight Vacations

First Class

Escorted
2 - Classic

5+ years old
40
Rome
Rome
Italy
$2,195View Tour

Best Price Guaranteed

Book With Flexibility

Country Roads of Scotland - Small Group

09

Days

Insight Vacations

First Class

Escorted
5+ years old
24
Edinburgh
Glasgow
Scotland
$4,575View Tour

Best Price Guaranteed

Book With Flexibility

Country Roads of Scotland - Small Group

09

Days

Insight Vacations

First Class

Escorted
5+ years old
24
Edinburgh
Glasgow
Scotland
$3,802View Tour

Best Price Guaranteed

Book With Flexibility

Country Roads of Scotland - Classic Group

2 reviews
09

Days

Insight Vacations

First Class

Escorted
5+ years old
40
Edinburgh
Glasgow
Scotland
$3,995View Tour

Best Price Guaranteed

Book With Flexibility

Country Roads of Scotland - Classic Group

2 reviews
09

Days

Insight Vacations

First Class

Escorted
5+ years old
40
Edinburgh
Glasgow
Scotland
$3,425View Tour

Best Price Guaranteed

Book With Flexibility

Country Roads of Puglia & the Neapolitan Riviera - Classic Group

09

Days

Insight Vacations

First Class

Escorted
5+ years old
40
Rome
Rome
Italy
$2,371View Tour

Best Price Guaranteed

Book With Flexibility

Amazing Spain & Portugal - Small Group, Summer

09

Days

Insight Vacations

First Class

Escorted
24
Madrid
Madrid
Portugal, Spain
$3,250View Tour

Best Price Guaranteed

Book With Flexibility

Amazing Spain & Portugal - Small Group, Summer

09

Days

Insight Vacations

First Class

Escorted
24
Madrid
Madrid
Portugal, Spain
$2,995View Tour

Best Price Guaranteed

Book With Flexibility

Amazing Spain & Portugal - Classic Group, Winter

09

Days

Insight Vacations

First Class

Escorted
5+ years old
40
Madrid
Madrid
Portugal, Spain
$2,524View Tour

Best Price Guaranteed

Book With Flexibility

Amazing Spain & Portugal - Classic Group, Winter

09

Days

Insight Vacations

First Class

Escorted
Madrid
Madrid
Portugal, Spain
$1,845View Tour

Best Price Guaranteed

Book With Flexibility

Amazing Spain & Portugal - Classic Group, Summer

09

Days

Insight Vacations

First Class

Escorted
Madrid
Madrid
Portugal, Spain
$2,875View Tour

Best Price Guaranteed

Book With Flexibility

Amazing Spain & Portugal - Classic Group, Summer

09

Days

Insight Vacations

First Class

Escorted
Madrid
Madrid
Portugal, Spain
$2,018View Tour

Best Price Guaranteed

Book With Flexibility

Alpine Christmas Markets - Small Group

09

Days

Insight Vacations

First Class

Escorted
5+ years old
40
Munich
Zurich
Austria, France, Germany, Switzerland
$3,420View Tour

Best Price Guaranteed

Book With Flexibility

Alpine Christmas Markets - Small Group

09

Days

Insight Vacations

First Class

Escorted
5+ years old
24
Munich
Zurich
Austria, France, Germany, Switzerland
$2,995View Tour

Best Price Guaranteed

Book With Flexibility

Alpine Christmas Markets - Classic Group

09

Days

Insight Vacations

First Class

Escorted
Munich
Zurich
Austria, France, Germany, Switzerland
$2,910View Tour

Best Price Guaranteed

Book With Flexibility

Alpine Christmas Markets - Classic Group

09

Days

Insight Vacations

First Class

Escorted
Munich
Zurich
Austria, France, Germany, Switzerland
$2,595View Tour

Best Price Guaranteed

Book With Flexibility

Northern Lights of Scandinavia - Classic Group, Winter

10

Days

Insight Vacations

First Class

Escorted
Helsinki
Oslo
Finland, Norway, Sweden
$5,150View Tour

Best Price Guaranteed

Book With Flexibility

Northern Lights of Scandinavia - Classic Group, Winter

10

Days

Insight Vacations

First Class

Escorted
Helsinki
Oslo
Finland, Norway
$4,550View Tour

Best Price Guaranteed

Book With Flexibility

Inspiring Iceland, a Women Only Tour

10

Days

Insight Vacations

First Class

Escorted
5+ years old
40
Reykjavik
Reykjavik
Iceland
$6,050View Tour

Best Price Guaranteed

Book With Flexibility

Highlights of Poland - Small Group

10

Days

Insight Vacations

First Class

Escorted
5+ years old
24
Krakow
Warsaw
Poland
$3,330View Tour

Best Price Guaranteed

Book With Flexibility

Highlights of Poland - Small Group

10

Days

Insight Vacations

First Class

Escorted
5+ years old
24
Krakow
Warsaw
Poland
$2,725View Tour

Best Price Guaranteed

Book With Flexibility

Highlights of Poland - Classic Group

10

Days

Insight Vacations

First Class

Escorted
5+ years old
40
Krakow
Warsaw
Poland
$2,874View Tour

Best Price Guaranteed

Book With Flexibility

Highlights of Poland - Classic Group

10

Days

Insight Vacations

First Class

Escorted
5+ years old
40
Krakow
Warsaw
Poland
$2,107View Tour

Best Price Guaranteed

Book With Flexibility

Greek Island Hopper - Small Group

10

Days

Insight Vacations

First Class

Escorted
5+ years old
24
Athens
Athens
Greece
$6,078View Tour

Best Price Guaranteed

Book With Flexibility

Greek Island Hopper - Classic Group

10

Days

Insight Vacations

First Class

Escorted
5+ years old
40
Athens
Athens
Greece
$5,655View Tour

Best Price Guaranteed

Book With Flexibility

Greek Island Hopper - Classic Group

10

Days

Insight Vacations

First Class

Escorted
5+ years old
40
Athens
Athens
Greece
$4,648View Tour

Best Price Guaranteed

Book With Flexibility

European Rhapsody - Start Amsterdam, Small Group

10

Days

Insight Vacations

First Class

Escorted
5+ years old
24
Amsterdam
Venice
Austria, Czech Republic, Germany, Hungary, Italy, Netherlands
$3,325View Tour

Best Price Guaranteed

Book With Flexibility

European Rhapsody - Start Amsterdam, Classic Group

10

Days

Insight Vacations

First Class

Escorted
5+ years old
40
Amsterdam
Venice
Austria, Czech Republic, Germany, Hungary, Italy, Netherlands
$2,614View Tour

Best Price Guaranteed

Book With Flexibility

European Dream - End Paris, Classic Group

10

Days

Insight Vacations

First Class

Escorted
Venice
Paris
France, Italy, Switzerland
$4,858View Tour

Best Price Guaranteed

Book With Flexibility

Easy Pace Spain - Small Group

10

Days

Insight Vacations

First Class

Escorted
5+ years old
24
Barcelona
Madrid
Spain
$3,850View Tour

Best Price Guaranteed

Book With Flexibility

Easy Pace Spain - Small Group

10

Days

Insight Vacations

First Class

Escorted
5+ years old
24
Barcelona
Madrid
Spain
$3,475View Tour

Best Price Guaranteed

Book With Flexibility

Easy Pace Spain - Classic Group

2 reviews
10

Days

Insight Vacations

First Class

Escorted
5+ years old
40
Barcelona
Madrid
Spain
$3,450View Tour

Best Price Guaranteed

Book With Flexibility

Easy Pace Spain - Classic Group

2 reviews
10

Days

Insight Vacations

First Class

Escorted
2 - Classic

Barcelona
Madrid
Spain
$2,875View Tour

Best Price Guaranteed

Book With Flexibility

Easy Pace Italy - Small Group, Winter

10

Days

Insight Vacations

First Class

Escorted
2 - Classic

5+ years old
24
Rome
Venice
Italy
$3,525View Tour

Best Price Guaranteed

Book With Flexibility

Easy Pace Italy - Small Group, Summer

10

Days

Insight Vacations

First Class

Escorted
2 - Classic

5+ years old
24
Rome
Venice
Italy
$4,375View Tour

Best Price Guaranteed

Book With Flexibility

Easy Pace Italy - Small Group, Summer

10

Days

Insight Vacations

First Class

Escorted
1 - Light

24
Rome
Venice
Italy
$3,995View Tour

Best Price Guaranteed

Book With Flexibility

Easy Pace Italy - Small Group, Summer

10

Days

Insight Vacations

First Class

Escorted
1 - Light

5+ years old
24
Rome
Venice
Italy
$3,925View Tour

Best Price Guaranteed

Book With Flexibility

Easy Pace Italy - Classic Group, Winter

4 reviews
10

Days

Insight Vacations

First Class

Escorted
5+ years old
40
Rome
Venice
Italy
$2,542View Tour

Best Price Guaranteed

Book With Flexibility

Easy Pace Italy - Classic Group, Summer

4 reviews
10

Days

Insight Vacations

First Class

Escorted
5+ years old
40
Rome
Venice
Italy
$3,850View Tour

Best Price Guaranteed

Book With Flexibility

Easy Pace Italy - Classic Group, Summer

4 reviews
10

Days

Insight Vacations

First Class

Escorted
5+ years old
40
Rome
Venice
Italy
$3,127View Tour

Best Price Guaranteed

Book With Flexibility

Easy Pace Budapest, Vienna & Prague - Small Group, Winter

10

Days

Insight Vacations

First Class

Escorted
5+ years old
24
Budapest
Prague
Austria, Czech Republic, Hungary
$2,470View Tour

Best Price Guaranteed

Book With Flexibility

Easy Pace Budapest, Vienna & Prague - Small Group, Summer

10

Days

Insight Vacations

First Class

Escorted
5+ years old
24
Budapest
Prague
Austria, Czech Republic, Hungary
$3,536View Tour

Best Price Guaranteed

Book With Flexibility

Easy Pace Budapest, Vienna & Prague - Small Group, Summer

10

Days

Insight Vacations

First Class

Escorted
5+ years old
24
Budapest
Prague
Austria, Czech Republic, Hungary
$3,295View Tour

Best Price Guaranteed

Book With Flexibility

Easy Pace Budapest, Vienna & Prague - Classic Group, Winter

10

Days

Insight Vacations

First Class

Escorted
Budapest
Prague
Austria, Czech Republic, Hungary
$2,128View Tour

Best Price Guaranteed

Book With Flexibility

Easy Pace Budapest, Vienna & Prague - Classic Group, Summer

10

Days

Insight Vacations

First Class

Escorted
Budapest
Prague
Austria, Czech Republic, Hungary
$2,875View Tour

Best Price Guaranteed

Book With Flexibility

Easy Pace Budapest, Vienna & Prague - Classic Group, Summer

10

Days

Insight Vacations

First Class

Escorted
Budapest
Prague
Austria, Czech Republic, Hungary
$2,335View Tour

Best Price Guaranteed

Book With Flexibility

Country Roads of Northern Italy - Small Group

10

Days

Insight Vacations

First Class

Escorted
5+ years old
24
Milan
Milan
Italy
$4,230View Tour

Best Price Guaranteed

Book With Flexibility

Country Roads of Northern Italy - Small Group

10

Days

Insight Vacations

First Class

Escorted
5+ years old
24
Milan
Milan
Italy
$3,595View Tour

Best Price Guaranteed

Book With Flexibility

Country Roads of Northern Italy - Classic Group

10

Days

Insight Vacations

First Class

Escorted
5+ years old
40
Milan
Milan
Italy
$3,660View Tour

Best Price Guaranteed

Book With Flexibility

Country Roads of Northern Italy - Classic Group

10

Days

Insight Vacations

First Class

Escorted
5+ years old
40
Milan
Milan
Italy
$2,811View Tour

Best Price Guaranteed

Book With Flexibility

Country Roads of Ireland - End Dublin, Classic Group, Summer

10

Days

Insight Vacations

First Class

Escorted
5+ years old
40
Dublin
Dublin
Ireland, North Ireland
$4,250View Tour

Best Price Guaranteed

Book With Flexibility

Country Roads of Ireland - End Belfast, Classic Group, Summer

10

Days

Insight Vacations

First Class

Escorted
Dublin
Belfast
Ireland, North Ireland
$4,250View Tour

Best Price Guaranteed

Book With Flexibility

Country Roads of Bavaria, Switzerland & Austria - Small Group, 2023 2024

10

Days

Insight Vacations

First Class

Escorted
5+ years old
24
Vienna
Zurich
Austria, Germany, Switzerland
$5,525View Tour

Best Price Guaranteed

Book With Flexibility

Best of Britain - Classic Group, Winter

10

Days

Insight Vacations

First Class

Escorted
40
London
London
England, Scotland, Wales
$3,350View Tour

Best Price Guaranteed

Book With Flexibility

Treasures of Italy - Small Group

11

Days

Insight Vacations

First Class

Escorted
2 - Classic

5+ years old
24
Rome
Venice
Italy
$5,550View Tour

Best Price Guaranteed

Book With Flexibility

Treasures of Italy - Classic Group

2 reviews
11

Days

Insight Vacations

First Class

Escorted
2 - Classic

5+ years old
40
Rome
Venice
Italy
$5,195View Tour

Best Price Guaranteed

Book With Flexibility

Treasures of Italy - Classic Group

2 reviews
11

Days

Insight Vacations

First Class

Escorted
2 - Classic

5+ years old
40
Rome
Venice
Italy
$4,122View Tour

Best Price Guaranteed

Book With Flexibility

Oktoberfest The Germanic Experience

11

Days

Insight Vacations

First Class

Escorted
5+ years old
40
Berlin
Vienna
Austria, Germany
$4,325View Tour

Best Price Guaranteed

Book With Flexibility

Northern Spain - End Madrid, Small Group

11

Days

Insight Vacations

First Class

Escorted
5+ years old
24
Madrid
Madrid
Spain
$4,295View Tour

Best Price Guaranteed

Book With Flexibility

Northern Spain - End Madrid, Small Group

11

Days

Insight Vacations

First Class

Escorted
5+ years old
24
Madrid
Madrid
Spain
$4,175View Tour

Best Price Guaranteed

Book With Flexibility

Northern Spain - End Madrid, Classic Group

11

Days

Insight Vacations

First Class

Escorted
5+ years old
40
Madrid
Madrid
Spain
$3,625View Tour

Best Price Guaranteed

Book With Flexibility

Northern Spain - End Madrid, Classic Group

11

Days

Insight Vacations

First Class

Escorted
5+ years old
40
Madrid
Madrid
Spain
$3,082View Tour

Best Price Guaranteed

Book With Flexibility

Northern Spain - End Barcelona, Small Group

11

Days

Insight Vacations

First Class

Escorted
5+ years old
24
Madrid
Barcelona
Spain
$4,295View Tour

Best Price Guaranteed

Book With Flexibility

Northern Spain - End Barcelona, Small Group

11

Days

Insight Vacations

First Class

Escorted
5+ years old
24
Madrid
Barcelona
Spain
$4,175View Tour

Best Price Guaranteed

Book With Flexibility

Northern Spain - End Barcelona, Classic Group

11

Days

Insight Vacations

First Class

Escorted
5+ years old
40
Madrid
Barcelona
Spain
$3,625View Tour

Best Price Guaranteed

Book With Flexibility

Northern Spain - End Barcelona, Classic Group

11

Days

Insight Vacations

First Class

Escorted
5+ years old
40
Madrid
Barcelona
Spain
$3,082View Tour

Best Price Guaranteed

Book With Flexibility

Mediterranean Fables Idyllic (Greece) - Superior, Classic Group

11

Days

Insight Vacations

First Class

Escorted
5+ years old
40
Athens
Athens
Greece, Turkey
$3,475View Tour

Best Price Guaranteed

Book With Flexibility

Mediterranean Fables Idyllic (Greece) - Standard, Classic Group

11

Days

Insight Vacations

First Class

Escorted
5+ years old
40
Athens
Athens
Greece, Turkey
$3,425View Tour

Best Price Guaranteed

Book With Flexibility

Mediterranean Fables Idyllic (Greece) - Premium, Classic Group

11

Days

Insight Vacations

First Class

Escorted
5+ years old
40
Athens
Athens
Greece, Turkey
$3,625View Tour

Best Price Guaranteed

Book With Flexibility

Mediterranean Fables Idyllic (Greece) - Premier, Classic Group

11

Days

Insight Vacations

First Class

Escorted
5+ years old
40
Athens
Athens
Greece, Turkey
$3,695View Tour

Best Price Guaranteed

Book With Flexibility

European Rhapsody - Start London, Small Group

11

Days

Insight Vacations

First Class

Escorted
5+ years old
24
London
Venice
Austria, Czech Republic, England, Germany, Hungary, Italy, Netherlands
$3,695View Tour

Best Price Guaranteed

Book With Flexibility

European Rhapsody - Start London, Classic Group

11

Days

Insight Vacations

First Class

Escorted
5+ years old
40
London
Venice
Austria, Czech Republic, England, Germany, Hungary, Italy, Netherlands
$2,947View Tour

Best Price Guaranteed

Book With Flexibility

European Rhapsody - Start Amsterdam, Classic Group

11

Days

Insight Vacations

First Class

Escorted
5+ years old
40
Amsterdam
Venice
Austria, Czech Republic, Germany, Hungary, Italy, Netherlands
$3,949View Tour

Best Price Guaranteed

Book With Flexibility

European Flair - Start Amsterdam, Small Group

11

Days

Insight Vacations

First Class

Escorted
5+ years old
24
Amsterdam
Rome
Austria, Czech Republic, Germany, Italy, Netherlands
$4,588View Tour

Best Price Guaranteed

Book With Flexibility

European Flair - Start Amsterdam, Classic Group

11

Days

Insight Vacations

First Class

Escorted
2 - Classic

5+ years old
40
Amsterdam
Rome
Austria, Czech Republic, Germany, Italy, Netherlands
$3,887View Tour

Best Price Guaranteed

Book With Flexibility

European Dream - End Paris, Classic Group

11

Days

Insight Vacations

First Class

Escorted
Venice
Paris
France, Italy, Switzerland
$3,823View Tour

Best Price Guaranteed

Book With Flexibility

European Dream - End London, Classic Group

11

Days

Insight Vacations

First Class

Escorted
2 - Classic

Venice
London
England, France, Italy, Switzerland
$4,076View Tour

Best Price Guaranteed

Book With Flexibility

Country Roads of Portugal - Small Group

11

Days

Insight Vacations

First Class

Escorted
5+ years old
24
Lisbon
Lisbon
Portugal
$4,295View Tour

Best Price Guaranteed

Book With Flexibility

Country Roads of Portugal - Small Group

11

Days

Insight Vacations

First Class

Escorted
5+ years old
40
Lisbon
Lisbon
Portugal
$2,850View Tour

Best Price Guaranteed

Book With Flexibility

Country Roads of Portugal - Classic Group

11

Days

Insight Vacations

First Class

Escorted
5+ years old
40
Lisbon
Lisbon
Portugal
$3,475View Tour

Best Price Guaranteed

Book With Flexibility

Country Roads of Portugal - Classic Group

11

Days

Insight Vacations

First Class

Escorted
5+ years old
40
Lisbon
Lisbon
Portugal
$2,947View Tour

Best Price Guaranteed

Book With Flexibility

Country Roads of Portugal - Classic Group

11

Days

Insight Vacations

First Class

Escorted
5+ years old
40
Lisbon
Lisbon
Portugal
$2,850View Tour

Best Price Guaranteed

Book With Flexibility

Country Roads of Belgium, Luxembourg & the Netherlands - Small Group

11

Days

Insight Vacations

First Class

Escorted
5+ years old
24
Brussels
Amsterdam
Belgium, Luxembourg, Netherlands
$4,825View Tour

Best Price Guaranteed

Book With Flexibility

Country Roads of Belgium, Luxembourg & the Netherlands - Classic Group

2 reviews
11

Days

Insight Vacations

First Class

Escorted
Brussels
Amsterdam
Belgium, Luxembourg, Netherlands
$4,295View Tour

Best Price Guaranteed

Book With Flexibility

Country Roads of Belgium, Luxembourg & the Netherlands - Classic Group

2 reviews
11

Days

Insight Vacations

First Class

Escorted
Brussels
Amsterdam
Belgium, Luxembourg, Netherlands
$3,127View Tour

Best Price Guaranteed

Book With Flexibility

Best of Italy - Small Group, Winter

11

Days

Insight Vacations

First Class

Escorted
1 - Light

5+ years old
24
Rome
Rome
Italy
$4,425View Tour

Best Price Guaranteed

Book With Flexibility

Best of Italy - Small Group, Winter

11

Days

Insight Vacations

First Class

Escorted
Rome
Rome
Italy
$4,075View Tour

Best Price Guaranteed

Book With Flexibility

Best of Italy - Small Group

11

Days

Insight Vacations

First Class

Escorted
Rome
Rome
Italy
$4,995View Tour

Best Price Guaranteed

Book With Flexibility

Best of Italy - Small Group

11

Days

Insight Vacations

First Class

Escorted
Rome
Rome
Italy
$4,850View Tour

Best Price Guaranteed

Book With Flexibility

Best of Italy - Classic Group, Winter

11

Days

Insight Vacations

First Class

Escorted
5+ years old
40
Rome
Rome
Italy
$3,895View Tour

Best Price Guaranteed

Book With Flexibility

Best of Italy - Classic Group, Winter

11

Days

Insight Vacations

First Class

Escorted
Rome
Rome
Italy
$2,812View Tour

Best Price Guaranteed

Book With Flexibility

Best of Italy - Classic Group, Summer

11

Days

Insight Vacations

First Class

Escorted
Rome
Rome
Italy
$4,475View Tour

Best Price Guaranteed

Book With Flexibility

Best of Italy - Classic Group, Summer

11

Days

Insight Vacations

First Class

Escorted
Rome
Rome
Italy
$3,802View Tour

Best Price Guaranteed

Book With Flexibility

Best of Britain - Small Group

11

Days

Insight Vacations

First Class

Escorted
5+ years old
24
London
London
England, Scotland, Wales
$4,195View Tour

Best Price Guaranteed

Book With Flexibility

Best of Britain - Small Group

11

Days

Insight Vacations

First Class

Escorted
London
London
England, Scotland, Wales
$3,750View Tour

Best Price Guaranteed

Book With Flexibility

Best of Britain - Classic Group

11

Days

Insight Vacations

First Class

Escorted
London
London
England, Scotland, Wales
$3,595View Tour

Best Price Guaranteed

Book With Flexibility

Best of Britain - Classic Group

11

Days

Insight Vacations

First Class

Escorted
London
London
England, Scotland, Wales
$3,014View Tour

Best Price Guaranteed

Book With Flexibility

Road to Rome - Start Paris, Small Group

4 reviews
12

Days

Insight Vacations

First Class

Escorted
Paris
Rome
Austria, France, Germany, Italy, Switzerland
$5,676View Tour

Best Price Guaranteed

Book With Flexibility

Road to Rome - Start Paris, Small Group

4 reviews
12

Days

Insight Vacations

First Class

Escorted
Paris
Rome
Austria, France, Germany, Italy, Switzerland
$4,285View Tour

Best Price Guaranteed

Book With Flexibility

Road to Rome - Start Paris, Classic Group

12

Days

Insight Vacations

First Class

Escorted
Paris
Rome
Austria, France, Germany, Italy, Switzerland
$4,110View Tour

Best Price Guaranteed

Book With Flexibility

Italian Elegance - Small Group

12

Days

Insight Vacations

First Class

Escorted
1 - Light

5+ years old
24
Rome
Venice
Italy
$5,725View Tour

Best Price Guaranteed

Book With Flexibility

Italian Elegance - Classic Group

2 reviews
12

Days

Insight Vacations

First Class

Escorted
2 - Classic

5+ years old
40
Rome
Venice
Italy
$5,095View Tour

Best Price Guaranteed

Book With Flexibility

Italian Elegance - Classic Group

2 reviews
12

Days

Insight Vacations

First Class

Escorted
2 - Classic

5+ years old
40
Rome
Venice
Italy
$3,990View Tour

Best Price Guaranteed

Book With Flexibility

European Rhapsody - Start London, Classic Group

12

Days

Insight Vacations

First Class

Escorted
5+ years old
40
London
Venice
Austria, Czech Republic, England, Germany, Hungary, Italy, Netherlands
$4,416View Tour

Best Price Guaranteed

Book With Flexibility

Elegance of Great Britain - Start Edinburgh, Classic Group

12

Days

Insight Vacations

First Class

Escorted
5+ years old
40
Edinburgh
London
England, Scotland
$4,284View Tour

Best Price Guaranteed

Book With Flexibility

Elegance of Great Britain - Start Edinburgh, Classic Group

12

Days

Insight Vacations

First Class

Escorted
2 - Classic

Edinburgh
London
England, Scotland
$3,397View Tour

Best Price Guaranteed

Book With Flexibility

Country Roads of Wales, Devon & Cornwall - Small Group

12

Days

Insight Vacations

First Class

Escorted
5+ years old
24
London
London
England, Wales
$6,250View Tour

Best Price Guaranteed

Book With Flexibility

Country Roads of Wales, Devon & Cornwall - Small Group

12

Days

Insight Vacations

First Class

Escorted
5+ years old
24
London
London
England, Wales
$5,375View Tour

Best Price Guaranteed

Book With Flexibility

Country Roads of Wales, Devon & Cornwall - Classic Group

12

Days

Insight Vacations

First Class

Escorted
5+ years old
40
London
London
England, Wales
$5,550View Tour

Best Price Guaranteed

Book With Flexibility

Country Roads of Wales, Devon & Cornwall - Classic Group

12

Days

Insight Vacations

First Class

Escorted
5+ years old
40
London
London
England, Wales
$4,275View Tour

Best Price Guaranteed

Book With Flexibility

Country Roads of Ireland - End Dublin, Small Group, Winter

12

Days

Insight Vacations

First Class

Escorted
5+ years old
24
Dublin
Dublin
Ireland, North Ireland
$3,019View Tour

Best Price Guaranteed

Book With Flexibility

Country Roads of Ireland - End Dublin, Small Group, Summer

12

Days

Insight Vacations

First Class

Escorted
5+ years old
24
Dublin
Dublin
Ireland, North Ireland
$4,725View Tour

Best Price Guaranteed

Book With Flexibility

Country Roads of Ireland - End Dublin, Classic Group, Winter

12

Days

Insight Vacations

First Class

Escorted
5+ years old
40
Dublin
Dublin
Ireland, North Ireland
$2,623View Tour

Best Price Guaranteed

Book With Flexibility

Country Roads of Ireland - End Dublin, Classic Group, Summer

12

Days

Insight Vacations

First Class

Escorted
5+ years old
40
Dublin
Dublin
Ireland, North Ireland
$4,250View Tour

Best Price Guaranteed

Book With Flexibility

Country Roads of Ireland - End Dublin, Classic Group, Summer

12

Days

Insight Vacations

First Class

Escorted
5+ years old
40
Dublin
Dublin
Ireland, North Ireland
$2,996View Tour

Best Price Guaranteed

Book With Flexibility

Country Roads of Ireland - End Belfast, Small Group, Winter

12

Days

Insight Vacations

First Class

Escorted
5+ years old
24
Dublin
Belfast
Ireland, North Ireland
$3,019View Tour

Best Price Guaranteed

Book With Flexibility

Country Roads of Ireland - End Belfast, Small Group, Summer

12

Days

Insight Vacations

First Class

Escorted
5+ years old
24
Dublin
Belfast
Ireland, North Ireland
$4,725View Tour

Best Price Guaranteed

Book With Flexibility

Country Roads of Ireland - End Belfast, Classic Group, Winter

12

Days

Insight Vacations

First Class

Escorted
Dublin
Belfast
Ireland, North Ireland
$2,623View Tour

Best Price Guaranteed

Book With Flexibility

Country Roads of Ireland - End Belfast, Classic Group, Summer

12

Days

Insight Vacations

First Class

Escorted
Dublin
Belfast
Ireland, North Ireland
$4,250View Tour

Best Price Guaranteed

Book With Flexibility

Country Roads of Ireland - End Belfast, Classic Group, Summer

12

Days

Insight Vacations

First Class

Escorted
Dublin
Belfast
Ireland, North Ireland
$2,996View Tour

Best Price Guaranteed

Book With Flexibility

Country Roads of Bavaria, Switzerland & Austria - Small Group, 2023 2024

12

Days

Insight Vacations

First Class

Escorted
5+ years old
24
Vienna
Zurich
Austria, Germany, Switzerland
$5,225View Tour

Best Price Guaranteed

Book With Flexibility

Country Roads of Bavaria, Switzerland & Austria - Classic Group, 2023 2024

12

Days

Insight Vacations

First Class

Escorted
Vienna
Zurich
Austria, Germany, Switzerland
$4,750View Tour

Best Price Guaranteed

Book With Flexibility

Country Roads of Bavaria, Switzerland & Austria - Classic Group, 2023 2024

12

Days

Insight Vacations

First Class

Escorted
Vienna
Zurich
Austria, Germany, Switzerland
$4,252View Tour

Best Price Guaranteed

Book With Flexibility

Best of Germany - Small Group

12

Days

Insight Vacations

First Class

Escorted
1 - Light

5+ years old
24
Berlin
Munich
Germany
$4,425View Tour

Best Price Guaranteed

Book With Flexibility

Best of Germany - Classic Group

12

Days

Insight Vacations

First Class

Escorted
5+ years old
40
Berlin
Munich
Germany
$3,795View Tour

Best Price Guaranteed

Book With Flexibility

Best of Germany - Classic Group

12

Days

Insight Vacations

First Class

Escorted
5+ years old
40
Berlin
Munich
Germany
$3,166View Tour

Best Price Guaranteed

Book With Flexibility

Undiscovered Ireland - Small Group

13

Days

Insight Vacations

First Class

Escorted
5+ years old
24
Shannon
Shannon
Ireland
$3,828View Tour

Best Price Guaranteed

Book With Flexibility

Undiscovered Ireland - Classic Group

13

Days

Insight Vacations

First Class

Escorted
5+ years old
40
Shannon
Shannon
Ireland
$3,339View Tour

Best Price Guaranteed

Book With Flexibility

Treasures of the Balkans - Classic Group

13

Days

Insight Vacations

First Class

Escorted
Bucharest
Belgrade
Albania, Bosnia, Bulgaria, Croatia, Macedonia, Montenegro, Romania, Serbia
$5,325View Tour

Best Price Guaranteed

Book With Flexibility

Sicily in Depth - With 6 Days Malta Option, Small Group

13

Days

Insight Vacations

First Class

Escorted
5+ years old
24
Catania
Valletta
Italy, Malta
$4,525View Tour

Best Price Guaranteed

Book With Flexibility

Sicily in Depth - With 6 Days Malta Option, Classic Group

13

Days

Insight Vacations

First Class

Escorted
5+ years old
40
Catania
Valletta
Italy, Malta
$4,025View Tour

Best Price Guaranteed

Book With Flexibility

Road to Rome - Start London, Small Group

1 reviews
13

Days

Insight Vacations

First Class

Escorted
London
Rome
Austria, England, France, Germany, Italy, Switzerland
$4,650View Tour

Best Price Guaranteed

Book With Flexibility

Road to Rome - Start London, Classic Group

13

Days

Insight Vacations

First Class

Escorted
London
Rome
Austria, England, France, Germany, Italy, Switzerland
$4,554View Tour

Best Price Guaranteed

Book With Flexibility

Italian Escapade - Small Group

13

Days

Insight Vacations

First Class

Escorted
1 - Light

5+ years old
24
Rome
Rome
Italy
$5,550View Tour

Best Price Guaranteed

Book With Flexibility

Italian Escapade - Small Group

13

Days

Insight Vacations

First Class

Escorted
1 - Light

5+ years old
24
Rome
Rome
Italy
$5,525View Tour

Best Price Guaranteed

Book With Flexibility

Italian Escapade - Classic Group

13

Days

Insight Vacations

First Class

Escorted
2 - Classic

5+ years old
40
Rome
Rome
Italy
$4,875View Tour

Best Price Guaranteed

Book With Flexibility

Italian Escapade - Classic Group

13

Days

Insight Vacations

First Class

Escorted
2 - Classic

5+ years old
40
Rome
Rome
Italy
$4,135View Tour

Best Price Guaranteed

Book With Flexibility

Highlights of Europe - Start London, End Paris, Small Group, Winter

13

Days

Insight Vacations

First Class

Escorted
5+ years old
24
London
Paris
Austria, England, France, Germany, Italy, Netherlands, Switzerland
$5,549View Tour

Best Price Guaranteed

Book With Flexibility

Highlights of Europe - Start Amsterdam, Return Eurostar, Small Group, Winter

13

Days

Insight Vacations

First Class

Escorted
24
Amsterdam
London
Austria, England, France, Germany, Italy, Netherlands, Switzerland
$4,120View Tour

Best Price Guaranteed

Book With Flexibility

Elegance of Great Britain - Start London, Classic Group

13

Days

Insight Vacations

First Class

Escorted
5+ years old
40
London
London
England, Scotland
$5,031View Tour

Best Price Guaranteed

Book With Flexibility

Elegance of Great Britain - Start London, Classic Group

13

Days

Insight Vacations

First Class

Escorted
5+ years old
40
London
London
England, Scotland
$3,937View Tour

Best Price Guaranteed

Book With Flexibility

Christmas Markets of Central Europe - Small Group

13

Days

Insight Vacations

First Class

Escorted
5+ years old
40
Zagreb
Munich
Austria, Croatia, Germany, Slovakia, Slovenia
$5,394View Tour

Best Price Guaranteed

Book With Flexibility

Christmas Markets of Central Europe - Classic Group

13

Days

Insight Vacations

First Class

Escorted
Zagreb
Munich
Austria, Croatia, Germany, Slovakia, Slovenia
$4,479View Tour

Best Price Guaranteed

Book With Flexibility

Treasures of Greece & The Islands - Small Group

14

Days

Insight Vacations

First Class

Escorted
5+ years old
24
Athens
Athens
Greece
$6,650View Tour

Best Price Guaranteed

Book With Flexibility

Treasures of Greece & The Islands - Classic Group

14

Days

Insight Vacations

First Class

Escorted
5+ years old
40
Athens
Athens
Greece
$5,775View Tour

Best Price Guaranteed

Book With Flexibility

The Eastern Discovery - Small Group

14

Days

Insight Vacations

First Class

Escorted
Zagreb
Athens
Albania, Bosnia, Croatia, Greece, Montenegro
$5,820View Tour

Best Price Guaranteed

Book With Flexibility

The Eastern Discovery - Small Group

14

Days

Insight Vacations

First Class

Escorted
Zagreb
Athens
Albania, Croatia, Greece, Montenegro
$5,125View Tour

Best Price Guaranteed

Book With Flexibility

The Eastern Discovery - Classic Group

14

Days

Insight Vacations

First Class

Escorted
Zagreb
Athens
Albania, Bosnia, Croatia, Greece, Montenegro
$5,010View Tour

Best Price Guaranteed

Book With Flexibility

The Eastern Discovery - Classic Group

14

Days

Insight Vacations

First Class

Escorted
Zagreb
Athens
Albania, Bosnia, Croatia, Greece, Montenegro
$3,761View Tour

Best Price Guaranteed

Book With Flexibility

Splendid Europe - Return Eurostar, Classic Group

14

Days

Insight Vacations

First Class

Escorted
2 - Classic

Rome
London
Austria, England, Italy, Liechtenstein, Netherlands, Slovenia, Switzerland
$4,233View Tour

Best Price Guaranteed

Book With Flexibility

Splendid Europe - End Amsterdam, Small Group

14

Days

Insight Vacations

First Class

Escorted
2 - Classic

5+ years old
24
Rome
Amsterdam
Austria, Germany, Italy, Netherlands, Slovenia, Switzerland
$6,089View Tour

Best Price Guaranteed

Book With Flexibility

Splendid Europe - End Amsterdam, Classic Group

14

Days

Insight Vacations

First Class

Escorted
2 - Classic

5+ years old
40
Rome
Amsterdam
Austria, Germany, Italy, Netherlands, Slovenia, Switzerland
$5,319View Tour

Best Price Guaranteed

Book With Flexibility

Splendid Europe - End Amsterdam, Classic Group

14

Days

Insight Vacations

First Class

Escorted
2 - Classic

5+ years old
40
Rome
Amsterdam
Austria, Germany, Italy, Netherlands, Slovenia, Switzerland
$4,037View Tour

Best Price Guaranteed

Book With Flexibility

Northern Capitals - Small Group

14

Days

Insight Vacations

First Class

Escorted
5+ years old
24
Berlin
Warsaw
Denmark, Estonia, Finland, Germany, Latvia, Lithuania, Poland, Sweden
$5,994View Tour

Best Price Guaranteed

Book With Flexibility

Northern Capitals - Classic Group

14

Days

Insight Vacations

First Class

Escorted
5+ years old
40
Berlin
Warsaw
Denmark, Estonia, Finland, Germany, Latvia, Lithuania, Poland, Sweden
$5,119View Tour

Best Price Guaranteed

Book With Flexibility

Northern Capitals - Classic Group

14

Days

Insight Vacations

First Class

Escorted
5+ years old
40
Berlin
Warsaw
Denmark, Estonia, Finland, Germany, Latvia, Lithuania, Poland, Sweden
$3,352View Tour

Best Price Guaranteed

Book With Flexibility

Highlights of Europe - Start London, Return Eurostar, Small Group, Summer

14

Days

Insight Vacations

First Class

Escorted
3 - Explorer

24
London
London
Austria, England, France, Germany, Italy, Netherlands, Switzerland
$5,670View Tour

Best Price Guaranteed

Book With Flexibility

Highlights of Europe - Start Amsterdam, End Paris, Small Group, Winter

14

Days

Insight Vacations

First Class

Escorted
3 - Explorer

24
Amsterdam
Paris
Austria, France, Germany, Italy, Netherlands, Switzerland
$3,890View Tour

Best Price Guaranteed

Book With Flexibility

Highlights of Europe - Start Amsterdam, End Paris, Small Group, Summer

14

Days

Insight Vacations

First Class

Escorted
Amsterdam
Paris
Austria, France, Germany, Italy, Netherlands, Switzerland
$6,666View Tour

Best Price Guaranteed

Book With Flexibility

Highlights of Europe - Start Amsterdam, End Paris, Small Group, Summer

14

Days

Insight Vacations

First Class

Escorted
3 - Explorer

24
Amsterdam
Paris
Austria, France, Germany, Italy, Netherlands, Switzerland
$5,040View Tour

Best Price Guaranteed

Book With Flexibility

Highlights of Europe - Start Amsterdam, End Paris, Classic Group, Winter

14

Days

Insight Vacations

First Class

Escorted
40
Amsterdam
Paris
Austria, France, Germany, Italy, Netherlands, Switzerland
$3,600View Tour

Best Price Guaranteed

Book With Flexibility

Highlights of Eastern Europe - End Vienna, Small Group

14

Days

Insight Vacations

First Class

Escorted
5+ years old
24
Budapest
Vienna
Austria, Czech Republic, Germany, Hungary, Poland, Slovakia
$4,939View Tour

Best Price Guaranteed

Book With Flexibility

Highlights of Eastern Europe - End Vienna, Classic Group

14

Days

Insight Vacations

First Class

Escorted
Budapest
Vienna
Austria, Czech Republic, Germany, Hungary, Poland, Slovakia
$4,284View Tour

Best Price Guaranteed

Book With Flexibility

Highlights of Eastern Europe - End Vienna, Classic Group

14

Days

Insight Vacations

First Class

Escorted
Budapest
Vienna
Austria, Czech Republic, Germany, Hungary, Poland, Slovakia
$3,187View Tour

Best Price Guaranteed

Book With Flexibility

Highlights of Eastern Europe - End Budapest, Small Group

14

Days

Insight Vacations

First Class

Escorted
5+ years old
24
Budapest
Budapest
Austria, Czech Republic, Germany, Hungary, Poland, Slovakia
$4,939View Tour

Best Price Guaranteed

Book With Flexibility

Highlights of Eastern Europe - End Budapest, Classic Group

14

Days

Insight Vacations

First Class

Escorted
Budapest
Budapest
Austria, Czech Republic, Germany, Hungary, Poland, Slovakia
$4,284View Tour

Best Price Guaranteed

Book With Flexibility

Highlights of Eastern Europe - End Budapest, Classic Group

14

Days

Insight Vacations

First Class

Escorted
Budapest
Budapest
Austria, Czech Republic, Germany, Hungary, Poland, Slovakia
$3,187View Tour

Best Price Guaranteed

Book With Flexibility

Country Roads of Switzerland - Small Group

14

Days

Insight Vacations

First Class

Escorted
5+ years old
24
Zurich
Zurich
Italy, Switzerland
$7,295View Tour

Best Price Guaranteed

Book With Flexibility

Country Roads of Switzerland - Small Group

14

Days

Insight Vacations

First Class

Escorted
5+ years old
24
Zurich
Zurich
Italy, Switzerland
$7,095View Tour

Best Price Guaranteed

Book With Flexibility

Country Roads of Switzerland - Classic Group

14

Days

Insight Vacations

First Class

Escorted
5+ years old
40
Zurich
Zurich
Italy, Switzerland
$6,275View Tour

Best Price Guaranteed

Book With Flexibility

Country Roads of Switzerland - Classic Group

14

Days

Insight Vacations

First Class

Escorted
5+ years old
40
Zurich
Zurich
Italy, Switzerland
$5,125View Tour

Best Price Guaranteed

Book With Flexibility

Country Roads of Southern Italy & Sicily - Small Group

14

Days

Insight Vacations

First Class

Escorted
5+ years old
24
Rome
Palermo
Italy
$4,702View Tour

Best Price Guaranteed

Book With Flexibility

Country Roads of Southern Italy & Sicily - Classic Group

14

Days

Insight Vacations

First Class

Escorted
1 - Light

Rome
Palermo
Italy
$3,982View Tour

Best Price Guaranteed

Book With Flexibility

Country Roads of Croatia - Small Group

14

Days

Insight Vacations

First Class

Escorted
5+ years old
24
Zagreb
Dubrovnik
Croatia, Slovenia
$5,175View Tour

Best Price Guaranteed

Book With Flexibility

Country Roads of Croatia - Small Group

14

Days

Insight Vacations

First Class

Escorted
5+ years old
24
Zagreb
Dubrovnik
Croatia, Slovenia
$4,875View Tour

Best Price Guaranteed

Book With Flexibility

Country Roads of Croatia - Classic Group

14

Days

Insight Vacations

First Class

Escorted
5+ years old
40
Zagreb
Dubrovnik
Croatia, Slovenia
$4,550View Tour

Best Price Guaranteed

Book With Flexibility

Country Roads of Croatia - Classic Group

14

Days

Insight Vacations

First Class

Escorted
5+ years old
40
Zagreb
Dubrovnik
Croatia, Slovenia
$3,892View Tour

Best Price Guaranteed

Book With Flexibility

Best of Ireland & Scotland - Small Group

14

Days

Insight Vacations

First Class

Escorted
2 - Classic

5+ years old
24
Dublin
Edinburgh
Ireland, North Ireland, Scotland
$7,223View Tour

Best Price Guaranteed

Book With Flexibility

Best of Ireland & Scotland - Small Group

14

Days

Insight Vacations

First Class

Escorted
2 - Classic

5+ years old
24
Dublin
Edinburgh
Ireland, North Ireland, Scotland
$5,850View Tour

Best Price Guaranteed

Book With Flexibility

Best of Ireland & Scotland - Classic Group

14

Days

Insight Vacations

First Class

Escorted
2 - Classic

Dublin
Edinburgh
Ireland, North Ireland, Scotland
$5,974View Tour

Best Price Guaranteed

Book With Flexibility

Best of Ireland & Scotland - Classic Group

14

Days

Insight Vacations

First Class

Escorted
40
Dublin
Edinburgh
Ireland, North Ireland, Scotland
$4,635View Tour

Best Price Guaranteed

Book With Flexibility

Treasures of the Balkans - Small Group

45 reviews
15

Days

Insight Vacations

First Class

Escorted
3 - Explorer

Bucharest
Belgrade
Albania, Bosnia, Bulgaria, Croatia, Macedonia, Montenegro, Romania, Serbia
$6,025View Tour

Best Price Guaranteed

Book With Flexibility

Highlights of Europe - Start London, Return Eurostar, Small Group, Winter

15

Days

Insight Vacations

First Class

Escorted
3 - Explorer

24
London
London
Austria, England, France, Germany, Italy, Netherlands, Switzerland
$4,480View Tour

Best Price Guaranteed

Book With Flexibility

Highlights of Europe - Start London, Return Eurostar, Classic Group, Winter

15

Days

Insight Vacations

First Class

Escorted
40
London
London
Austria, England, France, Germany, Italy, Netherlands, Switzerland
$4,180View Tour

Best Price Guaranteed

Book With Flexibility

Highlights of Europe - Start London, End Paris, Small Group, Winter

15

Days

Insight Vacations

First Class

Escorted
24
London
Paris
Austria, England, France, Germany, Italy, Netherlands, Switzerland
$4,250View Tour

Best Price Guaranteed

Book With Flexibility

Highlights of Europe - Start London, End Paris, Small Group, Summer

15

Days

Insight Vacations

First Class

Escorted
24
London
Paris
Austria, England, France, Germany, Italy, Netherlands, Switzerland
$5,437View Tour

Best Price Guaranteed

Book With Flexibility

Highlights of Europe - Start London, End Paris, Classic Group, Winter

15

Days

Insight Vacations

First Class

Escorted
40
London
Paris
Austria, England, France, Germany, Italy, Netherlands, Switzerland
$3,950View Tour

Best Price Guaranteed

Book With Flexibility

Highlights of Europe - Start Amsterdam, Return Eurostar, Classic Group, Winter

15

Days

Insight Vacations

First Class

Escorted
3 - Explorer

40
Amsterdam
London
Austria, England, France, Germany, Italy, Netherlands, Switzerland
$3,830View Tour

Best Price Guaranteed

Book With Flexibility

Grecian Fables Idyllic - Superior, Classic Group

15

Days

Insight Vacations

First Class

Escorted
5+ years old
40
Athens
Athens
Greece, Turkey
$5,531View Tour

Best Price Guaranteed

Book With Flexibility

Grecian Fables Idyllic - Standard, Classic Group

15

Days

Insight Vacations

First Class

Escorted
5+ years old
40
Athens
Athens
Greece, Turkey
$5,447View Tour

Best Price Guaranteed

Book With Flexibility

Grecian Fables Idyllic - Premium, Classic Group

15

Days

Insight Vacations

First Class

Escorted
5+ years old
40
Athens
Athens
Greece, Turkey
$5,687View Tour

Best Price Guaranteed

Book With Flexibility

Grecian Fables Idyllic - Premier, Classic Group

15

Days

Insight Vacations

First Class

Escorted
5+ years old
40
Athens
Athens
Greece, Turkey
$5,807View Tour

Best Price Guaranteed

Book With Flexibility

Britain & Ireland Explorer - Small Group

2 reviews
15

Days

Insight Vacations

First Class

Escorted
5+ years old
24
London
London
England, Ireland, Scotland, Wales
$6,009View Tour

Best Price Guaranteed

Book With Flexibility

Britain & Ireland Explorer - Small Group

2 reviews
15

Days

Insight Vacations

First Class

Escorted
5+ years old
24
London
London
England, Ireland, Scotland, Wales
$5,550View Tour

Best Price Guaranteed

Book With Flexibility

Britain & Ireland Explorer - Classic Group

15

Days

Insight Vacations

First Class

Escorted
5+ years old
40
London
London
England, Ireland, Scotland, Wales
$5,031View Tour

Best Price Guaranteed

Book With Flexibility

Britain & Ireland Explorer - Classic Group

15

Days

Insight Vacations

First Class

Escorted
5+ years old
40
London
London
England, Ireland, Scotland, Wales
$4,495View Tour

Best Price Guaranteed

Book With Flexibility

Best of Spain & Portugal - End Madrid, Small Group, Summer

<