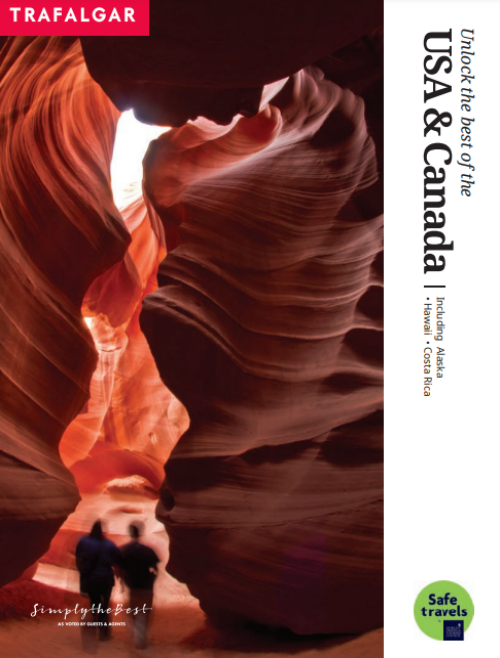 Guaranteed Low Prices on Trafalgar Vacations - USA and Canada
NEW! 2023 Now Open for Sale! Urban hubs, buzzing with life, people and ethnic foods, are electrifying. Feel them... New York, Chicago, Boston. The sophistication of their soaring skyscrapers is sensational. Then let the streets of New Orleans, humming with jazz and homey comfort food, soothe you.
Escorted Tour
AffordableTours.com offers escorted tours to all of your favorite countries around the world. Escorted tours normally include hotel stays, transportation, most meals, sightseeing and cultural activities. They are led by a tour director who will be with your group from the beginning to end of the tour and they handle all of the logistics, check ins, attraction tickets and local guides that are included on your trip. People that enjoy escorted tours are travelers who don't have time or the knowhow to plan an all-encompassing, multiday overseas trip, people who travel in luxury or like to save money, and people who like to see the must-see sites while also experiencing the local culture. Escorted tours range in group size, pace, and age, so there is an escorted tour for every type of traveler. From solo travelers to groups of friends, to multi-generational families and adventure seekers, we have the escorted tour for you!
Tour Itinerary
Days
Operator
Quality
Style
Starts
Ends
Price

Wild West, Cowboys and Buffalos End Rapid City

36 reviews
03

Days

Trafalgar

First Class

Escorted
Salt Lake City, UT
Rapid City, SD
United States
$3,880View Tour

Best Price Guaranteed

Book With Flexibility

Wild West Cowboys and Buffalos End Denver

5 reviews
03

Days

Trafalgar

First Class

Escorted
Salt Lake City, UT
Denver, CO
United States
$3,880View Tour

Best Price Guaranteed

Book With Flexibility

New York Explorer

1 reviews
05

Days

Trafalgar

First Class

Escorted
1 - Light

New York, NY
New York, NY
United States
$2,036View Tour

Best Price Guaranteed

Book With Flexibility

Scenic Seattle, Portland and Oregon Coast

2 reviews
07

Days

Trafalgar

First Class

Escorted
5+ years old
50
Seattle, WA
Portland, OR
United States
$3,475View Tour

Best Price Guaranteed

Book With Flexibility

Scenic Seattle, Portland and Oregon Coast

2 reviews
07

Days

Trafalgar

First Class

Escorted
5+ years old
50
Seattle, WA
Portland, OR
United States
$2,992View Tour

Best Price Guaranteed

Book With Flexibility

National Parks and Native Trails of the Dakotas

2 reviews
07

Days

Trafalgar

First Class

Escorted
5+ years old
50
Rapid City, SD
Bismarck, ND
United States
$3,596View Tour

Best Price Guaranteed

Book With Flexibility

Hawaiian Explorer Premium

6 reviews
07

Days

Trafalgar

Deluxe

Escorted
Honolulu, HI
Kahului, HI
United States
$4,095View Tour

Best Price Guaranteed

Book With Flexibility

Hawaiian Explorer Premium

6 reviews
07

Days

Trafalgar

Deluxe

Escorted
Honolulu, HI
Kahului, HI
United States
$3,875View Tour

Best Price Guaranteed

Book With Flexibility

Hawaiian Explorer Moderate

36 reviews
07

Days

Trafalgar

First Class

Escorted
Honolulu, HI
Kahului, HI
United States
$3,612View Tour

Best Price Guaranteed

Book With Flexibility

Hawaiian Explorer Moderate

36 reviews
07

Days

Trafalgar

First Class

Escorted
Honolulu, HI
Kahului, HI
United States
$3,475View Tour

Best Price Guaranteed

Book With Flexibility

Hawaiian Explorer First Class

12 reviews
07

Days

Trafalgar

First Class

Escorted
Honolulu, HI
Kahului, HI
United States
$3,750View Tour

Best Price Guaranteed

Book With Flexibility

Hawaiian Explorer First Class

12 reviews
07

Days

Trafalgar

First Class

Escorted
Honolulu, HI
Kahului, HI
United States
$3,550View Tour

Best Price Guaranteed

Book With Flexibility

Canada's Rockies

78 reviews
07

Days

Trafalgar

First Class

Escorted
Calgary
Calgary
Canada
$2,975View Tour

Best Price Guaranteed

Book With Flexibility

Canada's Rockies

78 reviews
07

Days

Trafalgar

First Class

Escorted
Calgary
Calgary
Canada
$2,497View Tour

Best Price Guaranteed

Book With Flexibility

Best of the Canyonlands

48 reviews
07

Days

Trafalgar

First Class

Escorted
Denver, CO
Las Vegas, NV
United States
$2,725View Tour

Best Price Guaranteed

Book With Flexibility

Best of the Canyonlands

48 reviews
07

Days

Trafalgar

First Class

Escorted
Denver, CO
Las Vegas, NV
United States
$2,645View Tour

Best Price Guaranteed

Book With Flexibility

Best of the Canyonlands

48 reviews
07

Days

Trafalgar

First Class

Escorted
Denver, CO
Las Vegas, NV
United States
$2,425View Tour

Best Price Guaranteed

Book With Flexibility

Southwest Native Trails End Santa Fe

2 reviews
08

Days

Trafalgar

First Class

Escorted
5+ years old
50
Albuquerque, NM
Santa Fe, NM
United States
$4,275View Tour

Best Price Guaranteed

Book With Flexibility

Southwest Native Trails End Albuquerque

2 reviews
08

Days

Trafalgar

First Class

Escorted
5+ years old
50
Albuquerque, NM
Albuquerque, NM
United States
$4,275View Tour

Best Price Guaranteed

Book With Flexibility

Pioneer Adventures of the Old West

12 reviews
08

Days

Trafalgar

First Class

Escorted
Phoenix, AZ
Las Vegas, NV
United States
$2,587View Tour

Best Price Guaranteed

Book With Flexibility

Northern California

40 reviews
08

Days

Trafalgar

First Class

Escorted
San Francisco, CA
San Francisco, CA
United States
$3,595View Tour

Best Price Guaranteed

Book With Flexibility

Northern California

40 reviews
08

Days

Trafalgar

First Class

Escorted
San Francisco, CA
San Francisco, CA
United States
$3,127View Tour

Best Price Guaranteed

Book With Flexibility

National Parks and Native Trails of the Dakotas with Black Hills Pow Wow

08

Days

Trafalgar

First Class

Escorted
5+ years old
50
Rapid City, SD
Bismarck, ND
United States
$3,460View Tour

Best Price Guaranteed

Book With Flexibility

Historic Highlights

45 reviews
08

Days

Trafalgar

First Class

Escorted
Washington DC
Washington DC
United States
$3,275View Tour

Best Price Guaranteed

Book With Flexibility

Historic Highlights

45 reviews
08

Days

Trafalgar

First Class

Escorted
Washington DC
Washington DC
United States
$2,855View Tour

Best Price Guaranteed

Book With Flexibility

Historic Highlights

45 reviews
08

Days

Trafalgar

First Class

Escorted
Washington DC
Washington DC
United States
$2,785View Tour

Best Price Guaranteed

Book With Flexibility

Hawaiian Explorer Premium

6 reviews
08

Days

Trafalgar

Deluxe

Escorted
Waikiki, HI
Kaanapali Beach, HI
United States
$3,696View Tour

Best Price Guaranteed

Book With Flexibility

Hawaiian Explorer Moderate

36 reviews
08

Days

Trafalgar

First Class

Escorted
Waikiki, HI
Kaanapali Beach, HI
United States
$3,263View Tour

Best Price Guaranteed

Book With Flexibility

Hawaiian Explorer First Class

12 reviews
08

Days

Trafalgar

First Class

Escorted
Waikiki, HI
Kaanapali Beach, HI
United States
$3,418View Tour

Best Price Guaranteed

Book With Flexibility

Canada's Rockies with Rocky Mountaineer(Silverleaf)

08

Days

Trafalgar

First Class

Escorted
5+ years old
50
Calgary
Vancouver
Canada
$4,727View Tour

Best Price Guaranteed

Book With Flexibility

Canada's Rockies with Rocky Mountaineer (Goldleaf)

2 reviews
08

Days

Trafalgar

Deluxe

Escorted
Calgary
Vancouver
Canada
$5,434View Tour

Best Price Guaranteed

Book With Flexibility

California's Great National Parks

42 reviews
08

Days

Trafalgar

First Class

Escorted
Las Vegas, NV
Los Angeles, CA
United States
$4,075View Tour

Best Price Guaranteed

Book With Flexibility

California's Great National Parks

42 reviews
08

Days

Trafalgar

First Class

Escorted
Las Vegas, NV
Los Angeles, CA
United States
$3,662View Tour

Best Price Guaranteed

Book With Flexibility

California's Great National Parks

42 reviews
08

Days

Trafalgar

First Class

Escorted
Las Vegas, NV
Los Angeles, CA
United States
$3,300View Tour

Best Price Guaranteed

Book With Flexibility

Boston, Cape Cod and Martha's Vineyard

2 reviews
08

Days

Trafalgar

First Class

Escorted
Boston, MA
Boston, MA
United States
$3,280View Tour

Best Price Guaranteed

Book With Flexibility

Boston, Cape Cod and Martha's Vineyard

2 reviews
08

Days

Trafalgar

First Class

Escorted
Boston, MA
Boston, MA
United States
$3,280View Tour

Best Price Guaranteed

Book With Flexibility

Wild West, Cowboys and Buffalos End Rapid City

36 reviews
09

Days

Trafalgar

First Class

Escorted
Salt Lake City, UT
Rapid City, SD
United States
$3,235View Tour

Best Price Guaranteed

Book With Flexibility

Wild West Cowboys and Buffalos End Denver

36 reviews
09

Days

Trafalgar

First Class

Escorted
Salt Lake City, UT
Denver, CO
United States
$3,235View Tour

Best Price Guaranteed

Book With Flexibility

Spectacular Canadian Rockies

12 reviews
09

Days

Trafalgar

First Class

Escorted
1 - Light

Vancouver
Calgary
Canada
$3,625View Tour

Best Price Guaranteed

Book With Flexibility

Spectacular Canadian Rockies

12 reviews
09

Days

Trafalgar

First Class

Escorted
1 - Light

Vancouver
Calgary
Canada
$3,105View Tour

Best Price Guaranteed

Book With Flexibility

National Parks and Native Trails of the Dakotas

2 reviews
09

Days

Trafalgar

First Class

Escorted
5+ years old
50
Rapid City, SD
Bismarck, ND
United States
$3,071View Tour

Best Price Guaranteed

Book With Flexibility

National Park Wonders with Black Hills Pow Wow

1 reviews
09

Days

Trafalgar

First Class

Escorted
Jackson, WY
Rapid City, SD
United States
$3,859View Tour

Best Price Guaranteed

Book With Flexibility

National Park Wonders

09

Days

Trafalgar

First Class

Escorted
5+ years old
50
Badlands National Park, SD
Rapid City, SD
United States
$3,995View Tour

Best Price Guaranteed

Book With Flexibility

National Park Wonders

09

Days

Trafalgar

First Class

Escorted
5+ years old
50
Jacksonville, FL
Rapid City, SD
United States
$3,397View Tour

Best Price Guaranteed

Book With Flexibility

Majestic Alaska

38 reviews
09

Days

Trafalgar

First Class

Escorted
Anchorage, AK
Anchorage, AK
United States
$4,595View Tour

Best Price Guaranteed

Book With Flexibility

Majestic Alaska

38 reviews
09

Days

Trafalgar

First Class

Escorted
Anchorage, AK
Anchorage, AK
United States
$4,135View Tour

Best Price Guaranteed

Book With Flexibility

Journey Along the Civil Rights Trail

4 reviews
09

Days

Trafalgar

First Class

Escorted
5+ years old
50
Memphis, TN
Atlanta, GA
United States
$3,295View Tour

Best Price Guaranteed

Book With Flexibility

Journey Along the Civil Rights Trail

4 reviews
09

Days

Trafalgar

First Class

Escorted
5+ years old
50
Memphis, TN
Atlanta, GA
United States
$2,835View Tour

Best Price Guaranteed

Book With Flexibility

Five Epic National Parks

28 reviews
09

Days

Trafalgar

First Class

Escorted
Jackson, WY
Las Vegas, NV
United States
$3,525View Tour

Best Price Guaranteed

Book With Flexibility

Enchanting Canadian Maritimes

18 reviews
09

Days

Trafalgar

First Class

Escorted
Halifax
Halifax
Canada
$3,695View Tour

Best Price Guaranteed

Book With Flexibility

California High Country Adventure

09

Days

Trafalgar

First Class

Escorted
5+ years old
50
Fresno, CA
Fresno, CA
United States
$3,695View Tour

Best Price Guaranteed

Book With Flexibility

Best of Eastern Canada End Toronto

9 reviews
09

Days

Trafalgar

First Class

Escorted
Toronto
Toronto
Canada
$3,195View Tour

Best Price Guaranteed

Book With Flexibility

Best of Eastern Canada End Toronto

9 reviews
09

Days

Trafalgar

First Class

Escorted
Toronto
Toronto
Canada
$2,835View Tour

Best Price Guaranteed

Book With Flexibility

Best of Eastern Canada End Toronto

9 reviews
09

Days

Trafalgar

First Class

Escorted
Toronto
Toronto
Canada, United States
$2,722View Tour

Best Price Guaranteed

Book With Flexibility

Best of Eastern Canada End Montreal

24 reviews
09

Days

Trafalgar

First Class

Escorted
Toronto
Montreal
Canada
$3,195View Tour

Best Price Guaranteed

Book With Flexibility

Best of Eastern Canada End Montreal

24 reviews
09

Days

Trafalgar

First Class

Escorted
Toronto
Montreal
Canada
$2,835View Tour

Best Price Guaranteed

Book With Flexibility

Best of Eastern Canada End Montreal

24 reviews
09

Days

Trafalgar

First Class

Escorted
Toronto
Montreal
Canada
$2,722View Tour

Best Price Guaranteed

Book With Flexibility

Autumn Colours

36 reviews
09

Days

Trafalgar

First Class

Escorted
Boston, MA
Boston, MA
United States
$4,395View Tour

Best Price Guaranteed

Book With Flexibility

Autumn Colours

36 reviews
09

Days

Trafalgar

First Class

Escorted
Boston, MA
Boston, MA
United States
$4,195View Tour

Best Price Guaranteed

Book With Flexibility

Western Frontiers End Rapid City

18 reviews
10

Days

Trafalgar

First Class

Escorted
Las Vegas, NV
Rapid City, SD
United States
$4,150View Tour

Best Price Guaranteed

Book With Flexibility

Western Frontiers End Rapid City

18 reviews
10

Days

Trafalgar

First Class

Escorted
Las Vegas, NV
Rapid City, SD
United States
$3,950View Tour

Best Price Guaranteed

Book With Flexibility

Western Frontiers End Denver

10

Days

Trafalgar

First Class

Escorted
Las Vegas, NV
Denver, CO
United States
$4,150View Tour

Best Price Guaranteed

Book With Flexibility

Western Frontiers End Denver

10

Days

Trafalgar

First Class

Escorted
Las Vegas, NV
Denver, CO
United States
$3,950View Tour

Best Price Guaranteed

Book With Flexibility

Welcome to Colorado

16 reviews
10

Days

Trafalgar

First Class

Escorted
Denver, CO
Denver, CO
United States
$4,195View Tour

Best Price Guaranteed

Book With Flexibility

Welcome to Colorado

16 reviews
10

Days

Trafalgar

First Class

Escorted
Denver, CO
Denver, CO
United States
$3,595View Tour

Best Price Guaranteed

Book With Flexibility

Utah's Mighty Five National Parks

8 reviews
10

Days

Trafalgar

First Class

Escorted
Grand Junction, CO
Las Vegas, NV
United States
$4,100View Tour

Best Price Guaranteed

Book With Flexibility

Utah's Mighty Five National Parks

8 reviews
10

Days

Trafalgar

First Class

Escorted
Grand Junction, CO
Las Vegas, NV
United States
$3,532View Tour

Best Price Guaranteed

Book With Flexibility

Tastes and Sounds of the South

69 reviews
10

Days

Trafalgar

First Class

Escorted
Nashville, TN
New Orleans, LA
United States
$3,795View Tour

Best Price Guaranteed

Book With Flexibility

Tastes and Sounds of the South

69 reviews
10

Days

Trafalgar

First Class

Escorted
Nashville, TN
New Orleans, LA
United States
$3,240View Tour

Best Price Guaranteed

Book With Flexibility

Tastes and Sounds of the South

69 reviews
10

Days

Trafalgar

First Class

Escorted
Nashville, TN
New Orleans, LA
United States
$3,105View Tour

Best Price Guaranteed

Book With Flexibility

Spectacular Canadian Rockies with Rocky Mountaineer (Silverleaf)

10

Days

Trafalgar

First Class

Escorted
Vancouver
Vancouver
Canada
$5,105View Tour

Best Price Guaranteed

Book With Flexibility

Spectacular Canadian Rockies with Rocky Mountaineer (Goldleaf)

1 reviews
10

Days

Trafalgar

First Class

Escorted
Vancouver
Vancouver
Canada
$5,683View Tour

Best Price Guaranteed

Book With Flexibility

Hawaiian Discovery Premium

3 reviews
10

Days

Trafalgar

Deluxe

Escorted
Honolulu, HI
Lihue, HI
United States
$5,695View Tour

Best Price Guaranteed

Book With Flexibility

Hawaiian Discovery Premium

3 reviews
10

Days

Trafalgar

Deluxe

Escorted
Honolulu, HI
Lihue, HI
United States
$5,495View Tour

Best Price Guaranteed

Book With Flexibility

Hawaiian Discovery Moderate

12 reviews
10

Days

Trafalgar

First Class

Escorted
Honolulu, HI
Lihue, HI
United States
$5,075View Tour

Best Price Guaranteed

Book With Flexibility

Hawaiian Discovery Moderate

12 reviews
10

Days

Trafalgar

First Class

Escorted
Honolulu, HI
Lihue, HI
United States
$4,850View Tour

Best Price Guaranteed

Book With Flexibility

Hawaiian Discovery First Class

6 reviews
10

Days

Trafalgar

First Class

Escorted
Honolulu, HI
Lihue, HI
United States
$5,350View Tour

Best Price Guaranteed

Book With Flexibility

Hawaiian Discovery First Class

6 reviews
10

Days

Trafalgar

First Class

Escorted
Honolulu, HI
Lihue, HI
United States
$5,075View Tour

Best Price Guaranteed

Book With Flexibility

Enchanting Canadian Maritimes

18 reviews
10

Days

Trafalgar

First Class

Escorted
Halifax
Halifax
Canada
$3,145View Tour

Best Price Guaranteed

Book With Flexibility

Colourful Trails of the Southwest End Santa Fe

10

Days

Trafalgar

First Class

Escorted
5+ years old
50
Phoenix, AZ
Santa Fe, NM
United States
$3,825View Tour

Best Price Guaranteed

Book With Flexibility

Colourful Trails of the Southwest End Santa Fe

10

Days

Trafalgar

First Class

Escorted
5+ years old
50
Phoenix, AZ
Santa Fe, NM
United States
$3,285View Tour

Best Price Guaranteed

Book With Flexibility

Colourful Trails of the Southwest End Albuquerque

10

Days

Trafalgar

First Class

Escorted
5+ years old
50
Phoenix, AZ
Albuquerque, NM
United States
$3,825View Tour

Best Price Guaranteed

Book With Flexibility

Colourful Trails of the Southwest End Albuquerque

10

Days

Trafalgar

First Class

Escorted
5+ years old
50
Phoenix, AZ
Albuquerque, NM
United States
$3,285View Tour

Best Price Guaranteed

Book With Flexibility

Best of Hawaii Premium

3 reviews
10

Days

Trafalgar

First Class

Escorted
5+ years old
50
Honolulu, HI
Kahului, HI
United States
$4,775View Tour

Best Price Guaranteed

Book With Flexibility

Best of Hawaii Premium

3 reviews
10

Days

Trafalgar

First Class

Escorted
5+ years old
50
Honolulu, HI
Kahului, HI
United States
$4,550View Tour

Best Price Guaranteed

Book With Flexibility

Best of Hawaii Premium

3 reviews
10

Days

Trafalgar

First Class

Escorted
5+ years old
50
Honolulu, HI
Kahului, HI
United States
$4,182View Tour

Best Price Guaranteed

Book With Flexibility

Best of Hawaii Moderate

27 reviews
10

Days

Trafalgar

First Class

Escorted
Honolulu, HI
Kahului, HI
United States
$4,250View Tour

Best Price Guaranteed

Book With Flexibility

Best of Hawaii Moderate

27 reviews
10

Days

Trafalgar

First Class

Escorted
Honolulu, HI
Kahului, HI
United States
$4,050View Tour

Best Price Guaranteed

Book With Flexibility

Best of Hawaii Moderate

27 reviews
10

Days

Trafalgar

First Class

Escorted
Honolulu, HI
Kahului, HI
United States
$3,725View Tour

Best Price Guaranteed

Book With Flexibility

Best of Hawaii First Class

30 reviews
10

Days

Trafalgar

First Class

Escorted
Honolulu, HI
Kahului, HI
United States
$4,395View Tour

Best Price Guaranteed

Book With Flexibility

Best of Hawaii First Class

30 reviews
10

Days

Trafalgar

First Class

Escorted
Honolulu, HI
Kahului, HI
United States
$4,195View Tour

Best Price Guaranteed

Book With Flexibility

Best of Hawaii First Class

30 reviews
10

Days

Trafalgar

First Class

Escorted
Honolulu, HI
Kahului, HI
United States
$3,938View Tour

Best Price Guaranteed

Book With Flexibility

America's Great Desert National Parks End Tucson

6 reviews
10

Days

Trafalgar

First Class

Escorted
5+ years old
50
Las Vegas, NV
Tucson, AZ
United States
$3,795View Tour

Best Price Guaranteed

Book With Flexibility

America's Great Desert National Parks End Tucson

6 reviews
10

Days

Trafalgar

First Class

Escorted
5+ years old
50
Las Vegas, NV
Tucson, AZ
United States
$3,775View Tour

Best Price Guaranteed

Book With Flexibility

America's Great Desert National Parks End Tucson

6 reviews
10

Days

Trafalgar

First Class

Escorted
5+ years old
50
Las Vegas, NV
Tucson, AZ
United States
$3,124View Tour

Best Price Guaranteed

Book With Flexibility

America's Great Desert National Parks End Phoenix

10

Days

Trafalgar

First Class

Escorted
Las Vegas, NV
Phoenix, AZ
United States
$3,795View Tour

Best Price Guaranteed

Book With Flexibility

America's Great Desert National Parks End Phoenix

10

Days

Trafalgar

First Class

Escorted
Las Vegas, NV
Phoenix, AZ
United States
$3,775View Tour

Best Price Guaranteed

Book With Flexibility

America's Great Desert National Parks End Phoenix

3 reviews
10

Days

Trafalgar

First Class

Escorted
Las Vegas, NV
Phoenix, AZ
United States
$3,124View Tour

Best Price Guaranteed

Book With Flexibility

Southwest Native Trails End Santa Fe

2 reviews
11

Days

Trafalgar

First Class

Escorted
5+ years old
50
Albuquerque, NM
Santa Fe, NM
United States
$4,075View Tour

Best Price Guaranteed

Book With Flexibility

Southwest Native Trails End Albuquerque

2 reviews
11

Days

Trafalgar

First Class

Escorted
5+ years old
50
Albuquerque, NM
Albuquerque, NM
United States
$4,075View Tour

Best Price Guaranteed

Book With Flexibility

Hawaiian Discovery Premium

3 reviews
11

Days

Trafalgar

Deluxe

Escorted
Waikiki, HI
Kapa'a, HI
United States
$4,867View Tour

Best Price Guaranteed

Book With Flexibility

Hawaiian Discovery Moderate

12 reviews
11

Days

Trafalgar

First Class

Escorted
Waikiki, HI
Kapa'a, HI
United States
$4,283View Tour

Best Price Guaranteed

Book With Flexibility

Hawaiian Discovery First Class

6 reviews
11

Days

Trafalgar

First Class

Escorted
Waikiki, HI
Kapa'a, HI
United States
$4,553View Tour

Best Price Guaranteed

Book With Flexibility

Colourful Trails of the Southwest with Albuquerque Balloon Fiesta

3 reviews
11

Days

Trafalgar

First Class

Escorted
Phoenix, AZ
Albuquerque, NM
United States
$4,075View Tour

Best Price Guaranteed

Book With Flexibility

Southwest Native Trails End Santa Fe with Balloon Fiesta

12

Days

Trafalgar

First Class

Escorted
5+ years old
50
Albuquerque, NM
Santa Fe, NM
United States
$4,550View Tour

Best Price Guaranteed

Book With Flexibility

Southwest Native Trails End Santa Fe with Balloon Fiesta

12

Days

Trafalgar

First Class

Escorted
Albuquerque, NM
Santa Fe, NM
United States
$4,446View Tour

Best Price Guaranteed

Book With Flexibility

Southwest Native Trails End Albuquerque with Balloon Fiesta

4 reviews
12

Days

Trafalgar

First Class

Escorted
5+ years old
50
Albuquerque, NM
Albuquerque, NM
United States
$4,550View Tour

Best Price Guaranteed

Book With Flexibility

Southwest Native Trails End Albuquerque with Balloon Fiesta

4 reviews
12

Days

Trafalgar

First Class

Escorted
Albuquerque, NM
Albuquerque, NM
United States
$4,446View Tour

Best Price Guaranteed

Book With Flexibility

Iconic Rockies and Western Canada

6 reviews
12

Days

Trafalgar

First Class

Escorted
Vancouver
Vancouver
Canada
$4,875View Tour

Best Price Guaranteed

Book With Flexibility

Western Frontiers with Rocky Mountaineer Silverleaf

13

Days

Trafalgar

First Class

Escorted
2 - Classic

Las Vegas, NV
Salt Lake City, UT
United States
$5,642View Tour

Best Price Guaranteed

Book With Flexibility

Iconic Rockies and Western Canada with Rocky Mountaineer Silverleaf

13

Days

Trafalgar

First Class

Escorted
Vancouver
Vancouver
Canada
$6,577View Tour

Best Price Guaranteed

Book With Flexibility

Iconic Rockies and Western Canada with Rocky Mountaineer Goldleaf

1 reviews
13

Days

Trafalgar

First Class

Escorted
Vancouver
Vancouver
Canada
$7,284View Tour

Best Price Guaranteed

Book With Flexibility

Iconic Rockies and Western Canada

6 reviews
13

Days

Trafalgar

First Class

Escorted
Vancouver
Vancouver
Canada
$4,162View Tour

Best Price Guaranteed

Book With Flexibility

Hawaii Four Island Adventure Premium

13

Days

Trafalgar

First Class

Escorted
5+ years old
50
Honolulu, HI
Lihue, HI
United States
$6,395View Tour

Best Price Guaranteed

Book With Flexibility

Hawaii Four Island Adventure Premium

13

Days

Trafalgar

First Class

Escorted
5+ years old
50
Honolulu, HI
Lihue, HI
United States
$6,175View Tour

Best Price Guaranteed

Book With Flexibility

Hawaii Four Island Adventure Moderate

24 reviews
13

Days

Trafalgar

First Class

Escorted
Honolulu, HI
Lihue, HI
United States
$5,675View Tour

Best Price Guaranteed

Book With Flexibility

Hawaii Four Island Adventure Moderate

24 reviews
13

Days

Trafalgar

First Class

Escorted
Honolulu, HI
Lihue, HI
United States
$5,425View Tour

Best Price Guaranteed

Book With Flexibility

Hawaii Four Island Adventure Moderate

24 reviews
13

Days

Trafalgar

First Class

Escorted
Waikiki, HI
Kapa'a, HI
United States
$4,769View Tour

Best Price Guaranteed

Book With Flexibility

Hawaii Four Island Adventure First Class

33 reviews
13

Days

Trafalgar

First Class

Escorted
Honolulu, HI
Lihue, HI
United States
$5,995View Tour

Best Price Guaranteed

Book With Flexibility

Hawaii Four Island Adventure First Class

33 reviews
13

Days

Trafalgar

First Class

Escorted
Honolulu, HI
Lihue, HI
United States
$5,725View Tour

Best Price Guaranteed

Book With Flexibility

Hawaii Four Island Adventure First Class

33 reviews
13

Days

Trafalgar

First Class

Escorted
Waikiki, HI
Kapa'a, HI
United States
$5,077View Tour

Best Price Guaranteed

Book With Flexibility

Scenic Wonders of Newfoundland & Labrador

14

Days

Trafalgar

First Class

Escorted
5+ years old
50
St. John's
Deer Lake
Canada
$4,387View Tour

Best Price Guaranteed

Book With Flexibility

East Coast USA and Canada End New York

6 reviews
14

Days

Trafalgar

First Class

Escorted
New York, NY
New York, NY
Canada, United States
$5,675View Tour

Best Price Guaranteed

Book With Flexibility

East Coast USA and Canada End New York

6 reviews
14

Days

Trafalgar

First Class

Escorted
New York, NY
New York, NY
Canada, United States
$4,855View Tour

Best Price Guaranteed

Book With Flexibility

East Coast USA and Canada End New York

6 reviews
14

Days

Trafalgar

First Class

Escorted
New York, NY
New York, NY
Canada, United States
$4,450View Tour

Best Price Guaranteed

Book With Flexibility

East Coast USA and Canada End Boston

3 reviews
14

Days

Trafalgar

First Class

Escorted
New York, NY
Boston, MA
Canada, United States
$5,675View Tour

Best Price Guaranteed

Book With Flexibility

East Coast USA and Canada End Boston

3 reviews
14

Days

Trafalgar

First Class

Escorted
New York, NY
Boston, MA
Canada, United States
$4,855View Tour

Best Price Guaranteed

Book With Flexibility

East Coast USA and Canada End Boston

3 reviews
14

Days

Trafalgar

First Class

Escorted
New York, NY
Boston, MA
Canada, United States
$4,450View Tour

Best Price Guaranteed

Book With Flexibility

Scenic Parks Explorer

182 reviews
15

Days

Trafalgar

First Class

Escorted
Las Vegas, NV
Las Vegas, NV
United States
$6,395View Tour

Best Price Guaranteed

Book With Flexibility

Scenic Parks Explorer

182 reviews
15

Days

Trafalgar

First Class

Escorted
Las Vegas, NV
Las Vegas, NV
United States
$5,445View Tour

Best Price Guaranteed

Book With Flexibility