Kenya is an incredible destination full of the most stunning African wildlife you can imagine. Many tourists flock to Kenya for the chance to see zebras, wildebeests, gorillas, and more wandering the wild. Your Kenya tour is guaranteed to open your mind to new cultures and stun you with the beauty of the national parks and reserves throughout the country. With tour operator volume buys plus our low everyday prices you can save up to 40% versus assembling the same itinerary on your own! Book your Kenya tour today with AffordableTours.com, your discounted tour headquarters. View Kenya Tour Deals and Discounts
Kenya Travel Guide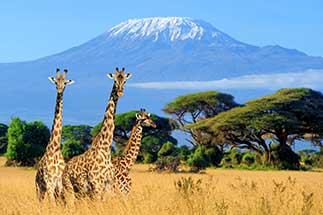 Showing 1 - 20 Tours
Tour Itinerary
Days
Operator
Quality
Style
Starts
Ends
Price

Kenya & Tanzania: The Safari Experience 2025 - Small Group

14

Days

Globus

First Class

Escorted
20
Nairobi
Arusha
Kenya, Tanzania
$9,549View Tour

Best Price Guaranteed

Book With Flexibility

African Safari Adventure with Zanzibar Island Escape

16

Days

Trafalgar

First Class

Escorted
5+ years old
50
Nairobi
Zanzibar
Kenya, Tanzania
$9,625View Tour

Best Price Guaranteed

Book With Flexibility

Kenya: A Classic Safari with Nairobi 2024 - Small Group

1 reviews
10

Days

Globus

First Class

Escorted
2 - Classic

20
Nairobi
Nairobi
Kenya
$5,349View Tour

Best Price Guaranteed

Book With Flexibility

Kenya & Tanzania: The Safari Experience 2024 - Small Group

19 reviews
14

Days

Globus

First Class

Escorted
1 - Light

20
Nairobi
Arusha
Kenya, Tanzania
$9,059View Tour

Best Price Guaranteed

Book With Flexibility




10 Day Classic Kenya & Tanzania - Tuesday Departure

10

Days

Gate1

First Class

Escorted
3 - Explorer

Nairobi
Nairobi
Kenya, Tanzania
$4,199View Tour

Best Price Guaranteed

Book With Flexibility

East Africa Private Safari with Nairobi 2024

12

Days

Globus

First Class

Escorted
3 - Explorer

8+ years old
Nairobi
Arusha
Kenya, Tanzania
$8,439View Tour

Best Price Guaranteed

Book With Flexibility

On Safari in Kenya & Tanzania 2024 - Small Group

2 reviews
11

Days

Cosmos

Budget

Escorted
3 - Explorer

20
Nairobi
Arusha
Kenya, Tanzania
$4,679View Tour

Best Price Guaranteed

Book With Flexibility

Kenya: A Classic Safari 2024 - Small Group

1 reviews
09

Days

Globus

First Class

Escorted
1 - Light

20
Nairobi
Nairobi
Kenya
$4,949View Tour

Best Price Guaranteed

Book With Flexibility

Kenya: A Classic Safari with Nairobi & Amboseli 2024 - Small Group

12

Days

Globus

First Class

Escorted
2 - Classic

20
Nairobi
Nairobi
Kenya
$6,794View Tour

Best Price Guaranteed

Book With Flexibility

Kenya & Tanzania: The Safari Experience with Zanzibar 2025 - Small Group

16

Days

Globus

First Class

Escorted
20
Nairobi
Dar es Salaam
Kenya, Tanzania, Zanzibar
$10,784View Tour

Best Price Guaranteed

Book With Flexibility

Kenya & Tanzania: The Safari Experience with Nairobi 2025 - Small Group

15

Days

Globus

First Class

Escorted
20
Nairobi
Arusha
Kenya, Tanzania
$10,049View Tour

Best Price Guaranteed

Book With Flexibility

Kenya: A Classic Safari with Nairobi 2025 - Small Group

10

Days

Globus

First Class

Escorted
20
Nairobi
Nairobi
Kenya
$5,409View Tour

Best Price Guaranteed

Book With Flexibility

Kenya Private Safari with Amboseli National Park 2025

12

Days

Globus

First Class

Escorted
2 - Classic

8+ years old
Nairobi
Nairobi
Kenya
$8,519View Tour

Best Price Guaranteed

Book With Flexibility

Kenya & Tanzania: The Safari Experience with Zanzibar 2024 - Small Group

3 reviews
16

Days

Globus

First Class

Escorted
2 - Classic

20
Nairobi
Dar es Salaam
Kenya, Tanzania, Zanzibar
$10,724View Tour

Best Price Guaranteed

Book With Flexibility

Kenya Private Safari 2025

10

Days

Globus

First Class

Escorted
2 - Classic

8+ years old
Nairobi
Nairobi
Kenya
$5,734View Tour

Best Price Guaranteed

Book With Flexibility

Kenya: A Classic Safari with Amboseli 2024 - Small Group

1 reviews
11

Days

Globus

First Class

Escorted
2 - Classic

20
Nairobi
Nairobi
Kenya
$6,414View Tour

Best Price Guaranteed

Book With Flexibility

Kenya & Tanzania: The Safari Experience with Nairobi 2024 - Small Group

15

Days

Globus

First Class

Escorted
2 - Classic

Nairobi
Arusha
Kenya, Tanzania
$9,529View Tour

Best Price Guaranteed

Book With Flexibility

Kenya & Tanzania: The Safari Experience with Nairobi & Zanzibar 2025 - Small Group

1 reviews
17

Days

Globus

First Class

Escorted
20
Nairobi
Dar es Salaam
Kenya, Tanzania, Zanzibar
$11,264View Tour

Best Price Guaranteed

Book With Flexibility

Kenya: A Classic Safari with Nairobi & Amboseli 2025 - Small Group

12

Days

Globus

First Class

Escorted
1 - Light

8+ years old
20
Nairobi
Nairobi
Kenya
$6,959View Tour

Best Price Guaranteed

Book With Flexibility

Kenya & Tanzania: The Safari Experience with Nairobi & Zanzibar 2024 - Small Group

3 reviews
17

Days

Globus

First Class

Escorted
2 - Classic

20
Nairobi
Dar es Salaam
Kenya, Tanzania, Zanzibar
$11,164View Tour

Best Price Guaranteed

Book With Flexibility
Kenya Travel Guide
Kenya Tours Highlights
Take a safari through Nairobi National Park to see giraffes, leopards, and lions.
Go for a swim at the white sand beach of Diani Beach.
Experience a rock-climbing adventure at Hells Gate National Park.
Explore the hiking trails at Mount Kenya.
Spot tons of colorful flamingos at Lake Nakuru.
Witness the wildebeest migration at Maasai Mara National Reserve.
Watch the beautiful wildlife walk past at the Samburu Trails.
Learn about a famous author at the Karen Blixen Museum.
Kenya Tours Travel Tips
Kenyans are very friendly, so don't be afraid to chat with the locals and get to know them!
While Kenya is considered a safe country, especially on the tourist path, you're likely to encounter extra security at airports and malls. Make sure you give yourself ample time and stick with your tour group at security checkpoints.
You'll definitely want to pack sufficient bug repellant. Malaria can be a significant risk, so you'll want a spray that is at least 30% DEET.
If you're looking to splurge on something before your trip, it should be a camera. You'll have some unbelievable photo ops on your safaris, so a high-quality camera can go a long way.
Don't forget your visa beforehand! There are multiple visas you might opt for, and your decision will be largely based on whether you'll be visiting multiple countries. Check in with your local government to see what you'll need, and b sure to complete this step well ahead of time so your trip goes off without a hitch.
Kenya Tours Things To Do
Nairobi National Park

Just outside of the main city, Nairobi National Park is home to a stunning diversity of wildlife. Across the grassy plains, you'll find endangered black rhinos, hyenas, cheetahs, giraffes, and over 400 species of birds. There are plenty of trails for hikers as well as picnic sites for you to enjoy a snack or meal.

Best Time To Visit

Nairobi National Park is open all year long. For the best visibility of wildlife, it's recommended to visit first thing in the morning if your tour allows.

You Should Know

At least 20 of the 400 bird species found here are seasonal European migrants. Nairobi National Park was established in December 1946 and today is one of the country's best rhinoceros sanctuaries.

Lake Nakuru

Lake Nakuru (and Lake Nakuru National Park) is located on the Great Rift Valley floor. The Lake is considered one of the Rift Valley soda lakes and has a high pH value. The National Park was created in 1961 and houses over 25 eastern black rhinos and around 70 southern white rhinos. However, the Lake is best known for its incredible concentration of flamingos.

Best Time To Visit

If you want to see flamingos, visit during January or February.

You Should Know

Lake Nakuru attracts so many flamingos because of the unbelievable abundance of algae. Visitors sometimes can't even see the surface of the lake since it's so pink! The word "Nakuru" translates from the Maasai language to mean "dust" or "dusty place." Other than flamingos and rhinos, you're likely to see giraffes, herons, eagles, and more throughout the park.

Maasai Mara National Reserve

The Maasai Mara National Reserve is one of the country's oldest and most popular destinations for a Kenyan safari. It stretches all along the border to Tanzania adjacent to the Serengeti. Many people flock here to witness the wildebeest migration, when wildebeest use almost 600 square miles to make their U-turn each fall.

Best Time To Visit

There's wildlife here in abundance all year long, but if you want to watch the wildebeest migration, visit from July through October.

You Should Know

This attraction is referred to by several different names. You may see it spelled as "Masai Mara" or called "The Mara" by locals. The National Reserve is renowned as one of the ten Wonders of the World and one of the Seven Natural Wonders of Africa. "Mara" translates to "spotted" in the Maasai language, and the park gets this name thanks to the short bushy trees throughout the landscape.

Hells Gate National Park

Established in 1984, Hells Gate National Park sits just northwest of Nairobi. It's a relatively small park but it is home to an incredible variety of wildlife and absolutely stunning scenery. You'll find three geothermal power stations, Hell's Gate Gorge, and columns at Central Tower and Fischer's Tower.

Best Time To Visit

You'll have the best weather and the smallest chance of rain anytime between June and March.

You Should Know

Mount Longonot within the park erupted in the early 1900s, and visitors can still feel the ash today. This park doesn't host a ton of wildlife, but there is a wide variety. Some of the species in the park include vultures, cheetahs, African buffalo, gazelles, baboons, and others. Guests are encouraged to hike, bike, and even motorcycle in the park. This park is just one of two parks in Kenya that allow this.

Diani Beach

Kenya isn't all just about wildlife and safaris! Diani Beach is definitely worth the trip if your tour allows. It's located on the eastern coast of Kenya and allows you to wade into the Indian Ocean. This beach is incredibly popular and has been voted Africa's top beach destination for 5 years in a row.

You Should Know

Many visitors come to Diani Beach for the snorkeling, jet skiing, sky diving, and kitesurfing opportunities. There are several restaurants and shopping centers nearby Diani Beach, perfect for grabbing an authentic Kenyan meal or doing your souvenir shopping. The beach stretches more than 17 kilometers, so you should have no trouble finding a spot to relax.

Samburu National Reserve

Located on the Ewaso Ng'iro riverbanks, Samburu National Reserve was established in 1985 and is known for its abundance of large game species. You're likely to see lions, African leopards, cheetahs, oryx, gerenuk, giraffes, and more. You can also head into the Elephant Watch Camp located inside the Reserve for a close look at these majestic animals.

Best Time To Visit

You're able to explore Samburu National Reserve all year long, but wildlife viewing is best from June to October or from December to March.

You Should Know

This Reserve is where George and Joy Adamson raised Elsa the Lioness, which was the subject of the book and movie Born Free. The Reserve also houses Kamunyak, a lioness who has become well known for adopting oryx calves. She has not been seen since February 2004.

Karen Blixen Museum

If you're interested in history and learning more about living in Africa, the Karen Blixen Museum is a perfect attraction. It is the former home of Karen Blixen, a Danish author who came to fame with the publication of her 1937 book Out of Africa, which was turned into a film in 1985. Guests are welcome to walk through the museum on their own or participate in a guided tour.

Best Time To Visit

The Karen Blixen Museum is open daily from 9:30 a.m. until 6 p.m.

You Should Know

Throughout the home, you can see rooms that feature original décor as well as props from the film. Blixen and her husband purchased the property in 1917 with the intention of starting a coffee plantation. Much of the original equipment is still on the property.

Amboseli National Park

Amboseli National Park in southern Kenya is the place to be if you're looking for elephants. The park is over 150 square miles and was established as a national park in 1974. This park's unique ecosystem is home to some of the world's best wildlife viewing with species like pelicans, kingfishers, impalas, lions, blue wildebeests, and more. You can even spot Mount Kilimanjaro from the park!

You Should Know

The Park was declared in UNESCO World Heritage Site in 1991. Guests are not allowed to exit their vehicles except at designated spots, and animals always have the right of way. Be sure to always listen to your guide to ensure the safety of yourself and the animals.
Kenya Tour Packages
Kenya has many attractions that make it the perfect destination for almost any time of the year. the weather is split between the rainy season and the dry season. The one time of year that is not recommended for a visit to Kenya is the "long rain" season from March through May. This time of year is incredibly wet and does not lend itself well to safaris or any of the other outdoor activities you may be interested in.
Dry Season - June to October - Best Season

Late June through October is widely considered to be the best time to visit Kenya. In particular, July through September is the dry season, so you'll have better weather for wildlife viewing. This period also contains the Great Migration of zebra and wildebeest, so you have the best chance of spotting some incredible wildlife.

Rainy Season - April to May - Low Season

You can also have an enjoyable experience during the rainy season. Though the weather will be less than ideal, you'll have fewer crowds to contend with and can still admire quite a bit of wildlife as well as the incredible plant life around you. Specifically, December is a great time to visit Kenya since rains tend to be short.
Kenya Tours Frequently Asked Questions
What is a Kenya Tour?

A Kenya tour will take you and a small group through the most beautiful attractions of Kenya. You'll get to head into some of the world's most stunning parks and wildlife reserves and view breathtaking wildlife in their natural habitats. Most Kenya tours last 10-14 days and take you through destinations like Nairobi National Park, Mount Kenya, Maasai Mara National Reserve, and more. Some tours will also take you to nearby countries like Zanzibar or Tanzania.

What's Included on a Kenya Tour?

Your Kenya tour will include your transportation between destinations as well as your lodging for every night of your stay. The majority of your meals will also be included, though some tours will allow you to find your own dinner for a night or two if you're in a city. Excursions like safaris, as well as guides, will be paid for within your Kenya tour price.

What's the Best Tour for a Kenya Tour?

Kenya is a popular destination for world travelers, which is why many of the world's top tour companies offer excursions here. Some of the most well-known include Trafalgar, Globus Journeys, Tauck, and Collette. Intrepid Travel, Tucan Travel, Viator, Rock My Adventure, and Bon Voyage Safaris are even more great options.

How Much Does a Kenya Tour Cost?

Because of all the travels and various safaris you'll be participating in, Kenya tours tend to be quite expensive. A typical tour will cost around $5,000 per person. Many tours can last upwards of 2 weeks or longer, which can make the price increase even further. It's not uncommon to see a 14-day tour from a boutique tour company cost $10,000 or more.
Learn More About Kenya Tours

Review: Kenya, A Timeless Safari With Nairobi With Globus

By: Moe Walker, Senior Travel Consultant & CTA Kenya, A Timeless Safari With Nairobi with Globus, is a small group, low action packed safari, that gets you up close and personal with the native people from the Samburu and Maasai Mara Villages. Each day is filled with morning and afternoon game drives, putting you on the…
Reviews for Kenya Tours and Vacations
Sam was an amazing guide! He made the trip great. I would have preferred a stay at a camp with a game drive over the stay at the Ark. The Ark was kinda cheesy.
Anna L
The tour is very good and hotel staff are all very friendly and efficient, we changed 3 tour directors during the trip, and each one is quite different and we need to adopt
Yiping C
First class tour with Globus. Exactly what they promised and more, staff from beginning to end were excellent.
James C
Departure
Lengths
Styles
Specialities
Price
How It Works
Vacationing has never been easier or cheaper with the help of a dedicated travel consultant from AffordableTours.com
1. Free Quote
Find your perfect trip on our website and simply request a free quote. Need to speak to a live person? Call us 7 days a week at 1-800-935-2620. No robots here!
2. Dedicated Travel Consultant
Your personal travel consultant will reach out and be your point of contact for your entire travel experience from start to finish. Did we mention you'll be working with an award winning team? Sweet!
3. Lowest Price Guaranteed
Because we're one of the largest sellers of travel, we're able to give you a discount on your vacation package. No one beats our prices!
4. Stress Free Travel
Knowing you got the best deal, all that's left is for you to pack your bags and enjoy your vacation!