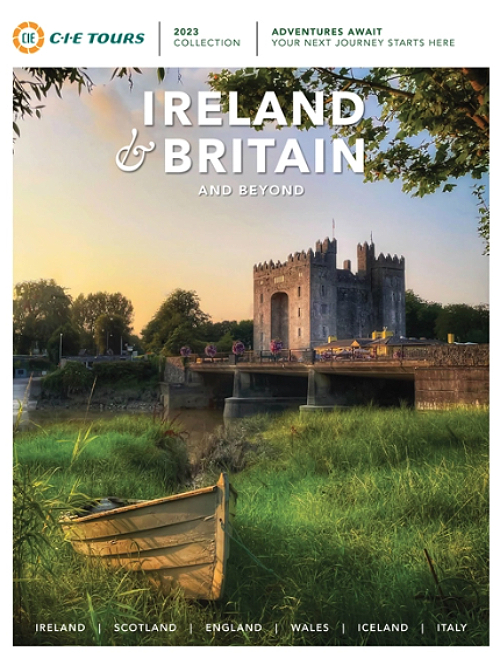 Guaranteed Low Prices on CIE Vacations - European Travel
NEW! 2024 Now Open for Sale! CIE Tours offers a wide selection of Ireland and Britain plus Eastern Europe, Iceland, Italy and River Cruises. With state-of-the-art luxury coaches; prompt and pleasant customer service; the best hotels; and carefully chosen visits and entertainment.
Escorted Tour
AffordableTours.com offers escorted tours to all of your favorite countries around the world. Escorted tours normally include hotel stays, transportation, most meals, sightseeing and cultural activities. They are led by a tour director who will be with your group from the beginning to end of the tour and they handle all of the logistics, check ins, attraction tickets and local guides that are included on your trip. People that enjoy escorted tours are travelers who don't have time or the knowhow to plan an all-encompassing, multiday overseas trip, people who travel in luxury or like to save money, and people who like to see the must-see sites while also experiencing the local culture. Escorted tours range in group size, pace, and age, so there is an escorted tour for every type of traveler. From solo travelers to groups of friends, to multi-generational families and adventure seekers, we have the escorted tour for you!
Tour Itinerary
Days
Operator
Quality
Style
Starts
Ends
Price

2024 Taste of Scotland - 5 Days/4 Nights

6 reviews
05

Days

CIE

First Class

Escorted
Glasgow
Edinburgh
Scotland
$1,345View Tour

Best Price Guaranteed

Book With Flexibility

2024 Taste of Ireland (Tour C) - 5 Days/4 Nights

30 reviews
05

Days

CIE

First Class

Escorted
Dublin
Shannon
Ireland
$1,395View Tour

Best Price Guaranteed

Book With Flexibility

2023 Taste of Scotland - 5 Days/4 Nights

6 reviews
05

Days

CIE

First Class

Escorted
Glasgow
Edinburgh
Scotland
$1,215View Tour

Best Price Guaranteed

Book With Flexibility

2023 Taste of Ireland (Tour C) - 5 Days/4 Nights

30 reviews
05

Days

CIE

First Class

Escorted
Dublin
Shannon
Ireland
$1,215View Tour

Best Price Guaranteed

Book With Flexibility

2024 Taste of Scotland - 6 Days/5 Nights

6 reviews
06

Days

CIE

First Class

Escorted
Glasgow
Edinburgh
Scotland
$1,495View Tour

Best Price Guaranteed

Book With Flexibility

2024 Taste of Ireland (Tour D) - 6 Days/5 Nights

108 reviews
06

Days

CIE

First Class

Escorted
Dublin
Dublin
Ireland
$1,545View Tour

Best Price Guaranteed

Book With Flexibility

2024 Taste of Ireland (Tour B) - 6 Days/5 Nights

140 reviews
06

Days

CIE

First Class

Escorted
Dublin
Shannon
Ireland
$1,645View Tour

Best Price Guaranteed

Book With Flexibility

2024 Taste of Iceland Coach Tour - 6 Days/5 Nights

6 reviews
06

Days

CIE

First Class

Escorted
Reykjavik
Reykjavik
Iceland
$2,645View Tour

Best Price Guaranteed

Book With Flexibility

2024 Northern Lights Quest of Iceland - 6 Days/5 Nights

10 reviews
06

Days

CIE

First Class

Escorted
Reykjavik
Reykjavik
Iceland
$2,845View Tour

Best Price Guaranteed

Book With Flexibility

2024 London Daytripper - 6 Days/5 Nights

06

Days

CIE

First Class

Escorted
London
London
England
$2,095View Tour

Best Price Guaranteed

Book With Flexibility

2024 Best of Ireland South (Tour D) - 6 Days/5 Nights

06

Days

CIE

First Class

Escorted
Dublin
Shannon
Ireland
$1,695View Tour

Best Price Guaranteed

Book With Flexibility

2023 Taste of Ireland (Tour D) - 6 Days/5 Nights

108 reviews
06

Days

CIE

First Class

Escorted
Dublin
Dublin
Ireland
$1,335View Tour

Best Price Guaranteed

Book With Flexibility

2023 Taste of Ireland (Tour B) - 6 Days/5 Nights

140 reviews
06

Days

CIE

First Class

Escorted
Dublin
Shannon
Ireland
$1,445View Tour

Best Price Guaranteed

Book With Flexibility

2023 Taste of Iceland Coach Tour - 6 Days/5 Nights

6 reviews
06

Days

CIE

First Class

Escorted
Reykjavik
Reykjavik
Iceland
$2,715View Tour

Best Price Guaranteed

Book With Flexibility

2023 Northern Lights Quest of Iceland - 6 Days/5 Nights

10 reviews
06

Days

CIE

First Class

Escorted
Reykjavik
Reykjavik
Iceland
$2,515View Tour

Best Price Guaranteed

Book With Flexibility

2023 London Daytripper - 6 Days/5 Nights

06

Days

CIE

First Class

Escorted
1 - Light

44
London
London
England
$2,015View Tour

Best Price Guaranteed

Book With Flexibility

2023 Best of Ireland South (Tour D) - 6 Days/5 Nights

06

Days

CIE

First Class

Escorted
Dublin
Shannon
Ireland
$1,445View Tour

Best Price Guaranteed

Book With Flexibility

2024 Taste of Italy - 7 Days/6 Nights

2 reviews
07

Days

CIE

First Class

Escorted
44
Venice
Rome
Italy
$2,345View Tour

Best Price Guaranteed

Book With Flexibility

2024 Taste of Ireland (Tour A) - 7 Days/6 Nights

10 reviews
07

Days

CIE

First Class

Escorted
Dublin
Dublin
Ireland
$1,795View Tour

Best Price Guaranteed

Book With Flexibility

2024 Taste of Britain - 7 Days/6 Nights

2 reviews
07

Days

CIE

First Class

Escorted
44
London
Edinburgh
England, Scotland
$2,195View Tour

Best Price Guaranteed

Book With Flexibility

2024 Southern Gems - 7 Days/6 Nights

07

Days

CIE

First Class

Escorted
Dublin
Shannon
Ireland
$2,045View Tour

Best Price Guaranteed

Book With Flexibility

2024 Irish Heritage - 7 Days/6 Nights

07

Days

CIE

First Class

Escorted
44
Shannon
Dublin
Ireland
$2,395View Tour

Best Price Guaranteed

Book With Flexibility

2024 Ireland South Daytripper - 7 Days/6 Nights

6 reviews
07

Days

CIE

First Class

Escorted
44
Shannon
Dublin
Ireland
$2,145View Tour

Best Price Guaranteed

Book With Flexibility

2024 Evergreen Ireland South - 7 Days/6 Nights

07

Days

CIE

First Class

Escorted
Dublin
Dublin
Ireland
$1,195View Tour

Best Price Guaranteed

Book With Flexibility

2024 Evergreen Ireland North - 7 Days/6 Nights

4 reviews
07

Days

CIE

First Class

Escorted
Dublin
Dublin
Ireland, North Ireland
$1,145View Tour

Best Price Guaranteed

Book With Flexibility

2024 Best of Ireland South (Tour C) - 7 Days/6 Nights

07

Days

CIE

First Class

Escorted
Dublin
Dublin
Ireland
$1,995View Tour

Best Price Guaranteed

Book With Flexibility

2024 Best of Ireland South (Tour B) - 7 Days/6 Nights

07

Days

CIE

First Class

Escorted
Dublin
Shannon
Ireland
$1,945View Tour

Best Price Guaranteed

Book With Flexibility

2023 Taste of Italy - 7 Days/6 Nights

2 reviews
07

Days

CIE

First Class

Escorted
44
Venice
Rome
Italy
$2,065View Tour

Best Price Guaranteed

Book With Flexibility

2023 Taste of Ireland (Tour A) - 7 Days/6 Nights

10 reviews
07

Days

CIE

First Class

Escorted
Dublin
Dublin
Ireland
$1,565View Tour

Best Price Guaranteed

Book With Flexibility

2023 Taste of Britain - 7 Days/6 Nights

2 reviews
07

Days

CIE

First Class

Escorted
44
London
Edinburgh
England, Scotland
$2,095View Tour

Best Price Guaranteed

Book With Flexibility

2023 Southern Gems - 7 Days/6 Nights

07

Days

CIE

First Class

Escorted
Dublin
Shannon
Ireland
$1,815View Tour

Best Price Guaranteed

Book With Flexibility

2023 Irish Heritage - 7 Days/6 Nights

07

Days

CIE

First Class

Escorted
44
Shannon
Dublin
Ireland
$2,015View Tour

Best Price Guaranteed

Book With Flexibility

2023 Ireland South Daytripper - 7 Days/6 Nights

6 reviews
07

Days

CIE

First Class

Escorted
44
Shannon
Dublin
Ireland
$1,995View Tour

Best Price Guaranteed

Book With Flexibility

2023 Evergreen Ireland South - 7 Days/6 Nights

07

Days

CIE

First Class

Escorted
1 - Light

Dublin
Dublin
Ireland
$1,035View Tour

Best Price Guaranteed

Book With Flexibility

2023 Evergreen Ireland North - 7 Days/6 Nights

4 reviews
07

Days

CIE

First Class

Escorted
Dublin
Dublin
Ireland, North Ireland
$995View Tour

Best Price Guaranteed

Book With Flexibility

2023 Best of Ireland South (Tour C) - 7 Days/6 Nights

07

Days

CIE

First Class

Escorted
Dublin
Dublin
Ireland
$1,675View Tour

Best Price Guaranteed

Book With Flexibility

2023 Best of Ireland South (Tour B) - 7 Days/6 Nights

07

Days

CIE

First Class

Escorted
1 - Light

Dublin
Shannon
Ireland
$1,645View Tour

Best Price Guaranteed

Book With Flexibility

8 Day Irish & Scottish Sampler 2023

6 reviews
08

Days

CIE

First Class

Escorted
Dublin
Edinburgh
Ireland, North Ireland, Scotland
$2,565View Tour

Best Price Guaranteed

Book With Flexibility

2024 The Irish Pub Tour- 8 Days/7 Nights

40 reviews
08

Days

CIE

First Class

Escorted
Dublin
Dublin
Ireland
$2,145View Tour

Best Price Guaranteed

Book With Flexibility

2024 Scottish Dream - 8 Days/7 Nights

24 reviews
08

Days

CIE

First Class

Escorted
Glasgow
Edinburgh
Scotland
$2,445View Tour

Best Price Guaranteed

Book With Flexibility

2024 Mystical Ireland - 8 Days/7 Nights

4 reviews
08

Days

CIE

First Class

Escorted
44
Dublin
Bunratty
Ireland, North Ireland
$2,395View Tour

Best Price Guaranteed

Book With Flexibility

2024 Irish Spirit- 8 Days/7 Nights

8 reviews
08

Days

CIE

First Class

Escorted
Dublin
Dublin
Ireland
$1,995View Tour

Best Price Guaranteed

Book With Flexibility

2024 Irish Heritage & Dromoland Castle - 8 Days/7 Nights

08

Days

CIE

First Class

Escorted
Shannon
Shannon
Ireland
$2,895View Tour

Best Price Guaranteed

Book With Flexibility

2024 Irish Adventure - 8 Days/7 Nights

48 reviews
08

Days

CIE

First Class

Escorted
Dublin
Dublin
Ireland, North Ireland
$1,945View Tour

Best Price Guaranteed

Book With Flexibility

2024 Ireland South Daytripper - 8 Days/7 Nights

6 reviews
08

Days

CIE

First Class

Escorted
44
Shannon
Dublin
Ireland
$2,295View Tour

Best Price Guaranteed

Book With Flexibility

2024 Gems of Southern England - 8 Days/7 Nights

08

Days

CIE

First Class

Escorted
Windsor
London
England
$3,045View Tour

Best Price Guaranteed

Book With Flexibility

2024 Best of Ireland South (Tour A) - 8 Days/7 Nights

4 reviews
08

Days

CIE

First Class

Escorted
Dublin
Dublin
Ireland
$2,195View Tour

Best Price Guaranteed

Book With Flexibility

2024 Irish Gold - 8 Days/7 Nights

16 reviews
08

Days

CIE

First Class

Escorted
Dublin
Dublin
Ireland
$2,345View Tour

Best Price Guaranteed

Book With Flexibility

2023 The Irish Pub Tour- 8 Days/7 Nights

40 reviews
08

Days

CIE

First Class

Escorted
Dublin
Dublin
Ireland
$1,915View Tour

Best Price Guaranteed

Book With Flexibility

2023 Scottish Dream - 8 Days/7 Nights

24 reviews
08

Days

CIE

First Class

Escorted
Glasgow
Edinburgh
Scotland
$2,145View Tour

Best Price Guaranteed

Book With Flexibility

2023 Mystical Ireland - 8 Days/7 Nights

4 reviews
08

Days

CIE

First Class

Escorted
44
Dublin
Bunratty
Ireland, North Ireland
$2,095View Tour

Best Price Guaranteed

Book With Flexibility

2023 Irish Spirit- 8 Days/7 Nights

8 reviews
08

Days

CIE

First Class

Escorted
Dublin
Dublin
Ireland
$1,745View Tour

Best Price Guaranteed

Book With Flexibility

2023 Irish Heritage & Dromoland Castle - 8 Days/7 Nights

08

Days

CIE

First Class

Escorted
Shannon
Shannon
Ireland
$2,515View Tour

Best Price Guaranteed

Book With Flexibility

2023 Irish Adventure - 8 Days/7 Nights

48 reviews
08

Days

CIE

First Class

Escorted
Dublin
Dublin
Ireland, North Ireland
$1,745View Tour

Best Price Guaranteed

Book With Flexibility

2023 Irish & Scottish Sampler - 8 Days/7 Nights

08

Days

CIE

First Class

Escorted
Dublin
Edinburgh
Ireland, North Ireland, Scotland
$2,565View Tour

Best Price Guaranteed

Book With Flexibility

2023 Gems of Southern England - 8 Days/7 Nights

08

Days

CIE

First Class

Escorted
44
Windsor
London
England
$2,745View Tour

Best Price Guaranteed

Book With Flexibility

2023 Best of Ireland South (Tour A) - 8 Days/7 Nights

4 reviews
08

Days

CIE

First Class

Escorted
1 - Light

Dublin
Shannon
Ireland
$1,875View Tour

Best Price Guaranteed

Book With Flexibility

2023 Irish Gold - 8 Days/7 Nights

16 reviews
08

Days

CIE

First Class

Escorted
Dublin
Dublin
Ireland
$2,175View Tour

Best Price Guaranteed

Book With Flexibility

9 Day Irish & Scottish Sampler 2023

6 reviews
09

Days

CIE

First Class

Escorted
Dublin
Edinburgh
Ireland, North Ireland, Scotland
$2,795View Tour

Best Price Guaranteed

Book With Flexibility

2024 The Irish Pub Tour - 9 Days/8 Nights

40 reviews
09

Days

CIE

First Class

Escorted
Dublin
Dublin
Ireland
$2,245View Tour

Best Price Guaranteed

Book With Flexibility

2024 Scottish Dream - 9 Days/8 Nights

24 reviews
09

Days

CIE

First Class

Escorted
Glasgow
Edinburgh
Scotland
$2,595View Tour

Best Price Guaranteed

Book With Flexibility

2024 Irish Spirit - 9 Days/8 Nights

8 reviews
09

Days

CIE

First Class

Escorted
Dublin
Dublin
Ireland
$2,245View Tour

Best Price Guaranteed

Book With Flexibility

2024 Irish Legends - 9 Days/8 Nights

4 reviews
09

Days

CIE

First Class

Escorted
Dublin
Dublin
Ireland
$2,495View Tour

Best Price Guaranteed

Book With Flexibility

2024 Irish Adventure - 9 Days/8 Nights

48 reviews
09

Days

CIE

First Class

Escorted
Dublin
Dublin
Ireland, North Ireland
$2,145View Tour

Best Price Guaranteed

Book With Flexibility

2024 Icelandic Explorer - 9 days/8 nights

09

Days

CIE

First Class

Escorted
Reykjavik
Reykjavik
Iceland
$4,095View Tour

Best Price Guaranteed

Book With Flexibility

2024 Gems of Northern England - 9 Days/8 Nights

09

Days

CIE

First Class

Escorted
44
London
Oxford
England
$3,145View Tour

Best Price Guaranteed

Book With Flexibility

2024 Best of Britain - 9 Days/8 Nights

4 reviews
09

Days

CIE

First Class

Escorted
Windsor
London
England, Scotland, Wales
$2,845View Tour

Best Price Guaranteed

Book With Flexibility

2024 Irish Gold - 9 Days/8 Nights

16 reviews
09

Days

CIE

First Class

Escorted
Dublin
Dublin
Ireland
$2,595View Tour

Best Price Guaranteed

Book With Flexibility

2023 The Irish Pub Tour - 9 Days/8 Nights

40 reviews
09

Days

CIE

First Class

Escorted
Dublin
Dublin
Ireland
$2,115View Tour

Best Price Guaranteed

Book With Flexibility

2023 Irish Spirit - 9 Days/8 Nights

8 reviews
09

Days

CIE

First Class

Escorted
Dublin
Dublin
Ireland
$1,975View Tour

Best Price Guaranteed

Book With Flexibility

2023 Irish Legends - 9 Days/8 Nights

4 reviews
09

Days

CIE

First Class

Escorted
Dublin
Dublin
Ireland
$2,215View Tour

Best Price Guaranteed

Book With Flexibility

2023 Irish Explorer - 9 Days/8 Nights

4 reviews
09

Days

CIE

First Class

Escorted
Dublin
Dublin
Ireland
$2,235View Tour

Best Price Guaranteed

Book With Flexibility

2023 Irish Adventure - 9 Days/8 Nights

48 reviews
09

Days

CIE

First Class

Escorted
Dublin
Dublin
Ireland, North Ireland
$1,995View Tour

Best Price Guaranteed

Book With Flexibility

2023 Irish & Scottish Sampler - 9 Days/8 Nights

09

Days

CIE

First Class

Escorted
Dublin
Edinburgh
Ireland, North Ireland, Scotland
$2,795View Tour

Best Price Guaranteed

Book With Flexibility

2023 Icelandic Explorer - 9 days/8 nights

09

Days

CIE

First Class

Escorted
2 - Classic

44
Reykjavik
Reykjavik
Iceland
$3,765View Tour

Best Price Guaranteed

Book With Flexibility

2023 Gems of Northern England - 9 Days/8 Nights

09

Days

CIE

First Class

Escorted
44
London
Oxford
England
$2,845View Tour

Best Price Guaranteed

Book With Flexibility

2023 Best of Britain - 9 Days/8 Nights

4 reviews
09

Days

CIE

First Class

Escorted
44
Windsor
London
England, Scotland, Wales
$2,645View Tour

Best Price Guaranteed

Book With Flexibility

2023 Irish Gold - 9 Days/8 Nights

16 reviews
09

Days

CIE

First Class

Escorted
Dublin
Dublin
Ireland
$2,415View Tour

Best Price Guaranteed

Book With Flexibility

Taste of Scotland & Ireland 2023

12 reviews
10

Days

CIE

First Class

Escorted
Glasgow
Shannon
Ireland, North Ireland, Scotland
$2,545View Tour

Best Price Guaranteed

Book With Flexibility

2024 Taste of Scotland & Ireland - 10 Days/9 Nights

10

Days

CIE

First Class

Escorted
2 - Classic

44
Glasgow
Shannon
Ireland, North Ireland, Scotland
$2,895View Tour

Best Price Guaranteed

Book With Flexibility

2024 Taste of Italy with Sorrento - 10 Days/9 Nights

2 reviews
10

Days

CIE

First Class

Escorted
Venice
Sorrento
Italy
$3,745View Tour

Best Price Guaranteed

Book With Flexibility

2024 Irish Legends - 10 Days/9 Nights

4 reviews
10

Days

CIE

First Class

Escorted
Dublin
Dublin
Ireland
$2,745View Tour

Best Price Guaranteed

Book With Flexibility

2024 Icelandic Explorer - 10 days/9 nights

10

Days

CIE

First Class

Escorted
Reykjavik
Reykjavik
Iceland
$4,495View Tour

Best Price Guaranteed

Book With Flexibility

2024 Best of Britain - 10 Days/9 Nights

4 reviews
10

Days

CIE

First Class

Escorted
Windsor
London
England, Scotland, Wales
$3,045View Tour

Best Price Guaranteed

Book With Flexibility

2023 Taste of Scotland & Ireland - 10 Days/9 Nights

10

Days

CIE

First Class

Escorted
Glasgow
Shannon
Ireland, North Ireland, Scotland
$2,545View Tour

Best Price Guaranteed

Book With Flexibility

2023 Taste of Italy with Sorrento - 10 Days/9 Nights

2 reviews
10

Days

CIE

First Class

Escorted
Venice
Sorrento
Italy
$3,295View Tour

Best Price Guaranteed

Book With Flexibility

2023 Scottish Clans & Castles - 10 Days/9 Nights

10

Days

CIE

First Class

Escorted
Edinburgh
Edinburgh
Scotland
$2,695View Tour

Best Price Guaranteed

Book With Flexibility

2023 Irish Legends - 10 Days/9 Nights

4 reviews
10

Days

CIE

First Class

Escorted
Dublin
Dublin
Ireland
$2,435View Tour

Best Price Guaranteed

Book With Flexibility

2023 Irish Explorer - 10 Days/9 Nights

4 reviews
10

Days

CIE

First Class

Escorted
Dublin
Dublin
Ireland
$2,475View Tour

Best Price Guaranteed

Book With Flexibility

2023 Icelandic Explorer - 10 days/9 nights

10

Days

CIE

First Class

Escorted
44
Reykjavik
Reykjavik
Iceland
$4,045View Tour

Best Price Guaranteed

Book With Flexibility

2023 Best of Britain - 10 Days/9 Nights

4 reviews
10

Days

CIE

First Class

Escorted
44
Windsor
London
England, Scotland, Wales
$2,815View Tour

Best Price Guaranteed

Book With Flexibility

The Scots Irish Tour 2023

11

Days

CIE

First Class

Escorted
Edinburgh
Shannon
Ireland, North Ireland, Scotland
$2,965View Tour

Best Price Guaranteed

Book With Flexibility

Taste of Scotland & Ireland 2023

12 reviews
11

Days

CIE

First Class

Escorted
Glasgow
Dublin
Ireland, North Ireland, Scotland
$2,695View Tour

Best Price Guaranteed

Book With Flexibility

2024 Taste of Scotland & Ireland - 11 Days/10 Nights

11

Days

CIE

First Class

Escorted
2 - Classic

44
Glasgow
Dublin
Ireland, North Ireland, Scotland
$3,045View Tour

Best Price Guaranteed

Book With Flexibility

2024 Scots Irish Tour - 11 Days/10 Nights

12 reviews
11

Days

CIE

First Class

Escorted
2 - Classic

Edinburgh
Shannon
Ireland, North Ireland, Scotland
$3,295View Tour

Best Price Guaranteed

Book With Flexibility

2023 Taste of Scotland & Ireland - 11 Days/10 Nights

11

Days

CIE

First Class

Escorted
Glasgow
Dublin
Ireland, North Ireland, Scotland
$2,695View Tour

Best Price Guaranteed

Book With Flexibility

2023 Scottish Clans & Castles - 11 Days/10 Nights

11

Days

CIE

First Class

Escorted
Edinburgh
Edinburgh
Scotland
$2,865View Tour

Best Price Guaranteed

Book With Flexibility

2023 Scots Irish Tour - 11 Days/10 Nights

12 reviews
11

Days

CIE

First Class

Escorted
Edinburgh
Shannon
Ireland, North Ireland, Scotland
$3,115View Tour

Best Price Guaranteed

Book With Flexibility

2024 Scottish Isles & Glens - 12 Days/11 Nights

12

Days

CIE

First Class

Escorted
Glasgow
Edinburgh
Scotland
$3,745View Tour

Best Price Guaranteed

Book With Flexibility

2024 Irish Odyssey - 12 Days/11 Nights

24 reviews
12

Days

CIE

First Class

Escorted
Dublin
Kingscourt
Ireland, North Ireland
$3,395View Tour

Best Price Guaranteed

Book With Flexibility

2024 Irish Classic - 12 Days/11 Nights

6 reviews
12

Days

CIE

First Class

Escorted
Dublin
Dublin
Ireland, North Ireland
$3,445View Tour

Best Price Guaranteed

Book With Flexibility

2023 Scottish Isles & Glens - 12 Days/11 Nights

12

Days

CIE

First Class

Escorted
Glasgow
Edinburgh
Scotland
$3,395View Tour

Best Price Guaranteed

Book With Flexibility

2023 Irish Odyssey - 12 Days/11 Nights

24 reviews
12

Days

CIE

First Class

Escorted
Dublin
Kingscourt
Ireland, North Ireland
$2,995View Tour

Best Price Guaranteed

Book With Flexibility

2024 Scottish Isles & Glens - 13 Days/12 Nights

13

Days

CIE

First Class

Escorted
Glasgow
Edinburgh
Scotland
$3,895View Tour

Best Price Guaranteed

Book With Flexibility

2024 Scottish & Irish Dream - 13 Days/12 Nights

36 reviews
13

Days

CIE

First Class

Escorted
2 - Classic

Glasgow
Bunratty
Ireland, Scotland
$3,795View Tour

Best Price Guaranteed

Book With Flexibility

2024 Jewels of Ireland - 13 Days/12 Nights

12 reviews
13

Days

CIE

First Class

Escorted
Dublin
Dublin
Ireland, North Ireland
$3,995View Tour

Best Price Guaranteed

Book With Flexibility

2024 Irish Classic - 13 Days/12 Nights

6 reviews
13

Days

CIE

First Class

Escorted
Dublin
Dublin
Ireland, North Ireland
$3,695View Tour

Best Price Guaranteed

Book With Flexibility

2023 Scottish & Irish Dream - 13 Days/12 Nights

36 reviews
13

Days

CIE

First Class

Escorted
Glasgow
Bunratty
Ireland, North Ireland, Scotland
$3,435View Tour

Best Price Guaranteed

Book With Flexibility

2023 Irish Classic - 13 Days/12 Nights

6 reviews
13

Days

CIE

First Class

Escorted
Dublin
Dublin
Ireland, North Ireland
$3,195View Tour

Best Price Guaranteed

Book With Flexibility

13 Day Scottish & Irish Dream 2023

4 reviews
13

Days

CIE

First Class

Escorted
Glasgow
Bunratty
Ireland, North Ireland, Scotland
$3,435View Tour

Best Price Guaranteed

Book With Flexibility

2024 Taste of Britain & Ireland - 14 Days/13 Nights

14

Days

CIE

First Class

Escorted
44
London
Dublin
England, Ireland, North Ireland, Scotland
$4,445View Tour

Best Price Guaranteed

Book With Flexibility

2024 Scottish & Irish Dream - 14 Days/13 Nights

36 reviews
14

Days

CIE

First Class

Escorted
2 - Classic

Glasgow
Dublin
Ireland, Scotland
$3,945View Tour

Best Price Guaranteed

Book With Flexibility

2024 Jewels of Ireland - 14 Days/13 Nights

12 reviews
14

Days

CIE

First Class

Escorted
Dublin
Dublin
Ireland, North Ireland
$4,245View Tour

Best Price Guaranteed

Book With Flexibility

2024 Highlights of Britain - 14 Days/13 Nights

14

Days

CIE

First Class

Escorted
London
London
England, Scotland, Wales
$4,345View Tour

Best Price Guaranteed

Book With Flexibility

2024 English Odyssey - 14 Days/13 Nights

14

Days

CIE

First Class

Escorted
Windsor
Oxford
England
$4,695View Tour

Best Price Guaranteed

Book With Flexibility

2023 Taste of Britain & Ireland - 14 Days/13 Nights

14

Days

CIE

First Class

Escorted
44
London
Dublin
England, Ireland, North Ireland, Scotland
$3,845View Tour

Best Price Guaranteed

Book With Flexibility

2023 Scottish & Irish Dream - 14 Days/13 Nights

36 reviews
14

Days

CIE

First Class

Escorted
Glasgow
Dublin
Ireland, North Ireland, Scotland
$3,565View Tour

Best Price Guaranteed

Book With Flexibility

2023 Jewels of Ireland - 14 Days/13 Nights

22 reviews
14

Days

CIE

First Class

Escorted
2 - Classic

Dublin
Dublin
Ireland, North Ireland
$3,565View Tour

Best Price Guaranteed

Book With Flexibility

2023 Highlights of Britain - 14 Days/13 Nights

2 reviews
14

Days

CIE

First Class

Escorted
2 - Classic

44
London
London
England, Scotland, Wales
$3,815View Tour

Best Price Guaranteed

Book With Flexibility

2023 English Odyssey - 14 Days/13 Nights

14

Days

CIE

First Class

Escorted
1 - Light

44
Windsor
Oxford
England
$4,245View Tour

Best Price Guaranteed

Book With Flexibility

14 Day Scottish & Irish Dream 2023

14

Days

CIE

First Class

Escorted
Glasgow
Dublin
Ireland, North Ireland, Scotland
$3,565View Tour

Best Price Guaranteed

Book With Flexibility

The Scots Irish Tour 2023

15

Days

CIE

First Class

Escorted
Edinburgh
Dublin
Ireland, North Ireland, Scotland
$3,875View Tour

Best Price Guaranteed

Book With Flexibility

2024 Scottish & Irish Gold - 15 Days/14 Nights

15

Days

CIE

First Class

Escorted
2 - Classic

44
Glasgow
Dublin
Ireland, North Ireland, Scotland
$4,095View Tour

Best Price Guaranteed

Book With Flexibility

2024 Scots Irish Tour - 15 Days/14 Nights

12 reviews
15

Days

CIE

First Class

Escorted
2 - Classic

Edinburgh
Dublin
Ireland, North Ireland, Scotland
$4,295View Tour

Best Price Guaranteed

Book With Flexibility

2023 Scottish & Irish Gold - 15 Days/14 Nights

15

Days

CIE

First Class

Escorted
Galway
Dublin
Ireland, North Ireland, Scotland
$3,895View Tour

Best Price Guaranteed

Book With Flexibility

2023 Scots Irish Tour - 15 Days/14 Nights

12 reviews
15

Days

CIE

First Class

Escorted
Edinburgh
Dublin
Ireland, North Ireland, Scotland
$4,095View Tour

Best Price Guaranteed

Book With Flexibility

2023 Jewels of Ireland - 15 Days/14 Nights

22 reviews
15

Days

CIE

First Class

Escorted
2 - Classic

Dublin
Dublin
Ireland, North Ireland
$3,765View Tour

Best Price Guaranteed

Book With Flexibility

15 Day Scottish & Irish Gold 2023

15

Days

CIE

First Class

Escorted
Glasgow
Dublin
Ireland, North Ireland, Scotland
$3,595View Tour

Best Price Guaranteed

Book With Flexibility

2024 Scottish & Irish Gold - 16 Days/15 Nights

16

Days

CIE

First Class

Escorted
2 - Classic

44
Glasgow
Dublin
Ireland, North Ireland, Scotland
$4,295View Tour

Best Price Guaranteed

Book With Flexibility

2023 Scottish & Irish Gold - 16 Days/15 Nights

16

Days

CIE

First Class

Escorted
Galway
Dublin
Ireland, North Ireland, Scotland
$4,095View Tour

Best Price Guaranteed

Book With Flexibility

16 Day Scottish & Irish Gold 2023

16

Days

CIE

First Class

Escorted
Glasgow
Dublin
Ireland, North Ireland, Scotland
$4,065View Tour

Best Price Guaranteed

Book With Flexibility