MS Nordkapp
MS Nordkapp is named after one of the highlights of the Hurtigruten coastal voyage, the North Cape, which at 71° N is the northernmost point of mainland Europe. As one of our expedition ships, MS Nordkapp travels with its own expedition team. The Scandinavian interior is stylish yet unpretentious, providing the perfect base for active exploration of the Norwegian coastline. Built in 1996, the ship is home to artworks by the renowned Norwegian artist Karl Erik Harr. The MS Nordkapp was upgraded in 2016 with mini suites and Jacuzzis.
Norway

Registration Country
Maiden Voyage: 1996
Tonnage: 11,386 tons
Length: 404.00 feet
Avg Speed: 15.00
Passenger Capacity: 622
Normal Crew Size: 230
Registration Country: Norway
Cabin Features

Special Requests

Special Dietary Meals
Wheelchair Accessible Cabins

Fitness Facilities

Services

1 Bars
Hottub
Internet Access
Library
Self Laundry
Shops
Dining
The usual meal times are:
• Breakfast from 07.30 to 10.00 (open seating)
• Lunch from 12.00/13.00 (open seating)
• Dinner times vary according to the itinerary. Typically, dinner starts at 18:00, and there will be a variety of
seating options available (times advised on board).
Full board begins with a buffet dinner on departure from Bergen and ends with brunch on the arrival day
back in Bergen. The food is mainly Norwegian and breakfast is buffet style with a selection of cold meats,
cheese, eggs, cereals, and fruit. Lunch is the famous Cold Table with a choice of fish dishes, cold meats,
salads, a selection of hot dishes, desserts, and fruit. Dinner is a three-course set meal from our coastal menu;
there is not usually a choice of menu. Occasionally the Cold Table may be served in the evening and the set
meal for lunch.
It is safe to drink the tap water on board. Still and sparkling mineral water, soft drinks, and wine can be
purchased in the restaurant. Arctic Superior and Expedition Suites guests have water packages included in
the price of their cabins. Wine packages are only included for Expedition Suites guests, but it is possible to
purchase these packages on board, or upgrade by pre-purchasing the packages before departure.
Specific diets, e.g. vegetarian, gluten-free etc., are generally available if sufficient notice (at least two weeks)
has been given to us in order to advise the ship. All ships are fully licensed; the price level is the same as on
mainland Norway. Restaurant opening hours vary depending on season and number of guests on board.
Further information is available on board.
Age Restrictions
On sailings along the Norwegian coast, kids aged 7-13 can partake in Hurtigruten's complimentary Young Explorers Program. It is designed for children travelling with adults to magnificent destinations where the focus is on education, fun, and participation. Participating in the Young Explorers Programme is free of charge for all kids on board, and will be available on Norwegian coastal sailings with MS Finnmarken, MS Midnatsol and MS Trollfjord.
Tipping
It is not common practice to tip on Hurtigruten ships on the coastal voyage, but if you feel that crew members should be rewarded for providing exceptional service, tip boxes and envelopes are available in the restaurant.
All categories on this ship contain the following:
All cabins include bathrooms with shower/WC
Most of the cabins have separate beds where one doubles as a sofa.
Some cabins are equipped with a double bed or upper and lower berths
Towels and shower gel/liquid soap are provided in all cabins
Hair dryer
Tea/coffee making facilities are available in Arctic Superior cabins and Expedition Suites only
220v AC. - 2 pin Continental-type
All the cabins have individual specifications
Inside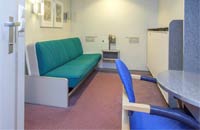 Category Code(s): I,K
54-108 sq. ft.
On decks 2, 3, 5, and 6
All cabins include bathrooms with shower/WC.
Most of the cabins have separate beds where one doubles as a sofa.
Some cabins are equipped with a double bed or upper and lower berths.
All the cabins have individual specifications.
Oceanview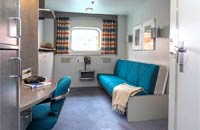 Category Code(s): J,L,N,O
54-140 sq. ft.
On decks 3, 5, and 6
With portholes
Some cabins offer limited or no view
Bathroom with shower/WC
Separate beds (where one is a sofa bed)
Some have double beds, others offer separate beds (where one is a sofa bed)
All the cabins have individual specifications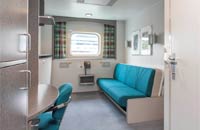 Category Code(s): P,U
54-140 sq. ft.
On decks 5 and 6
Bathroom with shower/WC
Double bed
TV
Equipped with tea and coffee-making facilities
All the cabins have individual specifications
MiniSuite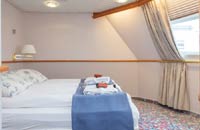 Category Code(s): Q
161-215 sq. ft.
On deck 6
One-room suite
Seating area
TV
Bathroom with shower/WC
Double bed
Internet access
Minibar
Equipped with tea and coffee-making facilities
All the cabins have individual specifications
Suite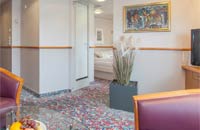 Category Code(s): M
301-323 sq. ft.
On deck 5
One- or two-room suite
TV
Bathroom with shower/WC
Double bed
Some of cabins have a private balcony
Minibar
Equipped with tea and coffee-making facilities
Some of the suites do have more facilities than others
All the cabins have individual specifications
Dining
Brygga Bistro
The Brygga Bistro is the first dining experience guests can have after embarkment. You can order delicious made-to-order hot foods such as pizza and hamburgers as well as traditional Norwegian dishes, wraps, and sandwiches.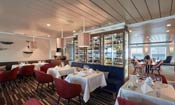 Kysten Arctic Fine Dining
Serving reindeer tenderloin, the finest and most exotic meat from the Arctic wilderness, the sweetest desserts, and a premium selection of fine wines. You can expect the very best at Kysten – Arctic Fine Dining.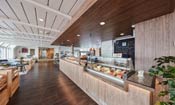 Multe Bakery & Ice Cream
At Multe, you can get delicious treats such as freshly baked cinnamon buns and waffles topped with whipped cream and cloudberry jam. Along with a scoop of Norwegian strawberry ice cream that you'll come back begging for more!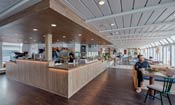 Torget
Breakfast, lunch, and dinner are enjoyed at the main restaurant, Torget. The new premium breakfast includes coffee and a selection of Norwegian breakfast highlights. At lunch, tables are brimming with a selection of hot and cold dishes. Dinner is slightly more formal, and can be either a buffet or a 3-course dinner.
Onboard Activities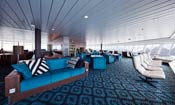 Explorer Lounge
Join the club! Take a seat and relax at the Explorer Lounge, located conveniently next to the Panorama Bar.
Night Life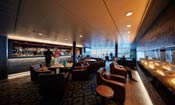 Panorama Bar
The centerpiece is a bar that aims to serve the largest collection of Norwegian spirits known to man. There is also a large selection of locally crafted Mack beers on tap, as well as daily sandwich options and Arctic hors d'oeuvres.
Shopping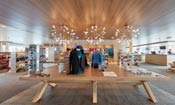 Shopping
The onboard shops carry a selected range of high quality knitwear, clothing, souvenirs and gift items. In addition, there is also a small selection of toiletries available for purchase.
Pools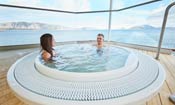 Jacuzzi
Relax and warm up while taking in the Arctic sights in the Nordkapp's outdoor jacuzzi on Deck 6.
Health and Safety Protocols
Be assured that Hurtigruten always follow all safety guidelines as recommended by the Norwegian government. One reason for this confidence in us is because we already have exceptionally high hygiene procedures in place:
As normal service resumes, Hurtigruten will be reducing the overall number of guests on ships, giving you plenty of space around you when aboard.
In Hurtigruten's roomy restaurants, they are adding more seating sessions so that there will be fewer people having their meals there at any time.
Instead of self-service buffets, the chefs will serve food directly to your individual plate.
The kitchen will continue to uphold its usual high standards of hygiene and quality.
Strict cleaning practices on board
Count on us to already have a range of strict cleaning practices on board, with the cleanness of each ship also continuously monitored. Regular microbiological samples are taken and sent off to laboratories for testing and they use UV light to check surfaces in cabins, galleys and public areas.
Independent inspectors are invited to conduct scheduled and unannounced visits to all the ships several times a year. The excellent hygiene on board the ships is not something they leave to chance. It is the result of effective controls that have proven themselves time and again over decades of safe sailing.
In addition to this,
Each ship will have a new team dedicated to ensuring communal areas are continually cleaned and disinfected.
There will be limited use of saunas, swimming pools and gyms.
Hurtigruten will also have appropriate markings on the ships to help keep a safe distance from others whenever queuing on board.
Staff and your well-being
They have all recently completed the WHO's official COVID-19 course for hygiene procedures and infection management.
Before starting work, every member of the crew undergoes a health check.
They have thorough first-aid training and can quickly contact healthcare professionals should any medical need arise.