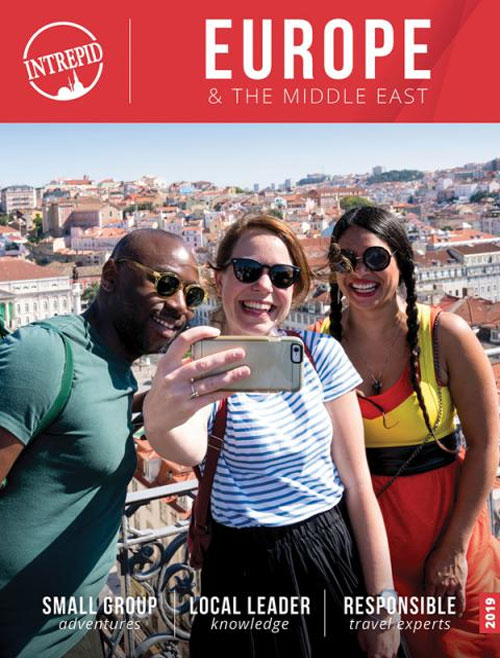 Call Us For Award-winning Value and Service on Intrepid Vacations - Europe
NEW! 2019 Now Open for Sale! Sailing along the Cote d'Azur, with the waves of the Med lapping against the hull, or browsing Venetian market stalls, you can't help but get swept up in the sheer romance of the place.
Escorted Tour
Escorted Tours are our most popular product. Escorted tours are normally conducted by a tour director who takes care of all services from beginning to end of the tour. Escorted tours normally include flights, hotels, transportation, transfers to the airport/hotel, most meals and sightseeing. Escorted Tours are conducted by motor-coach and usually no more than 2 nights are spent in each location visited. Escorted Tours are usually fast-paced and prices include much of the sightseeing.
Guided/Hosted Tour
Guided Tours are somewhat similar to Escorted tours but passengers are greeted by a local representative rather than a Tour Director and will not be escorted to all activities and functions. Local guides will be available to answer questions through the duration of the tour. Some meals, accommodations and sightseeing may be included in your tour. This style is ideal for people who want some freedom but still have the comfort of a guide.
Rail Tour
Rail tours offer a unique type of vacation in which much of the transportation is conducted via rail. Trains have been a fascination of many for years and with these select rail journeys you will get to experience the wondrous view, comfort and excitement of a train with the in-depth experience of a hosted or escorted tour.
Small Ship Cruising
Small ship cruises take travelers where big ships simply cannot, such as to the exotic Galapagos Islands, where colorful birds and reptiles make their home in this remote location. Small ships also visit "mainstream" locales, such as the Caribbean, Alaska, Hawaii and the Mediterranean¦ but because the ships are able to maneuver in small coves and channels, they can dock at more intimate ports, making for a fascinating travel experience.
| Tour Itinerary | Days | Operator | Quality | Style | Starts | Ends | Price |
| --- | --- | --- | --- | --- | --- | --- | --- |
| Sail Italy: Procida to Amalfi | 04 | Intrepid | | Small Ship Cruising | Procida | Amalfi Coast | $1,065 |
| Sail Italy: Amalfi to Procida | 04 | Intrepid | | Small Ship Cruising | Amalfi Coast | Procida | $1,010 |
| Amalfi Coast Sailing Adventure | 07 | Intrepid | | Small Ship Cruising | Procida | Procida | $1,961 |
| Cruising the Islands of Greece and Turkey | 08 | Intrepid | | Small Ship Cruising | Athens | Athens | $4,050 |
| Cruising Spain, Portugal and Morocco (Lisbon to Malaga) | 08 | Intrepid | | Small Ship Cruising | Lisbon | Malaga | $3,805 |
| Cruising Spain, Portugal and Morocco - Malaga to Lisbon (M/Y Harmony G) | 08 | Intrepid | | Small Ship Cruising | Malaga | Lisbon | $3,805 |
| Cruising the Outer Islands of Croatia: Split to Dubrovnik | 08 | Intrepid | | Small Ship Cruising | Split | Dubrovnik | $3,205 |
| Cruising Croatia's Northern Coast and Islands - Split to Venice | 08 | Intrepid | | Small Ship Cruising | Split | Venice | $2,930 |
| Cruising Croatia's Northern Coast and Islands - Venice to Split | 08 | Intrepid | | Small Ship Cruising | Venice | Split | $2,930 |
| Cruising Croatia's Central Coast | 08 | Intrepid | | Small Ship Cruising | Split | Split | $2,675 |
| Croatia Coastal Cruising: Split to Dubrovnik | 08 | Intrepid | | Small Ship Cruising | Split | Dubrovnik | $2,635 |
| Montenegro Sailing Adventure from Dubrovnik | 08 | Intrepid | | Small Ship Cruising | Dubrovnik | Dubrovnik | $1,934 |
| Croatia Coastal Cruising: Dubrovnik to Split (Peregrine Dalmatia) | 08 | Intrepid | | Small Ship Cruising | Dubrovnik | Split | $1,844 |
| Ionian Islands Sailing Adventure from Corfu | 08 | Intrepid | | Small Ship Cruising | Corfu | Corfu | $1,820 |
| Cote D'Azur Sailing Adventure - Nice to Marseille | 08 | Intrepid | | Small Ship Cruising | Nice | Marseille | $1,810 |
| Cote d'Azur Sailing Adventure - Marseille to Nice | 08 | Intrepid | | Small Ship Cruising | Marseille | Nice | $1,785 |
| Sardinia & Corsica Sailing Adventure | 08 | Intrepid | | Small Ship Cruising | Sardinia | Sardinia | $1,744 |
| Sail Greece: Santorini to Mykonos | 08 | Intrepid | | Small Ship Cruising | Santorini | Mykonos | $1,674 |
| Sail Greece: Mykonos to Santorini | 08 | Intrepid | | Small Ship Cruising | Mykonos | Santorini | $1,589 |
| Croatia Sailing Adventure - Dubrovnik to Split | 08 | Intrepid | | Small Ship Cruising | Dubrovnik | Split | $1,258 |
| Croatia Sailing Adventure - Split to Dubrovnik | 08 | Intrepid | | Small Ship Cruising | Split | Dubrovnik | $1,258 |
| Cruising the Adriatic Coast: Dubrovnik to Athens | 09 | Intrepid | | Small Ship Cruising | Dubrovnik | Athens | $4,040 |
| Arctic Express: Greenland's Northern Lights - Fly North, Fly South (Ocean Nova) | 10 | Intrepid | | Small Ship Cruising | Reykjavik | Reykjavik | $6,506 |
| Cruising the Turkish Coast | 10 | Intrepid | | Small Ship Cruising | Istanbul | Istanbul | $3,245 |
| Greece Sailing Adventure - Cyclades Islands | 10 | Intrepid | | Small Ship Cruising | Santorini | Santorini | $2,075 |
| Hidden Cyclades Sailing Adventure | 10 | Intrepid | | Small Ship Cruising | Athens | Athens | $2,020 |
| North Pole: Journey to the top of the World | 14 | Intrepid | | Small Ship Cruising | Helsinki | Helsinki | $32,990 |
| Cruise Croatia, Coast and Outer Islands: Split to Split | 15 | Intrepid | | Small Ship Cruising | Split | Split | $6,085 |
| Cruise Croatia - Dubrovnik to Split via Zadar | 15 | Intrepid | | Small Ship Cruising | Dubrovnik | Split | $5,760 |
| Cruise Croatia - Dubrovnik to Venice via Split | 15 | Intrepid | | Small Ship Cruising | Dubrovnik | Venice | $5,420 |
| Cruise Croatia - Venice to Dubrovnik via Split | 15 | Intrepid | | Small Ship Cruising | Venice | Dubrovnik | $5,420 |
| Cruise Croatia - Split to Dubrovnik via Zadar | 15 | Intrepid | | Small Ship Cruising | Split | Dubrovnik | $5,045 |
| Jewels of the Russian Arctic: Franz Josef Land and Novaya Zemlya | 16 | Intrepid | | Small Ship Cruising | Helsinki | Helsinki | $11,990 |
| Russian High Arctic Odyssey | 22 | Intrepid | | Small Ship Cruising | Helsinki | Helsinki | $17,490 |