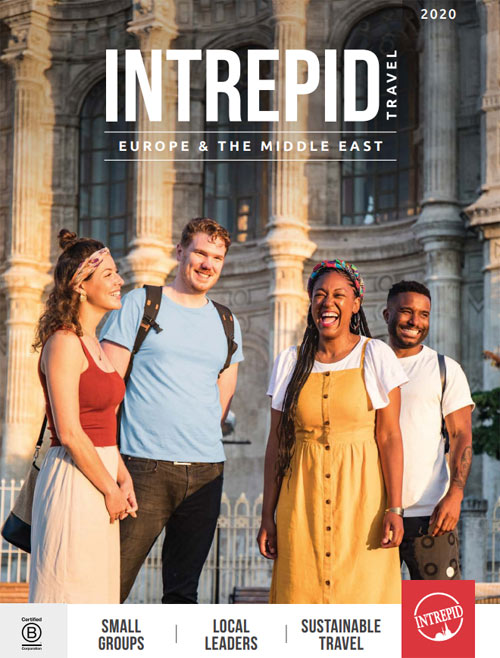 Call Us For Award-winning Value and Service on Intrepid Vacations - Europe
NEW! 2020 Now Open for Sale! Enduring, eclectic, endlessly appealing – Europe is easy to explore and impossible to forget. Not sure whether you want to hike through rugged wilderness, explore 13th-century churches or spend your afternoons sipping wine in the sun? In Europe you can do it all and do it well.
Guided/Hosted Tour
Get the same culturally immersive experience on your travels but with slightly more freedom on a guided/hosted tour! Unlike escorted tours, there may not be a dedicated travel director with you or your group. Instead, this person may change as you change destinations.
Small Ship Cruising
Small ship cruises take travelers where big ships simply cannot, such as to the exotic Galapagos Islands, where colorful birds and reptiles make their home in this remote location. Small ships also visit "mainstream" locales, such as the Caribbean, Alaska, Hawaii and the Mediterranean¦ but because the ships are able to maneuver in small coves and channels, they can dock at more intimate ports, making for a fascinating travel experience.
Tour Itinerary
Days
Operator
Quality
Style
Starts
Ends
Price

Sail Italy: Amalfi to Procida

04
Intrepid
Small Ship Cruising
Amalfi Coast
Procida
$1,010View Tour

Sail Italy: Procida to Amalfi

04
Intrepid
Small Ship Cruising
Procida
Amalfi Coast
$1,010View Tour

Amalfi Coast Sailing Adventure

07
Intrepid
Small Ship Cruising
Procida
Procida
$1,960View Tour

Croatia Coastal Cruising: Dubrovnik to Split (Lupus Mare)

08
Intrepid
Small Ship Cruising
Dubrovnik
Split
$3,205View Tour

Croatia Coastal Cruising: Dubrovnik to Split (Peregrine Dalmatia)

08
Intrepid
Small Ship Cruising
Dubrovnik
Split
$2,264View Tour

Croatia Coastal Cruising: Split to Dubrovnik

08
Intrepid
Small Ship Cruising
Split
Dubrovnik
$2,264View Tour

Montenegro Sailing Adventure from Dubrovnik

08
Intrepid
Small Ship Cruising
Dubrovnik
Dubrovnik
$1,933View Tour

Croatia Sailing Adventure - Dubrovnik to Split

08
Intrepid
Small Ship Cruising
Dubrovnik
Split
$1,803View Tour

Croatia Sailing Adventure - Split to Dubrovnik

08
Intrepid
Small Ship Cruising
Split
Dubrovnik
$1,803View Tour

Cote d'Azur Sailing Adventure - Marseille to Nice

08
Intrepid
Small Ship Cruising
Marseille
Nice
$1,784View Tour

Cote D'Azur Sailing Adventure - Nice to Marseille

08
Intrepid
Small Ship Cruising
Nice
Marseille
$1,784View Tour

Ionian Islands Sailing Adventure from Corfu

08
Intrepid
Small Ship Cruising
Corfu
Corfu
$1,719View Tour

Sardinia & Corsica Sailing Adventure

08
Intrepid
Small Ship Cruising
Sardinia
Sardinia
$1,653View Tour

Sail Greece: Mykonos to Santorini

08
Intrepid
Small Ship Cruising
Mykonos
Santorini
$1,648View Tour

Sail Greece: Santorini to Mykonos

08
Intrepid
Small Ship Cruising
Santorini
Mykonos
$1,588View Tour

Greece Sailing Adventure - Cyclades Islands

10
Intrepid
Small Ship Cruising
Santorini
Santorini
$2,074View Tour

Hidden Cyclades Sailing Adventure

10
Intrepid
Small Ship Cruising
Athens
Athens
$2,074View Tour

North Pole: Journey to the top of the World

14
Intrepid
Small Ship Cruising
Helsinki
Helsinki
$32,990View Tour

Jewels of the Russian Arctic: Franz Josef Land and Novaya Zemlya

16
Intrepid
Small Ship Cruising
Helsinki
Helsinki
$11,990View Tour