Africa and the Middle East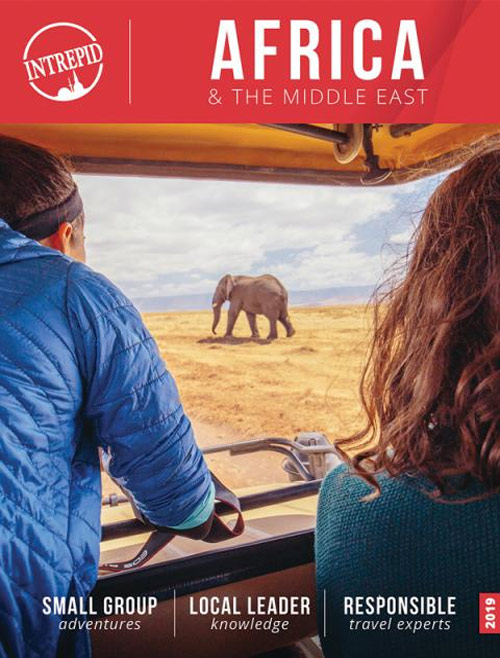 Call Us For Award-winning Value and Service on Intrepid Vacations - Africa and the Middle East
NEW! 2019 Now Open for Sale! These trips come in all shapes and sizes - from short breaks to epic overland journeys. This brochure is packed with active tours, safari adventures and immersive cultural experiences, taking in the diversity of the expansive Africa continent.
Escorted Tour
Escorted Tours are our most popular product. Escorted tours are normally conducted by a tour director who takes care of all services from beginning to end of the tour. Escorted tours normally include flights, hotels, transportation, transfers to the airport/hotel, most meals and sightseeing. Escorted Tours are conducted by motor-coach and usually no more than 2 nights are spent in each location visited. Escorted Tours are usually fast-paced and prices include much of the sightseeing.
Guided/Hosted Tour
Guided Tours are somewhat similar to Escorted tours but passengers are greeted by a local representative rather than a Tour Director and will not be escorted to all activities and functions. Local guides will be available to answer questions through the duration of the tour. Some meals, accommodations and sightseeing may be included in your tour. This style is ideal for people who want some freedom but still have the comfort of a guide.
Independent Vacation
These vacations usually spend 2 or 3 nights in each location visited and usually only a few locations are visited. A tour guide is normally not included, but there is a usually a host available to answer questions and suggest sightseeing. Few meals and some sightseeing are typically included, but a lot of free time to explore is available. These vacations are ideal for independent travelers looking to set their own pace.
Small Ship Cruising
Small ship cruises take travelers where big ships simply cannot, such as to the exotic Galapagos Islands, where colorful birds and reptiles make their home in this remote location. Small ships also visit "mainstream" locales, such as the Caribbean, Alaska, Hawaii and the Mediterranean¦ but because the ships are able to maneuver in small coves and channels, they can dock at more intimate ports, making for a fascinating travel experience.
Tour and Cruise
When you combine a cruise with your tour package you get the best of both worlds. Enjoy part of your vacation by land staying overnight in some locations at hotels, taking in the local life and exploring day trips in your area, then enhance the remainder of your vacation on a cruise taking in all the benefits a ship has to offer.