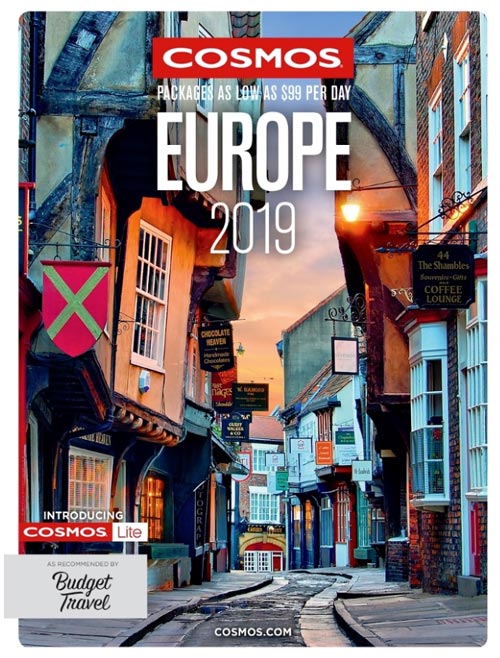 Guaranteed Low Prices on Cosmos Vacations - Europe
NEW! 2020 Now Open for Sale! Travel to lesser-known Apulia in the legendary "boot" of Italy, and discover Mediterranean Art Nouveau villas and beach-huts from the early 20th century and the stunning limestone vaves of Castellana. Indulge yourself in the cuisine and famous wines of Tuscany, with visits to local markets and a cooking lesson at a rustic farmhouse in the Tuscan countryside.
Rail Tour
Rail tours offer a unique type of vacation in which much of the transportation is conducted via rail. Trains have been a fascination of many for years and with these select rail journeys you will get to experience the wondrous view, comfort and excitement of a train with the in-depth experience of a hosted or escorted tour.
Tour and Cruise
When you combine a cruise with your tour package you get the best of both worlds. Enjoy part of your vacation by land staying overnight in some locations at hotels, taking in the local life and exploring day trips in your area, then enhance the remainder of your vacation on a cruise taking in all the benefits a ship has to offer.
| Tour Itinerary | Days | Operator | Quality | Style | Starts | Ends | Price |
| --- | --- | --- | --- | --- | --- | --- | --- |
| Athens & 7 Night Eclectic Aegean Islands Cruise in Outside Stateroom 2020 | 11 | Cosmos | | Tour & Cruise | Athens | Athens | $2,379 |
| Athens & 7 Night Idyllic Aegean Islands Cruise in Outside Stateroom 2020 | 11 | Cosmos | | Tour & Cruise | Athens | Athens | $2,379 |
| Athens & 7 Night Eclectic Aegean Islands Cruise 2020 | 11 | Cosmos | | Tour & Cruise | Athens | Athens | $2,090 |
| Athens & 7 Night Idyllic Aegean Islands Cruise 2020 | 11 | Cosmos | | Tour & Cruise | Athens | Athens | $2,090 |
| Italy & Greece 2020 | 12 | Cosmos | | Tour & Cruise | Rome | Athens | $1,999 |
| Greece Explorer & Aegean Islands Cruise in Outside Cabin 2020 | 12 | Cosmos | | Tour & Cruise | Athens | Athens | $1,809 |
| Greece Explorer & Aegean Islands Cruise 2020 | 12 | Cosmos | | Tour & Cruise | Athens | Athens | $1,640 |
| Greece & Aegean Cruise in Outside Stateroom 2020 | 15 | Cosmos | | Tour & Cruise | Athens | Athens | $2,605 |
| Greece & Aegean Islands Cruise 2020 | 15 | Cosmos | | Tour & Cruise | Athens | Athens | $2,450 |
| Italy & Greece with Iconic Aegean Islands Cruise in Outside Stateroom 2020 | 16 | Cosmos | | Tour & Cruise | Rome | Athens | $2,879 |
| Italy & Greece with Iconic Aegean Islands Cruise 2020 | 16 | Cosmos | | Tour & Cruise | Rome | Athens | $2,710 |