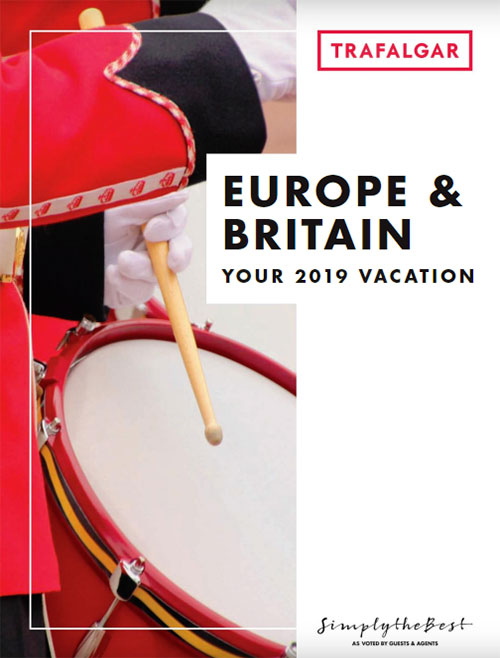 Guaranteed Low Prices on Trafalgar Vacations - Europe and Britain
NEW! 2020 Now Open for Sale! Europe is a sheer smorgasbord for the senses, brimming with spices, sounds and aromas, which Trafalgar brings to life. They transform the essence of any destination into bite-sized experiences. Explore this diversity in depth with Trafalgar. Sample the secret contrasts and quirks of each destination together.
Small Ship Cruising
Small ship cruises take travelers where big ships simply cannot, such as to the exotic Galapagos Islands, where colorful birds and reptiles make their home in this remote location. Small ships also visit "mainstream" locales, such as the Caribbean, Alaska, Hawaii and the Mediterranean¦ but because the ships are able to maneuver in small coves and channels, they can dock at more intimate ports, making for a fascinating travel experience.
Tour and Cruise
When you combine a cruise with your tour package you get the best of both worlds. Enjoy part of your vacation by land staying overnight in some locations at hotels, taking in the local life and exploring day trips in your area, then enhance the remainder of your vacation on a cruise taking in all the benefits a ship has to offer.
| Tour Itinerary | Days | Operator | Quality | Style | Starts | Ends | Price |
| --- | --- | --- | --- | --- | --- | --- | --- |
| Ancient Lands Premium Summer 2020 | 08 | Trafalgar | | Tour & Cruise | Athens | Athens | $2,634 |
| Ancient Lands Premier Summer 2020 | 08 | Trafalgar | | Tour & Cruise | Athens | Athens | $2,559 |
| Ancient Lands Superior Summer 2020 | 08 | Trafalgar | | Tour & Cruise | Athens | Athens | $2,504 |
| Ancient Lands Moderate C Summer 2020 | 08 | Trafalgar | | Tour & Cruise | Athens | Athens | $2,459 |
| Ancient Lands Moderate B Summer 2020 | 08 | Trafalgar | | Tour & Cruise | Athens | Athens | $2,404 |
| Ancient Lands Moderate A Summer 2020 | 08 | Trafalgar | | Tour & Cruise | Athens | Athens | $2,259 |
| Aegean Odyssey Eclectic Deluxe Summer 2020 | 11 | Trafalgar | | Tour & Cruise | Athens | Athens | $3,709 |
| Aegean Odyssey Eclectic Premium Summer 2020 | 11 | Trafalgar | | Tour & Cruise | Athens | Athens | $3,584 |
| Aegean Odyssey Idyllic Premium Summer 2020 | 11 | Trafalgar | | Tour & Cruise | Athens | Athens | $3,584 |
| Aegean Odyssey Eclectic Premier Summer 2020 | 11 | Trafalgar | | Tour & Cruise | Athens | Athens | $3,409 |
| Aegean Odyssey Eclectic Superior Summer 2020 | 11 | Trafalgar | | Tour & Cruise | Athens | Athens | $3,409 |
| Aegean Odyssey Idyllic Premier Summer 2020 | 11 | Trafalgar | | Tour & Cruise | Athens | Athens | $3,409 |
| Aegean Odyssey Idyllic Superior Summer 2020 | 11 | Trafalgar | | Tour & Cruise | Athens | Athens | $3,409 |
| Aegean Odyssey Eclectic Moderate C Summer 2020 | 11 | Trafalgar | | Tour & Cruise | Athens | Athens | $3,384 |
| Aegean Odyssey Idyllic Moderate C Summer 2020 | 11 | Trafalgar | | Tour & Cruise | Athens | Athens | $3,384 |
| Aegean Odyssey Eclectic Moderate B Summer 2020 | 11 | Trafalgar | | Tour & Cruise | Athens | Athens | $3,284 |
| Aegean Odyssey Idyllic Moderate B Summer 2020 | 11 | Trafalgar | | Tour & Cruise | Athens | Athens | $3,284 |
| Aegean Odyssey Eclectic Moderate A Summer 2020 | 11 | Trafalgar | | Tour & Cruise | Athens | Athens | $3,084 |
| Aegean Odyssey Idyllic Moderate A Summer 2020 | 11 | Trafalgar | | Tour & Cruise | Athens | Athens | $3,084 |
| Best of Greece with 3Day Aegean Cruise Premium Summer 2020 | 12 | Trafalgar | | Tour & Cruise | Athens | Athens | $3,354 |
| Best of Greece with 3 Day Aegean Cruise Premier Summer 2020 | 12 | Trafalgar | | Tour & Cruise | Athens | Athens | $3,284 |
| Best of Greece with 3Day Aegean Cruise Superior Summer 2020 | 12 | Trafalgar | | Tour & Cruise | Athens | Athens | $3,254 |
| Best of Greece with 3Day Aegean Cruise Moderate C Summer 2020 | 12 | Trafalgar | | Tour & Cruise | Athens | Athens | $3,209 |
| Best of Greece with 3Day Aegean Cruise Moderate A Summer 2020 | 12 | Trafalgar | | Tour & Cruise | Athens | Athens | $3,184 |
| Best of Greece with 3 Day Aegean Cruise Premium Summer 2020 | 12 | Trafalgar | | Tour & Cruise | Athens | Athens | $3,134 |
| Best of Greece with 3 Day Aegean Cruise Moderate B Summer 2020 | 12 | Trafalgar | | Tour & Cruise | Athens | Athens | $3,134 |
| Best of Greece with 3 Day Aegean Cruise Premier Summer 2020 | 12 | Trafalgar | | Tour & Cruise | Athens | Athens | $3,084 |
| Best of Greece with 3 Day Aegean Cruise Superior Summer 2020 | 12 | Trafalgar | | Tour & Cruise | Athens | Athens | $3,034 |
| Best of Greece with 3Day Aegean Cruise Moderate A Summer 2020 | 12 | Trafalgar | | Tour & Cruise | Athens | Athens | $2,809 |
| Best of Greece with 4 Day Aegean Cruise Premium Summer 2020 | 13 | Trafalgar | | Tour & Cruise | Athens | Athens | $3,784 |
| Best of Greece with 4Day Aegean Cruise Premier Summer 2020 | 13 | Trafalgar | | Tour & Cruise | Athens | Athens | $3,584 |
| Best of Greece with 4Day Aegean Cruise Superior Summer 2020 | 13 | Trafalgar | | Tour & Cruise | Athens | Athens | $3,504 |
| Best of Greece with 4Day Aegean Cruise Moderate C Summer 2020 | 13 | Trafalgar | | Tour & Cruise | Athens | Athens | $3,459 |
| Best of Greece with 4Day Aegean Cruise Moderate B Summer 2020 | 13 | Trafalgar | | Tour & Cruise | Athens | Athens | $3,384 |
| Best of Greece with 4 Day Aegean Cruise Moderate A Summer 2020 | 13 | Trafalgar | | Tour & Cruise | Athens | Athens | $3,259 |
| Best of Italy and Greece with Cruise Premier Summer 2020 | 14 | Trafalgar | | Tour & Cruise | Rome | Atakora | $4,468 |
| Contrasts of Italy with Pearls of the Adriatic Upper Deck Summer 2020 | 17 | Trafalgar | | Tour & Cruise | Rome | Dubrovnik | $5,424 |
| Contrasts of Italy with Pearls of the Adriatic Lower Deck Summer 2020 | 17 | Trafalgar | | Tour & Cruise | Rome | Dubrovnik | $5,154 |
| Best of Greece with 7Day Idyllic Aegean Cruise Deluxe Summer 2020 | 17 | Trafalgar | | Tour & Cruise | Athens | Athens | $4,854 |
| Best of Greece with 7Day Idyllic Aegean Cruise Premium Summer 2020 | 17 | Trafalgar | | Tour & Cruise | Athens | Athens | $4,734 |
| Best of Greece with 7Day Eclectic Aegean Cruise Deluxe Summer 2020 | 17 | Trafalgar | | Tour & Cruise | Athens | Athens | $4,709 |
| Best of Greece with 7Day Idyllic Aegean Cruise Premier Summer 2020 | 17 | Trafalgar | | Tour & Cruise | Athens | Athens | $4,634 |
| Best of Greece with 7Day Eclectic Aegean Cruise Premium Summer 2020 | 17 | Trafalgar | | Tour & Cruise | Athens | Athens | $4,584 |
| Best of Greece with 7Day Idyllic Aegean Cruise Superior Summer 2020 | 17 | Trafalgar | | Tour & Cruise | Athens | Athens | $4,554 |
| Best of Greece with 7Day Idyllic Aegean Cruise Moderate C Summer 2020 | 17 | Trafalgar | | Tour & Cruise | Athens | Athens | $4,509 |
| Best of Greece with 7Day Eclectic Aegean Cruise Premier Summer 2020 | 17 | Trafalgar | | Tour & Cruise | Athens | Athens | $4,454 |
| Best of Greece with 7 Day Idyllic Aegean Cruise Moderate B Summer 2020 | 17 | Trafalgar | | Tour & Cruise | Athens | Athens | $4,409 |
| Best of Greece with 7Day Eclectic Aegean Cruise Superior Summer 2020 | 17 | Trafalgar | | Tour & Cruise | Athens | Athens | $4,409 |
| Best of Greece with 7Day Eclectic Aegean Cruise Moderate C Summer 2020 | 17 | Trafalgar | | Tour & Cruise | Athens | Athens | $4,334 |
| Best of Greece with 7Day Eclectic Aegean Cruise Moderate B Summer 2020 | 17 | Trafalgar | | Tour & Cruise | Athens | Athens | $4,234 |
| Best of Greece with 7Day Idyllic Aegean Cruise Moderate A Summer 2020 | 17 | Trafalgar | | Tour & Cruise | Athens | Athens | $4,184 |
| Best of Greece with 7Day Eclectic Aegean Cruise Moderate A Summer 2020 | 17 | Trafalgar | | Tour & Cruise | Athens | Athens | $4,034 |
| Best of Croatia and Slovenia with Pearls of the Adriatic Lower Deck Summer 2020 | 18 | Trafalgar | | Tour & Cruise | Zagreb | Zagreb | $4,843 |
| European Supreme With 3 Day Aegean Cruise Premier Summer 2020 (Link) | 31 | Trafalgar | | Tour & Cruise | London | Paris | $7,903 |