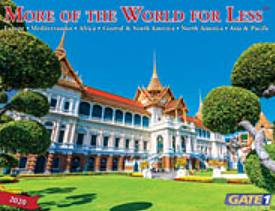 Guaranteed Low Prices on Gate1 Vacations - World
NEW! 2023 Now Open for Sale! Gate1 Travel's discount vacation packages to destinations worldwide provide exceptional value, saving you time and money. Choose your favorite worldwide vacation destination to Europe, Asia, USA, Africa or the Pacific and Gate1 Travel will have the perfect vacation package for you.
Escorted Tour
AffordableTours.com offers escorted tours to all of your favorite countries around the world. Escorted tours normally include hotel stays, transportation, most meals, sightseeing and cultural activities. They are led by a tour director who will be with your group from the beginning to end of the tour and they handle all of the logistics, check ins, attraction tickets and local guides that are included on your trip. People that enjoy escorted tours are travelers who don't have time or the knowhow to plan an all-encompassing, multiday overseas trip, people who travel in luxury or like to save money, and people who like to see the must-see sites while also experiencing the local culture. Escorted tours range in group size, pace, and age, so there is an escorted tour for every type of traveler. From solo travelers to groups of friends, to multi-generational families and adventure seekers, we have the escorted tour for you!
Tour Itinerary
Days
Operator
Quality
Style
Starts
Ends
Price

4 Day Quebec's Christmas Market - Wednesday Departure

04

Days

Gate1

First Class

Escorted
Quebec City
Quebec City
Canada
$549View Tour

Best Price Guaranteed

Book With Flexibility

4 Day Quebec's Christmas Market - Thursday Departure

3 reviews
04

Days

Gate1

First Class

Escorted
Quebec City
Quebec City
Canada
$549View Tour

Best Price Guaranteed

Book With Flexibility

4 Day Quebec's Christmas Market - Friday Departure

04

Days

Gate1

First Class

Escorted
Quebec City
Quebec City
Canada
$549View Tour

Best Price Guaranteed

Book With Flexibility

4 Day Maui Vacation (Los Angeles) - Royal Lahaina Resort

04

Days

Gate1

First Class

Escorted
Kahului, HI
Kahului, HI
United States
$1,349View Tour

Best Price Guaranteed

Book With Flexibility

5 Day Iceland's Northern Lights (Wednesday Departure, Washington D.C.) -Plan C

05

Days

Gate1

First Class

Escorted
Reykjavik
Reykjavik
Iceland
$929View Tour

Best Price Guaranteed

Book With Flexibility

5 Day Iceland's Northern Lights (Wednesday Departure, Washington D.C.) -Plan B

05

Days

Gate1

First Class

Escorted
Reykjavik
Reykjavik
Iceland
$1,029View Tour

Best Price Guaranteed

Book With Flexibility

5 Day Iceland's Northern Lights (Wednesday Departure, Washington D.C.) -Plan A

05

Days

Gate1

First Class

Escorted
Reykjavik
Reykjavik
Iceland
$1,049View Tour

Best Price Guaranteed

Book With Flexibility

5 Day Iceland's Northern Lights (Wednesday Departure, Seattle) -Plan C

05

Days

Gate1

First Class

Escorted
Reykjavik
Reykjavik
Iceland
$1,129View Tour

Best Price Guaranteed

Book With Flexibility

5 Day Iceland's Northern Lights (Wednesday Departure, Seattle) -Plan B

05

Days

Gate1

First Class

Escorted
Reykjavik
Reykjavik
Iceland
$1,229View Tour

Best Price Guaranteed

Book With Flexibility

5 Day Iceland's Northern Lights (Wednesday Departure, Seattle) -Plan A

05

Days

Gate1

First Class

Escorted
Reykjavik
Reykjavik
Iceland
$1,249View Tour

Best Price Guaranteed

Book With Flexibility

5 Day Iceland's Northern Lights (Wednesday Departure, Chicago) -Plan C

05

Days

Gate1

First Class

Escorted
Reykjavik
Reykjavik
Iceland
$1,059View Tour

Best Price Guaranteed

Book With Flexibility

5 Day Iceland's Northern Lights (Wednesday Departure, Chicago) -Plan B

05

Days

Gate1

First Class

Escorted
Reykjavik
Reykjavik
Iceland
$1,159View Tour

Best Price Guaranteed

Book With Flexibility

5 Day Iceland's Northern Lights (Wednesday Departure, Chicago) -Plan A

05

Days

Gate1

First Class

Escorted
Reykjavik
Reykjavik
Iceland
$1,179View Tour

Best Price Guaranteed

Book With Flexibility

5 Day Iceland's Northern Lights (Wednesday Departure, Boston) -Plan C

05

Days

Gate1

First Class

Escorted
Reykjavik
Reykjavik
Iceland
$839View Tour

Best Price Guaranteed

Book With Flexibility

5 Day Iceland's Northern Lights (Wednesday Departure, Boston) -Plan B

05

Days

Gate1

First Class

Escorted
Reykjavik
Reykjavik
Iceland
$939View Tour

Best Price Guaranteed

Book With Flexibility

5 Day Iceland's Northern Lights (Wednesday Departure, Boston) -Plan A

05

Days

Gate1

First Class

Escorted
Reykjavik
Reykjavik
Iceland
$959View Tour

Best Price Guaranteed

Book With Flexibility

5 Day Iceland's Northern Lights (Thursday Departures, New York) -Plan C

05

Days

Gate1

First Class

Escorted
Reykjavik
Reykjavik
Iceland
$999View Tour

Best Price Guaranteed

Book With Flexibility

5 Day Iceland's Northern Lights (Thursday Departures, New York) -Plan B

05

Days

Gate1

First Class

Escorted
Reykjavik
Reykjavik
Iceland
$1,069View Tour

Best Price Guaranteed

Book With Flexibility

5 Day Iceland's Northern Lights (Thursday Departures, New York) -Plan A

05

Days

Gate1

First Class

Escorted
Reykjavik
Reykjavik
Iceland
$1,089View Tour

Best Price Guaranteed

Book With Flexibility

5 Day Iceland's Northern Lights (Thursday Departure, Washington D.C.) -Plan C

05

Days

Gate1

First Class

Escorted
Reykjavik
Reykjavik
Iceland
$1,009View Tour

Best Price Guaranteed

Book With Flexibility

5 Day Iceland's Northern Lights (Thursday Departure, Washington D.C.) -Plan B

05

Days

Gate1

First Class

Escorted
Reykjavik
Reykjavik
Iceland
$1,069View Tour

Best Price Guaranteed

Book With Flexibility

5 Day Iceland's Northern Lights (Thursday Departure, Washington D.C.) -Plan A

05

Days

Gate1

First Class

Escorted
Reykjavik
Reykjavik
Iceland
$1,089View Tour

Best Price Guaranteed

Book With Flexibility

5 Day Iceland's Northern Lights (Thursday Departure, Seattle) -Plan C

05

Days

Gate1

First Class

Escorted
Reykjavik
Reykjavik
Iceland
$1,209View Tour

Best Price Guaranteed

Book With Flexibility

5 Day Iceland's Northern Lights (Thursday Departure, Seattle) -Plan B

05

Days

Gate1

First Class

Escorted
Reykjavik
Reykjavik
Iceland
$1,269View Tour

Best Price Guaranteed

Book With Flexibility

5 Day Iceland's Northern Lights (Thursday Departure, Seattle) -Plan A

05

Days

Gate1

First Class

Escorted
Reykjavik
Reykjavik
Iceland
$1,289View Tour

Best Price Guaranteed

Book With Flexibility

5 Day Iceland's Northern Lights (Thursday Departure, Chicago) -Plan C

05

Days

Gate1

First Class

Escorted
Reykjavik
Reykjavik
Iceland
$329View Tour

Best Price Guaranteed

Book With Flexibility

5 Day Iceland's Northern Lights (Thursday Departure, Chicago) -Plan B

05

Days

Gate1

First Class

Escorted
Reykjavik
Reykjavik
Iceland
$389View Tour

Best Price Guaranteed

Book With Flexibility

5 Day Iceland's Northern Lights (Thursday Departure, Chicago) -Plan A

05

Days

Gate1

First Class

Escorted
Reykjavik
Reykjavik
Iceland
$409View Tour

Best Price Guaranteed

Book With Flexibility

5 Day Iceland's Northern Lights (Thursday Departure, Boston) -Plan C

05

Days

Gate1

First Class

Escorted
Reykjavik
Reykjavik
Iceland
$919View Tour

Best Price Guaranteed

Book With Flexibility

5 Day Iceland's Northern Lights (Thursday Departure, Boston) -Plan B

05

Days

Gate1

First Class

Escorted
Reykjavik
Reykjavik
Iceland
$979View Tour

Best Price Guaranteed

Book With Flexibility

5 Day Iceland's Northern Lights (Thursday Departure, Boston) -Plan A

05

Days

Gate1

First Class

Escorted
Reykjavik
Reykjavik
Iceland
$999View Tour

Best Price Guaranteed

Book With Flexibility

5 Day Iceland's Northern Lights (Sunday Departure, Washington D.C.) -Plan C

05

Days

Gate1

First Class

Escorted
Reykjavik
Reykjavik
Iceland
$929View Tour

Best Price Guaranteed

Book With Flexibility

5 Day Iceland's Northern Lights (Sunday Departure, Washington D.C.) -Plan B

05

Days

Gate1

First Class

Escorted
Reykjavik
Reykjavik
Iceland
$1,029View Tour

Best Price Guaranteed

Book With Flexibility

5 Day Iceland's Northern Lights (Sunday Departure, Washington D.C.) -Plan A

05

Days

Gate1

First Class

Escorted
Reykjavik
Reykjavik
Iceland
$1,049View Tour

Best Price Guaranteed

Book With Flexibility

5 Day Iceland's Northern Lights (Sunday Departure, Seattle) -Plan C

05

Days

Gate1

First Class

Escorted
Reykjavik
Reykjavik
Iceland
$1,099View Tour

Best Price Guaranteed

Book With Flexibility

5 Day Iceland's Northern Lights (Sunday Departure, Seattle) -Plan B

05

Days

Gate1

First Class

Escorted
Reykjavik
Reykjavik
Iceland
$1,199View Tour

Best Price Guaranteed

Book With Flexibility

5 Day Iceland's Northern Lights (Sunday Departure, Seattle) -Plan A

05

Days

Gate1

First Class

Escorted
Reykjavik
Reykjavik
Iceland
$1,219View Tour

Best Price Guaranteed

Book With Flexibility

5 Day Iceland's Northern Lights (Sunday Departure, Chicago) -Plan C

05

Days

Gate1

First Class

Escorted
Reykjavik
Reykjavik
Iceland
$1,059View Tour

Best Price Guaranteed

Book With Flexibility

5 Day Iceland's Northern Lights (Sunday Departure, Chicago) -Plan B

05

Days

Gate1

First Class

Escorted
Reykjavik
Reykjavik
Iceland
$1,159View Tour

Best Price Guaranteed

Book With Flexibility

5 Day Iceland's Northern Lights (Sunday Departure, Chicago) -Plan A

2 reviews
05

Days

Gate1

First Class

Escorted
Reykjavik
Reykjavik
Iceland
$1,179View Tour

Best Price Guaranteed

Book With Flexibility

5 Day Iceland's Northern Lights (Sunday Departure, Boston) -Plan C

05

Days

Gate1

First Class

Escorted
Reykjavik
Reykjavik
Iceland
$839View Tour

Best Price Guaranteed

Book With Flexibility

5 Day Iceland's Northern Lights (Sunday Departure, Boston) -Plan B

05

Days

Gate1

First Class

Escorted
Reykjavik
Reykjavik
Iceland
$939View Tour

Best Price Guaranteed

Book With Flexibility

5 Day Iceland's Northern Lights (Sunday Departure, Boston) -Plan A

05

Days

Gate1

First Class

Escorted
Reykjavik
Reykjavik
Iceland
$959View Tour

Best Price Guaranteed

Book With Flexibility




5 Day Highlights of Colombia

05

Days

Gate1

First Class

Escorted
Bogota
Cartagena
Colombia
$569View Tour

Best Price Guaranteed

Book With Flexibility




5 Day Highlights of Colombia

05

Days

Gate1

First Class

Escorted
Bogota
Cartagena
Colombia
$549View Tour

Best Price Guaranteed

Book With Flexibility




5 Day Classic Guatemala

05

Days

Gate1

First Class

Escorted
Guatemala City
Guatemala City
Guatemala
$649View Tour

Best Price Guaranteed

Book With Flexibility




5 Day Classic Guatemala

05

Days

Gate1

First Class

Escorted
Guatemala City
Guatemala City
Guatemala
$579View Tour

Best Price Guaranteed

Book With Flexibility




5 Day Canadian Rockies Express - Wednesday Departure

05

Days

Gate1

First Class

Escorted
Calgary
Calgary
Canada
$999View Tour

Best Price Guaranteed

Book With Flexibility




5 Day Canadian Rockies Express - Wednesday Departure

05

Days

Gate1

First Class

Escorted
Calgary
Banff
Canada
$949View Tour

Best Price Guaranteed

Book With Flexibility




5 Day Canadian Rockies Express - Saturday Departure

05

Days

Gate1

First Class

Escorted
Calgary
Banff
Canada
$949View Tour

Best Price Guaranteed

Book With Flexibility




5 Day Canadian Rockies Express

05

Days

Gate1

First Class

Escorted
Calgary
Calgary
Canada
$999View Tour

Best Price Guaranteed

Book With Flexibility

5 Day Bogota & Medellin Vacation (Wednesday Departure, Miami) -Plan B

05

Days

Gate1

First Class

Escorted
Bogota
Medellín
Colombia
$609View Tour

Best Price Guaranteed

Book With Flexibility

5 Day Bogota & Medellin Vacation (Wednesday Departure, Miami) -Plan A

05

Days

Gate1

First Class

Escorted
Bogota
Medellín
Colombia
$699View Tour

Best Price Guaranteed

Book With Flexibility




5 Day Amazon Express

05

Days

Gate1

First Class

Escorted
Quito
Quito
Ecuador
$749View Tour

Best Price Guaranteed

Book With Flexibility




5 Day Amazon Express

05

Days

Gate1

First Class

Escorted
1 - Light

Quito
Quito
Ecuador
$599View Tour

Best Price Guaranteed

Book With Flexibility




5 Day Affordable Canadian Rockies

05

Days

Gate1

First Class

Escorted
Calgary
Banff
Canada
$829View Tour

Best Price Guaranteed

Book With Flexibility




7 Day Galapagos Islands, Quito & Guayaquil - Wednesday Departure

06

Days

Gate1

First Class

Escorted
Quito
Guayaquil
Ecuador
$3,699View Tour

Best Price Guaranteed

Book With Flexibility




7 Day Galapagos Express - Tuesday Departure

4 reviews
06

Days

Gate1

First Class

Escorted
Quito
Guayaquil
Ecuador
$2,099View Tour

Best Price Guaranteed

Book With Flexibility




7 Day Galapagos Express - Friday Departure

06

Days

Gate1

First Class

Escorted
Quito
Guayaquil
Ecuador
$1,999View Tour

Best Price Guaranteed

Book With Flexibility

6 Day Rome Vacation (New York) - 6 Day Rome Vacation (Wednesday Departure, New York) - Kolbe Hotel Rome

06

Days

Gate1

First Class

Escorted
Rome
Rome
Italy
$1,239View Tour

Best Price Guaranteed

Book With Flexibility

6 Day Rome Vacation (New York) - 6 Day Rome Vacation (Wednesday Departure, New York) - Donatello Hotel

06

Days

Gate1

First Class

Escorted
Rome
Rome
Italy
$909View Tour

Best Price Guaranteed

Book With Flexibility

6 Day Rome Vacation (New York) - 6 Day Rome Vacation (Wednesday Departure, New York) - Augusta Lucilla Palace Hotel

06

Days

Gate1

First Class

Escorted
Rome
Rome
Italy
$989View Tour

Best Price Guaranteed

Book With Flexibility

6 Day Rome Vacation (New York) - 6 Day Rome Vacation (Thursday Departure, New York) - Kolbe Hotel Rome

06

Days

Gate1

First Class

Escorted
Rome
Rome
Italy
$1,189View Tour

Best Price Guaranteed

Book With Flexibility

6 Day Rome Vacation (New York) - 6 Day Rome Vacation (Thursday Departure, New York) - Donatello Hotel

06

Days

Gate1

First Class

Escorted
Rome
Rome
Italy
$1,129View Tour

Best Price Guaranteed

Book With Flexibility

6 Day Rome Vacation (New York) - 6 Day Rome Vacation (Thursday Departure, New York) - Augusta Lucilla Palace Hotel

06

Days

Gate1

First Class

Escorted
Rome
Rome
Italy
$1,049View Tour

Best Price Guaranteed

Book With Flexibility

6 Day Rome Vacation (Los Angeles) - 6 Day Rome Vacation (Wednesday Departure, Los Angeles) - Kolbe Hotel Rome

06

Days

Gate1

First Class

Escorted
Rome
Rome
Italy
$1,269View Tour

Best Price Guaranteed

Book With Flexibility

6 Day Rome Vacation (Los Angeles) - 6 Day Rome Vacation (Wednesday Departure, Los Angeles) - Donatello Hotel

06

Days

Gate1

First Class

Escorted
Rome
Rome
Italy
$949View Tour

Best Price Guaranteed

Book With Flexibility

6 Day Rome Vacation (Los Angeles) - 6 Day Rome Vacation (Wednesday Departure, Los Angeles) - Augusta Lucilla Palace Hotel

06

Days

Gate1

First Class

Escorted
Rome
Rome
Italy
$1,029View Tour

Best Price Guaranteed

Book With Flexibility

6 Day Rome Vacation (Los Angeles) - 6 Day Rome Vacation (Thursday Departure, Los Angeles) - Kolbe Hotel Rome

06

Days

Gate1

First Class

Escorted
Rome
Rome
Italy
$1,229View Tour

Best Price Guaranteed

Book With Flexibility

6 Day Rome Vacation (Los Angeles) - 6 Day Rome Vacation (Thursday Departure, Los Angeles) - Donatello Hotel

06

Days

Gate1

First Class

Escorted
Rome
Rome
Italy
$1,169View Tour

Best Price Guaranteed

Book With Flexibility

6 Day Rome Vacation (Los Angeles) - 6 Day Rome Vacation (Thursday Departure, Los Angeles) - Augusta Lucilla Palace Hotel

06

Days

Gate1

First Class

Escorted
Rome
Rome
Italy
$1,089View Tour

Best Price Guaranteed

Book With Flexibility

6 Day Rome Vacation (Chicago) - 6 Day Rome Vacation (Wednesday Departure, Chicago) - Kolbe Hotel Rome

06

Days

Gate1

First Class

Escorted
Rome
Rome
Italy
$1,279View Tour

Best Price Guaranteed

Book With Flexibility

6 Day Rome Vacation (Chicago) - 6 Day Rome Vacation (Wednesday Departure, Chicago) - Donatello Hotel

06

Days

Gate1

First Class

Escorted
Rome
Rome
Italy
$949View Tour

Best Price Guaranteed

Book With Flexibility

6 Day Rome Vacation (Chicago) - 6 Day Rome Vacation (Wednesday Departure, Chicago) - Augusta Lucilla Palace Hotel

06

Days

Gate1

First Class

Escorted
Rome
Rome
Italy
$1,029View Tour

Best Price Guaranteed

Book With Flexibility

6 Day Rome Vacation (Chicago) - 6 Day Rome Vacation (Thursday Departure, Chicago) - Kolbe Hotel Rome

06

Days

Gate1

First Class

Escorted
Rome
Rome
Italy
$1,209View Tour

Best Price Guaranteed

Book With Flexibility

6 Day Rome Vacation (Chicago) - 6 Day Rome Vacation (Thursday Departure, Chicago) - Donatello Hotel

06

Days

Gate1

First Class

Escorted
Rome
Rome
Italy
$1,069View Tour

Best Price Guaranteed

Book With Flexibility

6 Day Rome Vacation (Chicago) - 6 Day Rome Vacation (Thursday Departure, Chicago) - Augusta Lucilla Palace Hotel

06

Days

Gate1

First Class

Escorted
Rome
Rome
Italy
$1,069View Tour

Best Price Guaranteed

Book With Flexibility

6 Day Prague Vacation (Los Angeles) - 6 Day Prague Vacation (Wednesday Departure, Los Angeles) - NH Prague City

06

Days

Gate1

First Class

Escorted
Prague
Prague
Czech Republic
$949View Tour

Best Price Guaranteed

Book With Flexibility

6 Day Prague Vacation (Los Angeles) - 6 Day Prague Vacation (Wednesday Departure, Los Angeles) - Courtyard Marriott Prague City

06

Days

Gate1

First Class

Escorted
Prague
Prague
Czech Republic
$1,039View Tour

Best Price Guaranteed

Book With Flexibility

6 Day Prague Vacation (Chicago) - 6 Day Prague Vacation (Wednesday Departure, Chicago) - NH Prague City

06

Days

Gate1

First Class

Escorted
Prague
Prague
Czech Republic
$959View Tour

Best Price Guaranteed

Book With Flexibility

6 Day Prague Vacation (Chicago) - 6 Day Prague Vacation (Wednesday Departure, Chicago) - Courtyard Marriott Prague City

06

Days

Gate1

First Class

Escorted
Prague
Prague
Czech Republic
$1,049View Tour

Best Price Guaranteed

Book With Flexibility

6 Day Paris Vacation (New York) - 6 Day Paris Vacation (Wednesday Departure, New York) - Mercure Paris Opera Lafayette

06

Days

Gate1

First Class

Escorted
Paris
Paris
France
$1,609View Tour

Best Price Guaranteed

Book With Flexibility

6 Day Paris Vacation (New York) - 6 Day Paris Vacation (Wednesday Departure, New York) - Le Meridien Etoile

06

Days

Gate1

First Class

Escorted
Paris
Paris
France
$1,229View Tour

Best Price Guaranteed

Book With Flexibility

6 Day Paris Vacation (New York) - 6 Day Paris Vacation (Wednesday Departure, New York) - Courtyard by Marriott Paris Arcueil

06

Days

Gate1

First Class

Escorted
Paris
Paris
France
$1,029View Tour

Best Price Guaranteed

Book With Flexibility

6 Day Paris Vacation (New York) - 6 Day Paris Vacation (Wednesday Departure, New York) - B&B Hotel Paris 17 Batignolles

06

Days

Gate1

First Class

Escorted
Paris
Paris
France
$1,279View Tour

Best Price Guaranteed

Book With Flexibility




6 Day New Mexico's Finest & Balloon Fiesta - Wednesday Departure

06

Days

Gate1

First Class

Escorted
Albuquerque, NM
Santa Fe, NM
United States
$1,899View Tour

Best Price Guaranteed

Book With Flexibility




6 Day New Mexico's Finest & Balloon Fiesta - Tuesday Departure

06

Days

Gate1

First Class

Escorted
Albuquerque, NM
Albuquerque, NM
United States
$1,949View Tour

Best Price Guaranteed

Book With Flexibility

6 Day Milan Vacation (New York) - 6 Day Milan Vacation (Wednesday Departure, New York) - Starhotels Tourist

06

Days

Gate1

First Class

Escorted
Milan
Milan
Italy
$739View Tour

Best Price Guaranteed

Book With Flexibility

6 Day Milan Vacation (New York) - 6 Day Milan Vacation (Wednesday Departure, New York) - Starhotels Ritz

06

Days

Gate1

First Class

Escorted
Milan
Milan
Italy
$939View Tour

Best Price Guaranteed

Book With Flexibility

6 Day Milan Vacation (New York) - 6 Day Milan Vacation (Wednesday Departure, New York) - Starhotels Business Palace

06

Days

Gate1

First Class

Escorted
Milan
Milan
Italy
$739View Tour

Best Price Guaranteed

Book With Flexibility

6 Day Mexico City Vacation (New York) - Galeria Plaza Reforma

06

Days

Gate1

First Class

Escorted
Mexico City
Mexico City
Mexico
$1,059View Tour

Best Price Guaranteed

Book With Flexibility

6 Day Mexico City Vacation (New York) - Barcelo Mexico Reforma

06

Days

Gate1

First Class

Escorted
Mexico City
Mexico City
Mexico
$1,179View Tour

Best Price Guaranteed

Book With Flexibility

6 Day Mexico City Vacation (Miami) - Galeria Plaza Reforma

06

Days

Gate1

First Class

Escorted
Mexico City
Mexico City
Mexico
$859View Tour

Best Price Guaranteed

Book With Flexibility

6 Day Mexico City Vacation (Miami) - Barcelo Mexico Reforma

06

Days

Gate1

First Class

Escorted
Mexico City
Mexico City
Mexico
$979View Tour

Best Price Guaranteed

Book With Flexibility

6 Day Mexico City Vacation (Los Angeles) - Galeria Plaza Reforma

06

Days

Gate1

First Class

Escorted
Mexico City
Mexico City
Mexico
$839View Tour

Best Price Guaranteed

Book With Flexibility

6 Day Mexico City Vacation (Los Angeles) - Barcelo Mexico Reforma

06

Days

Gate1

First Class

Escorted
Mexico City
Mexico City
Mexico
$959View Tour

Best Price Guaranteed

Book With Flexibility

6 Day Madrid Vacation (New York) - 6 Day Madrid Vacation (Wednesday Departure, New York) - Ibis Styles Madrid Las Ventas Hotel

06

Days

Gate1

First Class

Escorted
Madrid
Madrid
Spain
$789View Tour

Best Price Guaranteed

Book With Flexibility

6 Day Madrid Vacation (New York) - 6 Day Madrid Vacation (Wednesday Departure, New York) - Catalonia Gran Via Hotel

06

Days

Gate1

First Class

Escorted
Madrid
Madrid
Spain
$1,049View Tour

Best Price Guaranteed

Book With Flexibility

6 Day London Vacation (New York) - 6 Day London Vacation (Wednesday Departure, New York) - The Lancaster Gate Hotel

06

Days

Gate1

First Class

Escorted
London
London
England
$1,039View Tour

Best Price Guaranteed

Book With Flexibility

6 Day London Vacation (New York) - 6 Day London Vacation (Wednesday Departure, New York) - The Bailey's Hotel

06

Days

Gate1

First Class

Escorted
London
London
England
$1,309View Tour

Best Price Guaranteed

Book With Flexibility

6 Day Lisbon Vacation (New York) - 6 Day Lisbon Vacation (Wednesday Departure, New York) - Roma Hotel

06

Days

Gate1

First Class

Escorted
Lisbon
Lisbon
Portugal
$919View Tour

Best Price Guaranteed

Book With Flexibility

6 Day Lisbon Vacation (New York) - 6 Day Lisbon Vacation (Wednesday Departure, New York) - Lumen Hotel

06

Days

Gate1

First Class

Escorted
Lisbon
Lisbon
Portugal
$1,089View Tour

Best Price Guaranteed

Book With Flexibility

6 Day Iceland's Northern Lights (Wednesday Departure, Chicago) -Plan B

06

Days

Gate1

First Class

Escorted
Reykjavik
Reykjavik
Iceland
$1,279View Tour

Best Price Guaranteed

Book With Flexibility

6 Day Iceland's Northern Lights (Wednesday Departure, Chicago) -Plan A

06

Days

Gate1

First Class

Escorted
Reykjavik
Reykjavik
Iceland
$1,299View Tour

Best Price Guaranteed

Book With Flexibility

6 Day Iceland's Northern Lights (Wednesday Departure, Boston) -Plan C

06

Days

Gate1

First Class

Escorted
Reykjavik
Reykjavik
Iceland
$929View Tour

Best Price Guaranteed

Book With Flexibility

6 Day Iceland's Northern Lights (Wednesday Departure, Boston) -Plan B

06

Days

Gate1

First Class

Escorted
Reykjavik
Reykjavik
Iceland
$1,069View Tour

Best Price Guaranteed

Book With Flexibility

6 Day Iceland's Northern Lights (Wednesday Departure, Boston) -Plan A

06

Days

Gate1

First Class

Escorted
Reykjavik
Reykjavik
Iceland
$1,089View Tour

Best Price Guaranteed

Book With Flexibility

6 Day Iceland's Northern Lights (Washington D.C.) - 6 Day Iceland's Northern Lights (Wednesday Departure, Washington D.C.) -Plan C

06

Days

Gate1

First Class

Escorted
Reykjavik
Reykjavik
Iceland
$989View Tour

Best Price Guaranteed

Book With Flexibility

6 Day Iceland's Northern Lights (Washington D.C.) - 6 Day Iceland's Northern Lights (Wednesday Departure, Washington D.C.) -Plan B

06

Days

Gate1

First Class

Escorted
Reykjavik
Reykjavik
Iceland
$1,179View Tour

Best Price Guaranteed

Book With Flexibility

6 Day Iceland's Northern Lights (Washington D.C.) - 6 Day Iceland's Northern Lights (Wednesday Departure, Washington D.C.) -Plan A

06

Days

Gate1

First Class

Escorted
Reykjavik
Reykjavik
Iceland
$1,199View Tour

Best Price Guaranteed

Book With Flexibility

6 Day Iceland's Northern Lights (Washington D.C.) - 6 Day Iceland's Northern Lights (Thursday Departure, Washington D.C.) -Plan C

06

Days

Gate1

First Class

Escorted
Reykjavik
Reykjavik
Iceland
$1,089View Tour

Best Price Guaranteed

Book With Flexibility

6 Day Iceland's Northern Lights (Washington D.C.) - 6 Day Iceland's Northern Lights (Thursday Departure, Washington D.C.) -Plan B

06

Days

Gate1

First Class

Escorted
Reykjavik
Reykjavik
Iceland
$1,169View Tour

Best Price Guaranteed

Book With Flexibility

6 Day Iceland's Northern Lights (Washington D.C.) - 6 Day Iceland's Northern Lights (Thursday Departure, Washington D.C.) -Plan A

06

Days

Gate1

First Class

Escorted
Reykjavik
Reykjavik
Iceland
$1,199View Tour

Best Price Guaranteed

Book With Flexibility

6 Day Iceland's Northern Lights (Washington D.C.) - 6 Day Iceland's Northern Lights (Sunday Departure, Washington D.C.) -Plan C

06

Days

Gate1

First Class

Escorted
Reykjavik
Reykjavik
Iceland
$1,029View Tour

Best Price Guaranteed

Book With Flexibility

6 Day Iceland's Northern Lights (Washington D.C.) - 6 Day Iceland's Northern Lights (Sunday Departure, Washington D.C.) -Plan B

06

Days

Gate1

First Class

Escorted
Reykjavik
Reykjavik
Iceland
$1,169View Tour

Best Price Guaranteed

Book With Flexibility

6 Day Iceland's Northern Lights (Washington D.C.) - 6 Day Iceland's Northern Lights (Sunday Departure, Washington D.C.) -Plan A

06

Days

Gate1

First Class

Escorted
Reykjavik
Reykjavik
Iceland
$1,189View Tour

Best Price Guaranteed

Book With Flexibility

6 Day Iceland's Northern Lights (Thursday Departure, Chicago) -Plan C

06

Days

Gate1

First Class

Escorted
Reykjavik
Reykjavik
Iceland
$409View Tour

Best Price Guaranteed

Book With Flexibility

6 Day Iceland's Northern Lights (Thursday Departure, Chicago) -Plan B

06

Days

Gate1

First Class

Escorted
Reykjavik
Reykjavik
Iceland
$489View Tour

Best Price Guaranteed

Book With Flexibility

6 Day Iceland's Northern Lights (Thursday Departure, Chicago) -Plan A

06

Days

Gate1

First Class

Escorted
Reykjavik
Reykjavik
Iceland
$519View Tour

Best Price Guaranteed

Book With Flexibility

6 Day Iceland's Northern Lights (Thursday Departure, Boston) -Plan C

06

Days

Gate1

First Class

Escorted
Reykjavik
Reykjavik
Iceland
$999View Tour

Best Price Guaranteed

Book With Flexibility

6 Day Iceland's Northern Lights (Thursday Departure, Boston) -Plan B

06

Days

Gate1

First Class

Escorted
Reykjavik
Reykjavik
Iceland
$1,079View Tour

Best Price Guaranteed

Book With Flexibility

6 Day Iceland's Northern Lights (Thursday Departure, Boston) -Plan A

06

Days

Gate1

First Class

Escorted
Reykjavik
Reykjavik
Iceland
$1,109View Tour

Best Price Guaranteed

Book With Flexibility

6 Day Iceland's Northern Lights (Sunday Departure, Chicago) -Plan C

06

Days

Gate1

First Class

Escorted
Reykjavik
Reykjavik
Iceland
$1,129View Tour

Best Price Guaranteed

Book With Flexibility

6 Day Iceland's Northern Lights (Sunday Departure, Chicago) -Plan B

06

Days

Gate1

First Class

Escorted
Reykjavik
Reykjavik
Iceland
$1,289View Tour

Best Price Guaranteed

Book With Flexibility

6 Day Iceland's Northern Lights (Sunday Departure, Chicago) -Plan A

2 reviews
06

Days

Gate1

First Class

Escorted
Reykjavik
Reykjavik
Iceland
$1,319View Tour

Best Price Guaranteed

Book With Flexibility

6 Day Iceland's Northern Lights (Sunday Departure, Boston) -Plan C

06

Days

Gate1

First Class

Escorted
Reykjavik
Reykjavik
Iceland
$939View Tour

Best Price Guaranteed

Book With Flexibility

6 Day Iceland's Northern Lights (Sunday Departure, Boston) -Plan B

06

Days

Gate1

First Class

Escorted
Reykjavik
Reykjavik
Iceland
$1,079View Tour

Best Price Guaranteed

Book With Flexibility

6 Day Iceland's Northern Lights (Sunday Departure, Boston) -Plan A

06

Days

Gate1

First Class

Escorted
Reykjavik
Reykjavik
Iceland
$1,099View Tour

Best Price Guaranteed

Book With Flexibility

6 Day Iceland's Northern Lights (Seattle) - 6 Day Iceland's Northern Lights (Wednesday Departure, Seattle) -Plan C

06

Days

Gate1

First Class

Escorted
Reykjavik
Reykjavik
Iceland
$1,209View Tour

Best Price Guaranteed

Book With Flexibility

6 Day Iceland's Northern Lights (Seattle) - 6 Day Iceland's Northern Lights (Wednesday Departure, Seattle) -Plan B

06

Days

Gate1

First Class

Escorted
Reykjavik
Reykjavik
Iceland
$1,349View Tour

Best Price Guaranteed

Book With Flexibility

6 Day Iceland's Northern Lights (Seattle) - 6 Day Iceland's Northern Lights (Wednesday Departure, Seattle) -Plan A

06

Days

Gate1

First Class

Escorted
Reykjavik
Reykjavik
Iceland
$1,369View Tour

Best Price Guaranteed

Book With Flexibility

6 Day Iceland's Northern Lights (Seattle) - 6 Day Iceland's Northern Lights (Thursday Departure, Seattle) -Plan C

06

Days

Gate1

First Class

Escorted
Reykjavik
Reykjavik
Iceland
$1,299View Tour

Best Price Guaranteed

Book With Flexibility

6 Day Iceland's Northern Lights (Seattle) - 6 Day Iceland's Northern Lights (Thursday Departure, Seattle) -Plan B

06

Days

Gate1

First Class

Escorted
Reykjavik
Reykjavik
Iceland
$1,379View Tour

Best Price Guaranteed

Book With Flexibility

6 Day Iceland's Northern Lights (Seattle) - 6 Day Iceland's Northern Lights (Thursday Departure, Seattle) -Plan A

06

Days

Gate1

First Class

Escorted
Reykjavik
Reykjavik
Iceland
$1,409View Tour

Best Price Guaranteed

Book With Flexibility

6 Day Iceland's Northern Lights (Seattle) - 6 Day Iceland's Northern Lights (Sunday Departure, Seattle) -Plan C

06

Days

Gate1

First Class

Escorted
Reykjavik
Reykjavik
Iceland
$1,199View Tour

Best Price Guaranteed

Book With Flexibility

6 Day Iceland's Northern Lights (Seattle) - 6 Day Iceland's Northern Lights (Sunday Departure, Seattle) -Plan B

06

Days

Gate1

First Class

Escorted
Reykjavik
Reykjavik
Iceland
$1,339View Tour

Best Price Guaranteed

Book With Flexibility

6 Day Iceland's Northern Lights (Seattle) - 6 Day Iceland's Northern Lights (Sunday Departure, Seattle) -Plan A

06

Days

Gate1

First Class

Escorted
Reykjavik
Reykjavik
Iceland
$1,359View Tour

Best Price Guaranteed

Book With Flexibility

6 Day Iceland's Northern Lights (New York) - 6 Day Iceland's Northern Lights (Wednesday Departure, New York) -Plan C

06

Days

Gate1

First Class

Escorted
Reykjavik
Reykjavik
Iceland
$999View Tour

Best Price Guaranteed

Book With Flexibility

6 Day Iceland's Northern Lights (New York) - 6 Day Iceland's Northern Lights (Wednesday Departure, New York) -Plan B

06

Days

Gate1

First Class

Escorted
Reykjavik
Reykjavik
Iceland
$1,139View Tour

Best Price Guaranteed

Book With Flexibility

6 Day Iceland's Northern Lights (New York) - 6 Day Iceland's Northern Lights (Wednesday Departure, New York) -Plan A

06

Days

Gate1

First Class

Escorted
Reykjavik
Reykjavik
Iceland
$1,159View Tour

Best Price Guaranteed

Book With Flexibility

6 Day Iceland's Northern Lights (New York) - 6 Day Iceland's Northern Lights (Thursday Departure, New York) -Plan C

06

Days

Gate1

First Class

Escorted
Reykjavik
Reykjavik
Iceland
$1,079View Tour

Best Price Guaranteed

Book With Flexibility

6 Day Iceland's Northern Lights (New York) - 6 Day Iceland's Northern Lights (Thursday Departure, New York) -Plan B

06

Days

Gate1

First Class

Escorted
Reykjavik
Reykjavik
Iceland
$1,169View Tour

Best Price Guaranteed

Book With Flexibility

6 Day Iceland's Northern Lights (New York) - 6 Day Iceland's Northern Lights (Thursday Departure, New York) -Plan A

06

Days

Gate1

First Class

Escorted
Reykjavik
Reykjavik
Iceland
$1,199View Tour

Best Price Guaranteed

Book With Flexibility

6 Day Iceland's Northern Lights (New York) - 6 Day Iceland's Northern Lights (Sunday Departure, New York) -Plan C

06

Days

Gate1

First Class

Escorted
Reykjavik
Reykjavik
Iceland
$989View Tour

Best Price Guaranteed

Book With Flexibility

6 Day Iceland's Northern Lights (New York) - 6 Day Iceland's Northern Lights (Sunday Departure, New York) -Plan B

06

Days

Gate1

First Class

Escorted
Reykjavik
Reykjavik
Iceland
$1,129View Tour

Best Price Guaranteed

Book With Flexibility

6 Day Iceland's Northern Lights (New York) - 6 Day Iceland's Northern Lights (Sunday Departure, New York) -Plan A

06

Days

Gate1

First Class

Escorted
Reykjavik
Reykjavik
Iceland
$1,149View Tour

Best Price Guaranteed

Book With Flexibility

6 Day Iceland's Northern Lights (Chicago) - 6 Day Iceland's Northern Lights (Wednesday Departure, Chicago) -Plan C

06

Days

Gate1

First Class

Escorted
Reykjavik
Reykjavik
Iceland
$1,119View Tour

Best Price Guaranteed

Book With Flexibility




6 Day Grand Canyon with Flagstaff - Sunday Departure

06

Days

Gate1

First Class

Escorted
Phoenix, AZ
Phoenix, AZ
United States
$1,499View Tour

Best Price Guaranteed

Book With Flexibility




6 Day Essential Iceland - Wednesday Departure

06

Days

Gate1

Budget

Escorted
1 - Light

8+ years old
42
Reykjavik
Reykjavik
Iceland
$1,249View Tour

Best Price Guaranteed

Book With Flexibility




6 Day Essential Iceland - Wednesday Departure

1 reviews
06

Days

Gate1

Budget

Escorted
1 - Light

Reykjavik
Reykjavik
Iceland
$1,149View Tour

Best Price Guaranteed

Book With Flexibility




6 Day Essential Iceland - Friday Departure

06

Days

Gate1

First Class

Escorted
1 - Light

Reykjavik
Reykjavik
Iceland
$1,499View Tour

Best Price Guaranteed

Book With Flexibility

6 Day Dublin Vacation (New York) - 6 Day Dublin Vacation (Sunday Departure, New York) - Maldron Hotel Parnell Square

06

Days

Gate1

First Class

Escorted
Dublin
Dublin
Ireland
$899View Tour

Best Price Guaranteed

Book With Flexibility

6 Day Dublin Vacation (New York) - 6 Day Dublin Vacation (Sunday Departure, New York) - Ashling Hotel

06

Days

Gate1

First Class

Escorted
Dublin
Dublin
Ireland
$899View Tour

Best Price Guaranteed

Book With Flexibility

6 Day Dublin Vacation (New York) - 6 Day Dublin Vacation (Saturday Departure, New York) - Maldron Hotel Parnell Square

06

Days

Gate1

First Class

Escorted
Dublin
Dublin
Ireland
$879View Tour

Best Price Guaranteed

Book With Flexibility

6 Day Dublin Vacation (New York) - 6 Day Dublin Vacation (Saturday Departure, New York) - Ashling Hotel

06

Days

Gate1

First Class

Escorted
Dublin
Dublin
Ireland
$879View Tour

Best Price Guaranteed

Book With Flexibility




6 Day Classic Montreal & Quebec Fall Foliage - Sunday Departure

06

Days

Gate1

First Class

Escorted
Montreal
Quebec City
Canada
$1,549View Tour

Best Price Guaranteed

Book With Flexibility




6 Day Classic Guatemala with Tikal

06

Days

Gate1

First Class

Escorted
Antigua
Guatemala City
Guatemala
$1,199View Tour

Best Price Guaranteed

Book With Flexibility




6 Day Classic Guatemala with Tikal

06

Days

Gate1

First Class

Escorted
Antigua
Guatemala City
Guatemala
$1,099View Tour

Best Price Guaranteed

Book With Flexibility

6 Day Barcelona Vacation (Wednesday Departure, New York) - Ibis Barcelona Glories 22 Hotel

06

Days

Gate1

First Class

Escorted
Barcelona
Barcelona
Spain
$879View Tour

Best Price Guaranteed

Book With Flexibility

6 Day Barcelona Vacation (Wednesday Departure, New York) - Catalonia Barcelona Plaza

06

Days

Gate1

First Class

Escorted
Barcelona
Barcelona
Spain
$1,119View Tour

Best Price Guaranteed

Book With Flexibility

6 Day Athens Vacation (Wednesday Departure, New York) - The Stanley

06

Days

Gate1

First Class

Escorted
Athens
Athens
Greece
$939View Tour

Best Price Guaranteed

Book With Flexibility

6 Day Athens Vacation (Wednesday Departure, New York) - Athenian Callirhoe Hotel

06

Days

Gate1

First Class

Escorted
Athens
Athens
Greece
$969View Tour

Best Price Guaranteed

Book With Flexibility

6 Day Amsterdam Vacation (Wednesday Departure, New York) - NH Museum Quarter

06

Days

Gate1

First Class

Escorted
Amsterdam
Amsterdam
Netherlands
$1,189View Tour

Best Price Guaranteed

Book With Flexibility

6 Day Amsterdam Vacation (Wednesday Departure, New York) - Holiday Inn Express Amsterdam North Riverside

06

Days

Gate1

First Class

Escorted
Amsterdam
Amsterdam
Netherlands
$1,169View Tour

Best Price Guaranteed

Book With Flexibility




6 Day Affordable Iceland with Northern Lights Pursuit - Wednesday Departure

5 reviews
06

Days

Gate1

First Class

Escorted
Reykjavik
Reykjavik
Iceland
$1,349View Tour

Best Price Guaranteed

Book With Flexibility




6 Day Affordable Iceland with Northern Lights Pursuit - Thursday Departure

06

Days

Gate1

First Class

Escorted
Reykjavik
Reykjavik
Iceland
$1,549View Tour

Best Price Guaranteed

Book With Flexibility




6 Day Affordable Iceland with Northern Lights Pursuit - Saturday Departure

9 reviews
06

Days

Gate1

First Class

Escorted
Reykjavik
Reykjavik
Iceland
$1,399View Tour

Best Price Guaranteed

Book With Flexibility




6 Day Affordable Iceland with Northern Lights Pursuit - Monday Departure

15 reviews
06

Days

Gate1

First Class

Escorted
Reykjavik
Reykjavik
Iceland
$1,399View Tour

Best Price Guaranteed

Book With Flexibility

7 Day Reykjavik Vacation (Washington D.C.) - 7 Day Reykjavik Vacation (Tuesday Departure, Washington D.C.) -Fosshotel Reykjavik

07

Days

Gate1

First Class

Escorted
Reykjavik
Reykjavik
Iceland
$1,189View Tour

Best Price Guaranteed

Book With Flexibility

7 Day Reykjavik Vacation (Washington D.C.) - 7 Day Reykjavik Vacation (Tuesday Departure, Washington D.C.) -Fosshotel Baron

07

Days

Gate1

First Class

Escorted
Reykjavik
Reykjavik
Iceland
$1,049View Tour

Best Price Guaranteed

Book With Flexibility

7 Day Reykjavik Vacation (Washington D.C.) - 7 Day Reykjavik Vacation (Saturday Departure, Washington D.C.) -Fosshotel Reykjavik

07

Days

Gate1

First Class

Escorted
Reykjavik
Reykjavik
Iceland
$1,209View Tour

Best Price Guaranteed

Book With Flexibility

7 Day Reykjavik Vacation (Washington D.C.) - 7 Day Reykjavik Vacation (Saturday Departure, Washington D.C.) -Fosshotel Baron

07

Days

Gate1

First Class

Escorted
Reykjavik
Reykjavik
Iceland
$1,069View Tour

Best Price Guaranteed

Book With Flexibility

7 Day Reykjavik Vacation (New York) - 7 Day Reykjavik Vacation (Tuesday Departure, New York) -Fosshotel Reykjavik

07

Days

Gate1

First Class

Escorted
Reykjavik
Reykjavik
Iceland
$1,149View Tour

Best Price Guaranteed

Book With Flexibility

7 Day Reykjavik Vacation (New York) - 7 Day Reykjavik Vacation (Tuesday Departure, New York) -Fosshotel Baron

07

Days

Gate1

First Class

Escorted
Reykjavik
Reykjavik
Iceland
$1,009View Tour

Best Price Guaranteed

Book With Flexibility

7 Day Reykjavik Vacation (New York) - 7 Day Reykjavik Vacation (Saturday Departure, New York) -Fosshotel Reykjavik

07

Days

Gate1

First Class

Escorted
Reykjavik
Reykjavik
Iceland
$1,159View Tour

Best Price Guaranteed

Book With Flexibility

7 Day Reykjavik Vacation (New York) - 7 Day Reykjavik Vacation (Saturday Departure, New York) -Fosshotel Baron

07

Days

Gate1

First Class

Escorted
Reykjavik
Reykjavik
Iceland
$1,019View Tour

Best Price Guaranteed

Book With Flexibility

7 Day Reykjavik Vacation (Chicago) - 7 Day Reykjavik Vacation (Tuesday Departure, Chicago) -Fosshotel Reykjavik

07

Days

Gate1

First Class

Escorted
Reykjavik
Reykjavik
Iceland
$1,339View Tour

Best Price Guaranteed

Book With Flexibility

7 Day Reykjavik Vacation (Chicago) - 7 Day Reykjavik Vacation (Tuesday Departure, Chicago) -Fosshotel Baron

07

Days

Gate1

First Class

Escorted
Reykjavik
Reykjavik
Iceland
$1,209View Tour

Best Price Guaranteed

Book With Flexibility

7 Day Reykjavik Vacation (Chicago) - 7 Day Reykjavik Vacation (Saturday Departure, Chicago) -Fosshotel Reykjavik

07

Days

Gate1

First Class

Escorted
Reykjavik
Reykjavik
Iceland
$1,319View Tour

Best Price Guaranteed

Book With Flexibility

7 Day Reykjavik Vacation (Chicago) - 7 Day Reykjavik Vacation (Saturday Departure, Chicago) -Fosshotel Baron

07

Days

Gate1

First Class

Escorted
Reykjavik
Reykjavik
Iceland
$1,189View Tour

Best Price Guaranteed

Book With Flexibility

7 Day Reykjavik Vacation (Boston) - 7 Day Reykjavik Vacation (Tuesday Departure, Seattle) -Fosshotel Reykjavik

07

Days

Gate1

First Class

Escorted
Reykjavik
Reykjavik
Iceland
$1,349View Tour

Best Price Guaranteed

Book With Flexibility

7 Day Reykjavik Vacation (Boston) - 7 Day Reykjavik Vacation (Tuesday Departure, Seattle) -Fosshotel Baron

07

Days

Gate1

First Class

Escorted
Reykjavik
Reykjavik
Iceland
$1,209View Tour

Best Price Guaranteed

Book With Flexibility

7 Day Reykjavik Vacation (Boston) - 7 Day Reykjavik Vacation (Tuesday Departure, Boston) -Fosshotel Reykjavik

07

Days

Gate1

First Class

Escorted
Reykjavik
Reykjavik
Iceland
$1,109View Tour

Best Price Guaranteed

Book With Flexibility

7 Day Reykjavik Vacation (Boston) - 7 Day Reykjavik Vacation (Tuesday Departure, Boston) -Fosshotel Baron

07

Days

Gate1

First Class

Escorted
Reykjavik
Reykjavik
Iceland
$969View Tour

Best Price Guaranteed

Book With Flexibility

7 Day Reykjavik Vacation (Boston) - 7 Day Reykjavik Vacation (Saturday Departure, Seattle) -Fosshotel Reykjavik

07

Days

Gate1

First Class

Escorted
Reykjavik
Reykjavik
Iceland
$1,399View Tour

Best Price Guaranteed

Book With Flexibility

7 Day Reykjavik Vacation (Boston) - 7 Day Reykjavik Vacation (Saturday Departure, Seattle) -Fosshotel Baron

07

Days

Gate1

First Class

Escorted
Reykjavik
Reykjavik
Iceland
$1,259View Tour

Best Price Guaranteed

Book With Flexibility

7 Day Reykjavik Vacation (Boston) - 7 Day Reykjavik Vacation (Saturday Departure, Boston) -Fosshotel Reykjavik

07

Days

Gate1

First Class

Escorted
Reykjavik
Reykjavik
Iceland
$1,119View Tour

Best Price Guaranteed

Book With Flexibility

7 Day Reykjavik Vacation (Boston) - 7 Day Reykjavik Vacation (Saturday Departure, Boston) -Fosshotel Baron

07

Days

Gate1

First Class

Escorted
Reykjavik
Reykjavik
Iceland
$979View Tour

Best Price Guaranteed

Book With Flexibility




7 Day Peru & Machu Picchu - Tuesday Departure

10 reviews
07

Days

Gate1

First Class

Escorted
1 - Light

Lima
Lima
Peru
$1,439View Tour

Best Price Guaranteed

Book With Flexibility




7 Day Peru & Machu Picchu - Tuesday Departure

4 reviews
07

Days

Gate1

First Class

Escorted
Lima
Lima
Peru
$1,349View Tour

Best Price Guaranteed

Book With Flexibility




7 Day Peru & Machu Picchu - Friday Departure

2 reviews
07

Days

Gate1

First Class

Escorted
Lima
Lima
Peru
$1,449View Tour

Best Price Guaranteed

Book With Flexibility




7 Day Peru & Machu Picchu - Friday Departure

10 reviews
07

Days

Gate1

First Class

Escorted
1 - Light

Lima
Lima
Peru
$1,419View Tour

Best Price Guaranteed

Book With Flexibility




7 Day New Mexico Landscapes & Pueblo Life

1 reviews
07

Days

Gate1

First Class

Escorted
Albuquerque, NM
Albuquerque, NM
United States
$2,199View Tour

Best Price Guaranteed

Book With Flexibility




7 Day Historical South - Friday Departure

07

Days

Gate1

First Class

Escorted
Jacksonville, FL
Charleston, SC
United States
$1,549View Tour

Best Price Guaranteed

Book With Flexibility




7 Day Historical South

15 reviews
07

Days

Gate1

First Class

Escorted
2 - Classic

Jacksonville, FL
Charleston, SC
United States
$1,549View Tour

Best Price Guaranteed

Book With Flexibility




7 Day Galapagos Islands, Quito & Guayaquil - Wednesday Departure

07

Days

Gate1

First Class

Escorted
Quito
Guayaquil
Ecuador
$3,649View Tour

Best Price Guaranteed

Book With Flexibility




7 Day Galapagos Express - Tuesday Departure

4 reviews
07

Days

Gate1

First Class

Escorted
Quito
Guayaquil
Ecuador, Galapagos
$1,949View Tour

Best Price Guaranteed

Book With Flexibility




7 Day Galapagos Express - Friday Departure

07

Days

Gate1

First Class

Escorted
Quito
Guayaquil
Ecuador, Galapagos
$1,949View Tour

Best Price Guaranteed

Book With Flexibility




7 Day Essential Greece - Thursday Departure

3 reviews
07

Days

Gate1

First Class

Escorted
Athens
Delphi
Greece
$749View Tour

Best Price Guaranteed

Book With Flexibility




7 Day Essential Greece - Saturday Departure

1 reviews
07

Days

Gate1

First Class

Escorted
Athens
Athens
Greece
$649View Tour

Best Price Guaranteed

Book With Flexibility




7 Day Essential Greece

07

Days

Gate1

First Class

Escorted
Athens
Athens
Greece
$999View Tour

Best Price Guaranteed

Book With Flexibility




7 Day Essential Costa Rica - Thursday Departure

07

Days

Gate1

First Class

Escorted
San Jose
San Jose
Costa Rica
$769View Tour

Best Price Guaranteed

Book With Flexibility




7 Day Essential Costa Rica - Thursday Departure

07

Days

Gate1

First Class

Escorted
San Jose
Monteverde
Costa Rica
$659View Tour

Best Price Guaranteed

Book With Flexibility




7 Day Essential Costa Rica - Sunday Departure

07

Days

Gate1

First Class

Escorted
1 - Light

8+ years old
42
San Jose
San Jose
Costa Rica
$699View Tour

Best Price Guaranteed

Book With Flexibility

7 Day Egypt's Pyramids (New York) - 7 Day Egypt's Pyramids (New York) - Movenpick Cairo Media City

07

Days

Gate1

First Class

Escorted
Cairo
Cairo
Egypt
$1,449View Tour

Best Price Guaranteed

Book With Flexibility

7 Day Egypt's Pyramids (New York) - 7 Day Egypt's Pyramids (New York) - Hyatt Regency Cairo West

07

Days

Gate1

First Class

Escorted
Cairo
Cairo
Egypt
$1,539View Tour

Best Price Guaranteed

Book With Flexibility

7 Day Egypt's Pyramids (Chicago) - 7 Day Egypt's Pyramids (Chicago) - Movenpick Cairo Media City

07

Days

Gate1

First Class

Escorted
Cairo
Cairo
Egypt
$1,439View Tour

Best Price Guaranteed

Book With Flexibility

7 Day Egypt's Pyramids (Chicago) - 7 Day Egypt's Pyramids (Chicago) - Hyatt Regency Cairo West

07

Days

Gate1

First Class

Escorted
Cairo
Cairo
Egypt
$1,579View Tour

Best Price Guaranteed

Book With Flexibility

7 Day Dubai Vacation (New York) - 7 Day Dubai Vacation (Wednesday Departure, New York) - Millennium Al Barsha

07

Days

Gate1

First Class

Escorted
Dubai
Dubai
United Arab Emirates
$1,289View Tour

Best Price Guaranteed

Book With Flexibility

7 Day Dubai Vacation (New York) - 7 Day Dubai Vacation (Wednesday Departure, New York) - Grand Millennium Dubai

07

Days

Gate1

First Class

Escorted
Dubai
Dubai
United Arab Emirates
$1,449View Tour

Best Price Guaranteed

Book With Flexibility

7 Day Dubai Vacation (New York) - 7 Day Dubai Vacation (Tuesday Departure, New York) - Millennium Al Barsha

07

Days

Gate1

First Class

Escorted
Dubai
Dubai
United Arab Emirates
$1,279View Tour

Best Price Guaranteed

Book With Flexibility

7 Day Dubai Vacation (New York) - 7 Day Dubai Vacation (Tuesday Departure, New York) - Grand Millennium Dubai

07

Days

Gate1

First Class

Escorted
Dubai
Dubai
United Arab Emirates
$1,439View Tour

Best Price Guaranteed

Book With Flexibility

7 Day Dubai Vacation (Los Angeles) - 7 Day Dubai Vacation (Wednesday Departure, Los Angeles) - Millennium Al Barsha

07

Days

Gate1

First Class

Escorted
Dubai
Dubai
United Arab Emirates
$1,259View Tour

Best Price Guaranteed

Book With Flexibility

7 Day Dubai Vacation (Los Angeles) - 7 Day Dubai Vacation (Wednesday Departure, Los Angeles) - Grand Millennium Dubai

07

Days

Gate1

First Class

Escorted
Dubai
Dubai
United Arab Emirates
$1,419View Tour

Best Price Guaranteed

Book With Flexibility

7 Day Dubai Vacation (Los Angeles) - 7 Day Dubai Vacation (Tuesday Departure, Los Angeles) - Millennium Al Barsha

07

Days

Gate1

First Class

Escorted
Dubai
Dubai
United Arab Emirates
$1,259View Tour

Best Price Guaranteed

Book With Flexibility

7 Day Dubai Vacation (Los Angeles) - 7 Day Dubai Vacation (Tuesday Departure, Los Angeles) - Grand Millennium Dubai

07

Days

Gate1

First Class

Escorted
Dubai
Dubai
United Arab Emirates
$1,419View Tour

Best Price Guaranteed

Book With Flexibility

7 Day Dubai Vacation (Chicago) - 7 Day Dubai Vacation (Wednesday Departure, New York) - Millennium Al Barsha

07

Days

Gate1

First Class

Escorted
Dubai
Dubai
United Arab Emirates
$1,289View Tour

Best Price Guaranteed

Book With Flexibility

7 Day Dubai Vacation (Chicago) - 7 Day Dubai Vacation (Wednesday Departure, New York) - Grand Millennium Dubai

07

Days

Gate1

First Class

Escorted
Dubai
Dubai
United Arab Emirates
$1,449View Tour

Best Price Guaranteed

Book With Flexibility

7 Day Dubai Vacation (Chicago) - 7 Day Dubai Vacation (Tuesday Departure, Chicago) - Millennium Al Barsha

07

Days

Gate1

First Class

Escorted
Dubai
Dubai
United Arab Emirates
$1,299View Tour

Best Price Guaranteed

Book With Flexibility

7 Day Dubai Vacation (Chicago) - 7 Day Dubai Vacation (Tuesday Departure, Chicago) - Grand Millennium Dubai

07

Days

Gate1

First Class

Escorted
Dubai
Dubai
United Arab Emirates
$1,459View Tour

Best Price Guaranteed

Book With Flexibility




7 Day Costa Rica Fly & Drive - 7 Day Costa Rica Fly & Drive (Wednesday Departure) -Plan B

07

Days

Gate1

First Class

Escorted
San Jose
Monteverde
Costa Rica
$1,219View Tour

Best Price Guaranteed

Book With Flexibility




7 Day Costa Rica Fly & Drive - 7 Day Costa Rica Fly & Drive (Wednesday Departure) -Plan A

07

Days

Gate1

First Class

Escorted
San Jose
Monteverde
Costa Rica
$1,269View Tour

Best Price Guaranteed

Book With Flexibility




7 Day Costa Rica Fly & Drive - 7 Day Costa Rica Fly & Drive (Monday Departure) -Plan B

07

Days

Gate1

First Class

Escorted
San Jose
Monteverde
Costa Rica
$1,219View Tour

Best Price Guaranteed

Book With Flexibility




7 Day Costa Rica Fly & Drive - 7 Day Costa Rica Fly & Drive (Monday Departure) -Plan A

07

Days

Gate1

First Class

Escorted
San Jose
Monteverde
Costa Rica
$1,269View Tour

Best Price Guaranteed

Book With Flexibility




7 Day Costa Rica Fly & Drive (Wednesday Departure) -Plan B

07

Days

Gate1

First Class

Escorted
San Jose
San Jose
Costa Rica
$1,119View Tour

Best Price Guaranteed

Book With Flexibility




7 Day Costa Rica Fly & Drive (Wednesday Departure) -Plan A

07

Days

Gate1

First Class

Escorted
San Jose
San Jose
Costa Rica
$1,139View Tour

Best Price Guaranteed

Book With Flexibility




7 Day Costa Rica Fly & Drive (Monday Departure) -Plan B

07

Days

Gate1

First Class

Escorted
San Jose
San Jose
Costa Rica
$1,119View Tour

Best Price Guaranteed

Book With Flexibility




7 Day Costa Rica Fly & Drive (Monday Departure) -Plan A

07

Days

Gate1

First Class

Escorted
San Jose
San Jose
Costa Rica
$1,139View Tour

Best Price Guaranteed

Book With Flexibility




7 Day Classic Wyoming & South Dakota Parks Including Yellowstone - Wednesday Departure

07

Days

Gate1

First Class

Escorted
Rapid City, SD
Jackson, WY
United States
$1,949View Tour

Best Price Guaranteed

Book With Flexibility




7 Day Classic Wyoming & South Dakota Parks Including Yellowstone - Wednesday Departure

07

Days

Gate1

First Class

Escorted
Rapid City, SD
Jackson, WY
United States
$1,949View Tour

Best Price Guaranteed

Book With Flexibility




7 Day Classic Wyoming & South Dakota Parks Including Yellowstone - Saturday Departure

07

Days

Gate1

First Class

Escorted
Rapid City, SD
Jacksonville, FL
United States
$2,099View Tour

Best Price Guaranteed

Book With Flexibility




7 Day Classic Wyoming & South Dakota Parks Including Yellowstone - Monday Departure

1 reviews
07

Days

Gate1

First Class

Escorted
Rapid City, SD
Jacksonville, FL
United States
$1,949View Tour

Best Price Guaranteed

Book With Flexibility




7 Day Classic Wyoming & South Dakota Parks Including Yellowstone - Friday Departure

07

Days

Gate1

First Class

Escorted
Rapid City, SD
Jacksonville, FL
United States
$1,949View Tour

Best Price Guaranteed

Book With Flexibility




7 Day Classic Kenya - Tuesday Departure

07

Days

Gate1

First Class

Escorted
2 - Classic

8+ years old
42
Nairobi
Nairobi
Kenya
$1,499View Tour

Best Price Guaranteed

Book With Flexibility




7 Day Classic Kenya - Thursday Departure

07

Days

Gate1

First Class

Escorted
1 - Light

Nairobi
Nairobi
Kenya
$1,749View Tour

Best Price Guaranteed

Book With Flexibility




7 Day Classic Kenya - Saturday Departure

07

Days

Gate1

First Class

Escorted
2 - Classic

8+ years old
42
Nairobi
Nairobi
Kenya
$1,569View Tour

Best Price Guaranteed

Book With Flexibility




7 Day Classic Dubai - Tuesday Departure

22 reviews
07

Days

Gate1

First Class

Escorted
Dubai
Dubai
United Arab Emirates
$1,099View Tour

Best Price Guaranteed

Book With Flexibility




7 Day Classic Dubai - Thursday Departure

2 reviews
07

Days

Gate1

First Class

Escorted
Dubai
Dubai
United Arab Emirates
$1,099View Tour

Best Price Guaranteed

Book With Flexibility




7 Day Classic Costa Rica - Tuesday Departure

6 reviews
07

Days

Gate1

First Class

Escorted
San Jose
San Jose
Costa Rica
$999View Tour

Best Price Guaranteed

Book With Flexibility




7 Day Classic Costa Rica - Tuesday Departure

6 reviews
07

Days

Gate1

First Class

Escorted
San Jose
Monteverde
Costa Rica
$999View Tour

Best Price Guaranteed

Book With Flexibility




7 Day Classic Costa Rica - Thursday Departure

16 reviews
07

Days

Gate1

First Class

Escorted
San Jose
San Jose
Costa Rica
$999View Tour

Best Price Guaranteed

Book With Flexibility




7 Day Classic Costa Rica - Thursday Departure

16 reviews
07

Days

Gate1

First Class

Escorted
San Jose
Monteverde
Costa Rica
$949View Tour

Best Price Guaranteed

Book With Flexibility




7 Day Classic Costa Rica - 7 Day Classic Costa Rica

07

Days

Gate1

First Class

Escorted
San Jose
Monteverde
Costa Rica
$899View Tour

Best Price Guaranteed

Book With Flexibility




7 Day Classic Costa Rica

07

Days

Gate1

First Class

Escorted
San Jose
San Jose
Costa Rica
$999View Tour

Best Price Guaranteed

Book With Flexibility

7 Day Azores Vacation (New York) - 7 Day Azores Vacation (Friday Departure, New York) - Neat Hotel Avenida

07

Days

Gate1

First Class

Escorted
Ponta Delgada
Ponta Delgada
Portugal
$859View Tour

Best Price Guaranteed

Book With Flexibility

7 Day Azores Vacation (New York) - 7 Day Azores Vacation (Friday Departure, New York) - Hotel Marina Atlantico

07

Days

Gate1

First Class

Escorted
Ponta Delgada
Ponta Delgada
Portugal
$919View Tour

Best Price Guaranteed

Book With Flexibility

7 Day Azores Vacation (New York) - 7 Day Azores Vacation (Friday Departure, New York) - Grand Hotel Acores Atlantico

07

Days

Gate1

First Class

Escorted
Ponta Delgada
Ponta Delgada
Portugal
$969View Tour

Best Price Guaranteed

Book With Flexibility

7 Day Azores Vacation (Friday Departure, New York) - Neat Hotel Avenida

07

Days

Gate1

First Class

Escorted
Ponta Delgada
Ponta Delgada
Portugal
$899View Tour

Best Price Guaranteed

Book With Flexibility

7 Day Azores Vacation (Friday Departure, New York) - Hotel Marina Atlantico

07

Days

Gate1

First Class

Escorted
Ponta Delgada
Ponta Delgada
Portugal
$969View Tour

Best Price Guaranteed

Book With Flexibility

7 Day Azores Vacation (Friday Departure, New York) - Grand Hotel Acores Atlantico

07

Days

Gate1

First Class

Escorted
Ponta Delgada
Ponta Delgada
Portugal
$1,069View Tour

Best Price Guaranteed

Book With Flexibility

7 Day Azores Vacation (Friday Departure, Boston) - Neat Hotel Avenida

07

Days

Gate1

First Class

Escorted
Ponta Delgada
Ponta Delgada
Portugal
$1,019View Tour

Best Price Guaranteed

Book With Flexibility

7 Day Azores Vacation (Friday Departure, Boston) - Hotel Marina Atlantico

07

Days

Gate1

First Class

Escorted
Ponta Delgada
Ponta Delgada
Portugal
$1,089View Tour

Best Price Guaranteed

Book With Flexibility

7 Day Azores Vacation (Friday Departure, Boston) - Grand Hotel Acores Atlantico

07

Days

Gate1

First Class

Escorted
Ponta Delgada
Ponta Delgada
Portugal
$1,189View Tour

Best Price Guaranteed

Book With Flexibility

7 Day Azores Vacation (Boston) - 7 Day Azores Vacation (Friday Departure, Boston) - Neat Hotel Avenida

07

Days

Gate1

First Class

Escorted
Ponta Delgada
Ponta Delgada
Portugal
$899View Tour

Best Price Guaranteed

Book With Flexibility

7 Day Azores Vacation (Boston) - 7 Day Azores Vacation (Friday Departure, Boston) - Hotel Marina Atlantico

07

Days

Gate1

First Class

Escorted
Ponta Delgada
Ponta Delgada
Portugal
$919View Tour

Best Price Guaranteed

Book With Flexibility

7 Day Azores Vacation (Boston) - 7 Day Azores Vacation (Friday Departure, Boston) - Grand Hotel Acores Atlantico

07

Days

Gate1

First Class

Escorted
Ponta Delgada
Ponta Delgada
Portugal
$1,019View Tour

Best Price Guaranteed

Book With Flexibility




7 Day Athens with 3 Day Iconic Aegean Cruise 7 Day Athens with 3 Day Iconic Aegean Cruise

07

Days

Gate1

First Class

Escorted
Athens
Athens
Greece
$899View Tour

Best Price Guaranteed

Book With Flexibility




7 Day Athens with 3 Day Iconic Aegean Cruise

07

Days

Gate1

First Class

Escorted
Athens
Athens
Greece
$1,099View Tour

Best Price Guaranteed

Book With Flexibility




7 Day Affordable Zion, Bryce Canyon, Arches & Grand Canyon National Parks - Tuesday Departure

07

Days

Gate1

First Class

Escorted
Las Vegas, NV
Las Vegas, NV
United States
$1,549View Tour

Best Price Guaranteed

Book With Flexibility




7 Day Affordable Zion, Bryce Canyon, Arches & Grand Canyon National Parks - Thursday Departure

07

Days

Gate1

First Class

Escorted
Las Vegas, NV
Las Vegas, NV
United States
$1,599View Tour

Best Price Guaranteed

Book With Flexibility




7 Day Affordable Zion, Bryce Canyon, Arches & Grand Canyon National Parks - Sunday Departure

5 reviews
07

Days

Gate1

First Class

Escorted
Las Vegas, NV
Las Vegas, NV
United States
$1,599View Tour

Best Price Guaranteed

Book With Flexibility




7 Day Affordable Amsterdam, Bruges & Paris - Wednesday Departure

1 reviews
07

Days

Gate1

First Class

Escorted
Amsterdam
Paris
Belgium, France, Netherlands
$1,149View Tour

Best Price Guaranteed

Book With Flexibility




7 Day Affordable Amsterdam, Bruges & Paris - Saturday Departure

7 reviews
07

Days

Gate1

First Class

Escorted
Amsterdam
Paris
Belgium, France, Netherlands
$1,039View Tour

Best Price Guaranteed

Book With Flexibility

7 Day Abu Dhabi & Dubai (New York) - 7 Day Abu Dhabi & Dubai (Tuesday Departure, New York) -Plan B

07

Days

Gate1

First Class

Escorted
Abu Dhabi
Dubai
United Arab Emirates
$1,469View Tour

Best Price Guaranteed

Book With Flexibility

7 Day Abu Dhabi & Dubai (New York) - 7 Day Abu Dhabi & Dubai (Tuesday Departure, New York) -Plan A

07

Days

Gate1

First Class

Escorted
Abu Dhabi
Dubai
United Arab Emirates
$1,589View Tour

Best Price Guaranteed

Book With Flexibility

7 Day Abu Dhabi & Dubai (New York) - 7 Day Abu Dhabi & Dubai (Monday Departure, New York) -Plan B

07

Days

Gate1

First Class

Escorted
Abu Dhabi
Dubai
United Arab Emirates
$1,519View Tour

Best Price Guaranteed

Book With Flexibility

7 Day Abu Dhabi & Dubai (New York) - 7 Day Abu Dhabi & Dubai (Monday Departure, New York) -Plan A

07

Days

Gate1

First Class

Escorted
Abu Dhabi
Dubai
United Arab Emirates
$1,639View Tour

Best Price Guaranteed

Book With Flexibility

7 Day Abu Dhabi & Dubai (Los Angeles) - 7 Day Abu Dhabi & Dubai (Tuesday Departure, Los Angeles) -Plan B

07

Days

Gate1

First Class

Escorted
Abu Dhabi
Dubai
United Arab Emirates
$1,439View Tour

Best Price Guaranteed

Book With Flexibility

7 Day Abu Dhabi & Dubai (Los Angeles) - 7 Day Abu Dhabi & Dubai (Tuesday Departure, Los Angeles) -Plan A

07

Days

Gate1

First Class

Escorted
Abu Dhabi
Dubai
United Arab Emirates
$1,569View Tour

Best Price Guaranteed

Book With Flexibility

7 Day Abu Dhabi & Dubai (Los Angeles) - 7 Day Abu Dhabi & Dubai (Monday Departure, Los Angeles) -Plan B

07

Days

Gate1

First Class

Escorted
Abu Dhabi
Dubai
United Arab Emirates
$1,439View Tour

Best Price Guaranteed

Book With Flexibility

7 Day Abu Dhabi & Dubai (Los Angeles) - 7 Day Abu Dhabi & Dubai (Monday Departure, Los Angeles) -Plan A

07

Days

Gate1

First Class

Escorted
Abu Dhabi
Dubai
United Arab Emirates
$1,569View Tour

Best Price Guaranteed

Book With Flexibility

7 Day Abu Dhabi & Dubai (Chicago) - 7 Day Abu Dhabi & Dubai (Tuesday Departure, Chicago) -Plan B

07

Days

Gate1

First Class

Escorted
Abu Dhabi
Dubai
United Arab Emirates
$1,469View Tour

Best Price Guaranteed

Book With Flexibility

7 Day Abu Dhabi & Dubai (Chicago) - 7 Day Abu Dhabi & Dubai (Tuesday Departure, Chicago) -Plan A

07

Days

Gate1

First Class

Escorted
Abu Dhabi
Dubai
United Arab Emirates
$1,599View Tour

Best Price Guaranteed

Book With Flexibility

7 Day Abu Dhabi & Dubai (Chicago) - 7 Day Abu Dhabi & Dubai (Monday Departure, Chicago) -Plan B

07

Days

Gate1

First Class

Escorted
Abu Dhabi
Dubai
United Arab Emirates
$1,519View Tour

Best Price Guaranteed

Book With Flexibility

7 Day Abu Dhabi & Dubai (Chicago) - 7 Day Abu Dhabi & Dubai (Monday Departure, Chicago) -Plan A

07

Days

Gate1

First Class

Escorted
Abu Dhabi
Dubai
United Arab Emirates
$1,649View Tour

Best Price Guaranteed

Book With Flexibility




9 Day France Walking Tour with Normandy & Paris

08

Days

Gate1

First Class

Escorted
2 - Classic

Paris
Paris
France
$3,699View Tour

Best Price Guaranteed

Book With Flexibility

8 Day Vienna & Prague (New York) - 8 Day Vienna & Prague (New York) -Plan B

08

Days

Gate1

First Class

Escorted
Vienna
Prague
Austria, Czech Republic
$1,179View Tour

Best Price Guaranteed

Book With Flexibility

8 Day Vienna & Prague (New York) - 8 Day Vienna & Prague (New York) -Plan A

08

Days

Gate1

First Class

Escorted
Vienna
Prague
Austria, Czech Republic
$1,269View Tour

Best Price Guaranteed

Book With Flexibility

8 Day Vienna & Prague (Los Angeles) - 8 Day Vienna & Prague (Los Angeles) -Plan B

08

Days

Gate1

First Class

Escorted
Vienna
Prague
Austria, Czech Republic
$1,189View Tour

Best Price Guaranteed

Book With Flexibility

8 Day Vienna & Prague (Los Angeles) - 8 Day Vienna & Prague (Los Angeles) -Plan A

08

Days

Gate1

First Class

Escorted
Vienna
Prague
Austria, Czech Republic
$1,279View Tour

Best Price Guaranteed

Book With Flexibility

8 Day Vienna & Prague (Chicago) - 8 Day Vienna & Prague (Chicago) -Plan B

08

Days

Gate1

First Class

Escorted
Vienna
Prague
Austria, Czech Republic
$1,199View Tour

Best Price Guaranteed

Book With Flexibility

8 Day Vienna & Prague (Chicago) - 8 Day Vienna & Prague (Chicago) -Plan A

08

Days

Gate1

First Class

Escorted
Vienna
Prague
Austria, Czech Republic
$1,289View Tour

Best Price Guaranteed

Book With Flexibility




8 Day Tuscany Fly & Drive with Milan (Wednesday Departure, New York) -Plan B

08

Days

Gate1

First Class

Escorted
Milan
Milan
Italy
$949View Tour

Best Price Guaranteed

Book With Flexibility




8 Day Tuscany Fly & Drive with Milan (Wednesday Departure, New York) -Plan B

08

Days

Gate1

First Class

Escorted